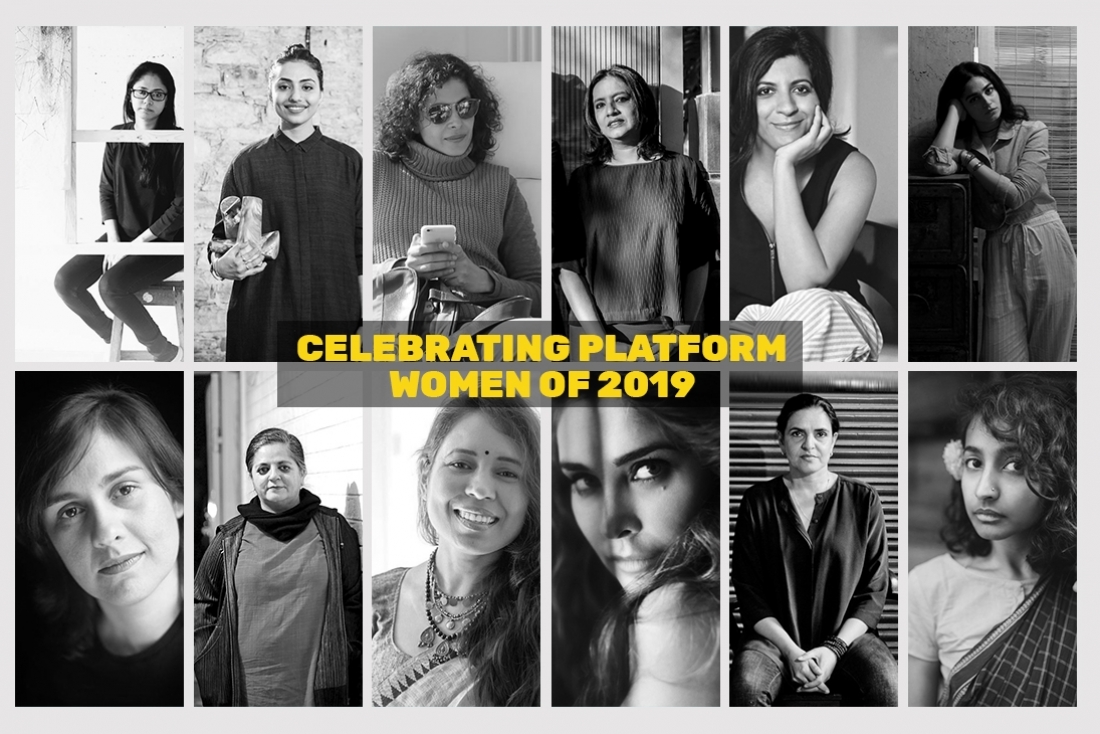 Celebrating Platform Women of 2019/20
This International Women's Day, team Platform celebrates the women, who have managed to make waves in their respective fileds, this past year. We raise a toast to all the inspiring tales of grit and resilience displayed by these artists, writers, filmmakers, designers, musicians and more.
Zoya Akhtar: The Filmmaker
You've been involved in writing the script for each of your cinematic creations. The interesting bit is that your characters are known to steer away from conventions; they aren't the run-of-the-mill, cardboard cut-outs. What has been your script-writing and character-construction process?
I write with Reema Kagti and we have our own process. We don't put pen to paper until I finally know what I'm making. I need to know where I'm beginning and where I'm ending, only then do we move forward. So that's kind of our process, and the characters just develop along the way—I need to know roughly how I want them to start and where I'd like them to end—and then the characters just start developing a life of their own. Also, when you work with really good actors, they bring in a lot of ideas as well. They also hone the characters they are playing, so at the end of the day, the film is a co-creation.
Gully Boy is the first film under your production banner Tiger Baby—so did that have any effect on the director in you?
Yes it is, and is co-produced by Excel. Creatively there was no effect but yes I did need to go for more meetings that's for sure. I am involved in certain things that I really always left to Ritesh [Sidhwani], whether it was marketing or music or sales in general. But now he involves me in everything so I am in the loop of everything.

Bharti Kher: The Artist
It is interesting that you do not enjoy being filmed or photographed, and yet the body is at the heart of your work and your work involves a lot of casting, taking something from somebody else's body. You even have a sculpture called I can't give you my essence.
I don't like to be either photographed or filmed particularly, and I think there is a part of me that wants to keep a strong feeling of the self and to protect it in some way. Yet, what I am asking from other people is that contradictory because I ask them to reveal themselves to me and also leave a part of themselves in the studio. What I say to people when I am casting, is that this is the place you could leave everything that you don't want about yourself in the cast or in the studio, and when you leave it's a kind of rebirth or a catharsis that you can perform.
Do you see yourself as a solitary person or do you like working with people? Do you think solitude and art making are inextricable from each other?
At certain moments, yes. I was trained as a painter, and as a painter you spend a lot of time alone. I think when I came to India, one of the reasons I stopped painting was because I couldn't connect to the new place, the space where I was, to connect with the outside world or where I was right then. Also, I was a bit bored of painting, to be honest! So, sculpture is maybe my calling. I think around things, and I like the collaboration with materials and to bring things together. Sculpture is a very different kind of practice as a maker. For me, the joy is in the making. I like doing things with my hands. I like to touch things to know them and I break them to know them.

Kamila Shamsie: The Writer
What is your definition of an 'outsider'?
I do think people under-estimate the value of being an 'outsider'—it's a useful position, and one that most writers need to inhabit in order to write about a world.
What is the biggest challenge you face while writing?
How to hold your nerve. That's always the challenge. Keeping on even when you doubt the project, and your ability to do it successfully.

Ruchika Sachdeva: The Designer
How would you describe your design sensibility?
The label is an expression of an authentic approach to beauty rooted in a spiritual philosophy of balance and wellbeing. I am always pushing myself towards exploring the power of clothes to positively impact our sense of self. Soft tailoring is the core of Bodice while the silhouettes are clean and strong. It means we consistently create comfortable, wearable and stylish clothing. Fluidity is added through the use of insert pleating that allows for graceful movement and subtle detailing.
You have a very holistic and sustainable approach towards design. Is that a conscious effort from the beginning?
It is Bodice's overriding philosophy to support artisanal livelihoods while embracing cutting-edge technology and exploring innovative design solutions for an environmentally sustainable fashion.

Kavya Trehan: The Musician
The one thing that you find most stressful/annoying about being a musician.
Technical difficulties on stage.
If you could perform at just one venue/ festival in your lifetime, which one would that be?
Glastonbury Festival.

Sonali Rastogi: The Architect
Tell us about some of the most significant projects that have helped shape Morphogenesis.
Apollo Headquarters [1999] is memorable for being our first significant commission. It won us our first Indian Institute of Architects' award and gave us conviction in our chosen path. Pearl Academy [2008] won us India's first World Architecture Festival Award, as it caught the global imagination. Having to stretch resource optimisation to its limits due to budgetary constraints, especially through the use of regional ideas, it defined the direction of every project since. Ever since Pearl, we have also been able to rejuvenate and use traditional crafts to a contemporary format in almost all our work.
How has your core philosophy and approach evolved over the years?
The vision stays the same yet the tools keep evolving, where experience adds to thought and the canvases grow larger. Also with all these years behind us, we shoulder a responsibility as thought leaders—it sits in a wider realm than the architecture that comes out of Morphogenesis. We push advocacy and edu- cation with our efforts on sustainable urbanism as in the case of the Nullahs of Delhi, contribution towards the formulation of GRIHA, India's own Green rating system and in improving Delhi's public spaces through work with the Delhi Urban Arts Commission.

Nitya Mehra: The Filmmaker
How were you led towards filmmaking?
I wasn't one of those kids who always knew what they wanted to do with their lives. I never knew I wanted to be a filmmaker even though I wrote my first play at the age of ten. I had never been exposed to the magic of making films even though I loved watching them in Punjab and Delhi where I grew up. It was in college that I realized how much it interested me and set off to do a 3-month course at NYU with my best friend. I immediately knew that this is what I want to do. I knew I had a lot to learn though and began searching for any job that would get me onto a film set. I managed to get my first job as a runner getting coffee for everyone on a Spike Lee Production called 3am. Set life is like an addiction. I knew I loved it from the day I walked into one.
What inspires your craft?
David Lynch once said, "The whole world is wild at heart and weird on top." I love that saying. Human beings and life in general is such great fodder for stories and I love that I get to tell them.'

Dayanita Singh: The Artist/Photographer
Contextualise yourself in one line.
Artist, soloist, book maker.
First memory of photography?
Standing in front of mother's camera while she slowly measured the steps to focus.
The camera you're currently using.
How does it matter? Photography lies in what you read and hear and experience, not in the camera.

Lisa Ray: The Writer
Could you take us behind the writing process?
Whoa. That's like asking an actor to reveal their technique. I honestly can't. It's a deeply solitary, personal and intuitive process for me.
How would you describe your relationship with writing as and how has the writing of this book affected you as a person?
I have always written- in my mind. It's how I process the world. Books have been my constant companions and friends. Words, sentences, pages are like precious gems for me. I believe I was born to write. It's a compulsion. It's only taken me 30 years to get around to it.

Shilpa Gupta: The Artist
Your art is thought-provoking and engages deeply with the audience. As an artist, what responsibility do you feel you shoulder?
It is not a question of responsibility; instead, it's about interests. And since I am drawn to perception, definitions and meanings, therefore I am also interested in art itself, its language and its possibilities.
You have collaborated with Rashid Rana for My East Is Your West. What kind of conversations between the two of you led to the chosen works?
Both the artists are interested in perception. We started our conversations for the project by discussing our over- lapping interests. However, we decided to work on our own projects separately, which will be shown alongside each other. We did not want any overarching theme and wanted to allow the viewer to discover how our practice is different from each other and also similar in surprising and subtle ways.

Rima Das: The Filmmaker
You first tried your hand at acting before you changed gears to direction. Why the switch?
It was a spontaneous process. I didn't go into direction deliberately. I saw a multitude of world cinema and that was when I fell in love with the art of storytelling by some of the greatest film makers. That was a true inspiration.
Could you take me through your script-writing process?
My script development process is intensive, laborious and instinctive. I like to draw my writings from the characters I pick up. I interact with them extensively and engage at workshop levels with structural layers. This process then helps me to give shape to the script. As we conduct the shoot, I follow instincts, drama, reaction and mood. Using these, I then begin to add layers

Ditty: The Musician
Aditi's voice is spellbinding. She'll whisk you to a promised land where you could wrap yourself in a blanket, sit by a warm fire and hear her out. Wide-eyed with a whimsical bob cut, and the voice of a soulful songstress, the twenty-four-year- old creates music that is sensitive, intimate and relatable. She strums the guitar, can give a trumpeter a run for his money and has a knack for collecting 'ragged instruments'—'a cajon, marimba, rainmaker, singing bowls,' she lists—from her wanderlust travels.
At 14, Aditi gave her vocal chords a go by singing for her school choir and then eased her way into singing on a public platform with Delhi's notable, Artistes Unlimited. She then started her own band, Ditty and Mark, which recently closed its chapter. She has also experimented with musicals (performed in a production called Hair), jammed with The Jass B'Stars, J.O.L.T and Emperor Minge; and occasionally moonlights with author Rana Dasgupta (who plays the piano) in one of Delhi's known restaurants.