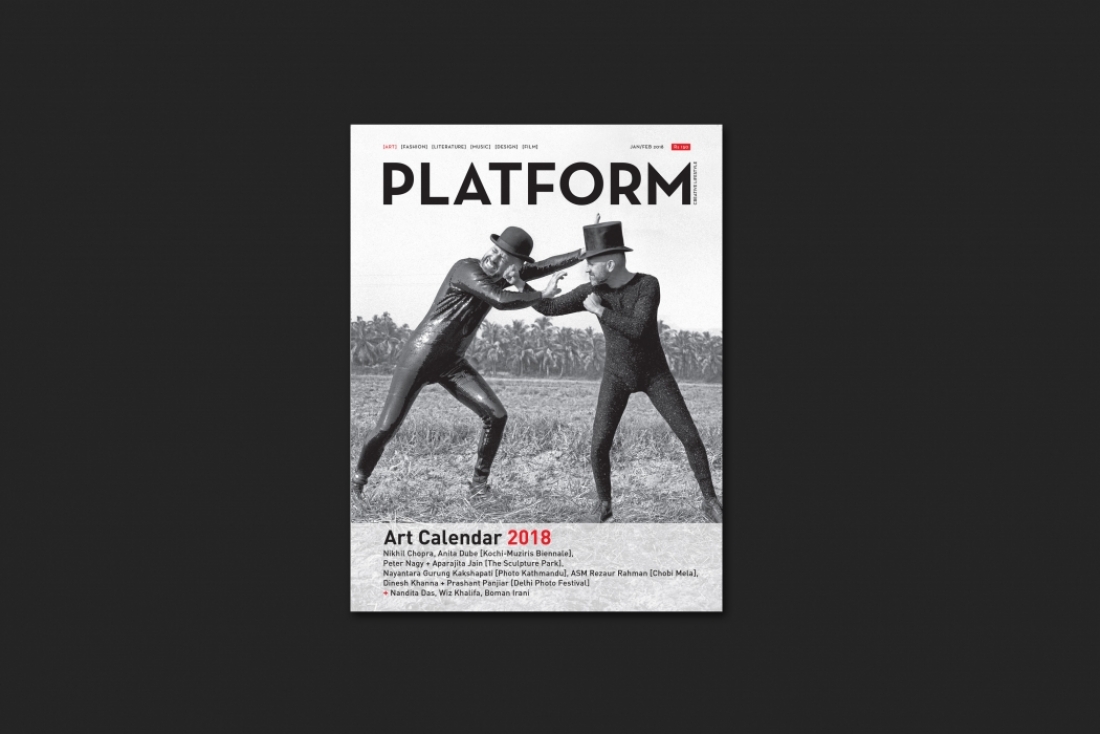 Inside our Art Issue 2018
We're delighted to kick off the new year with some great new art that awaits the subcontinent this year! In our brand new Arts Special, we focus on noteworthy festivals of the year, the brilliant folk behind these, impressive new talent and inspiring profiles.

Cover Story
Nikhil Chopra
Performance artist Nikhil Chopra, who has travelled the world with his fun acts, tells us how his experiences and explorations inform his exciting practice.

Retrospective
Anita Dube
She is the fourth curator of India's largest biennale, the Kochi Biennale. Artist, Curator, Writer, Anita Dube takes us on her journey from being an accidental artist to being the first woman curator of the biennale and shares her vision and her curatorial process for Kochi 2018.

Interview
Nandita Das
We have a detailed conversation with the inimitable Nandita Das who captivates us with one of the biggest and most awaited releases this year, Manto.
Listed
Photo Forward
Photo Kathmandu, Chobi Mela [Dhaka], Delhi Photo Festival
Nayantara Gurung Kakshapati, ASM Rezaur Rahman, Dinesh Khanna & Prashant Panjiar—the forces behind three foremost photo festivals from different regions, presenting powerful photography from their country as well as from around the world, give us the real big picture and the minutiae.

Specials
We interact with the founders and curator of India's first Sculpture Park in Jaipur—Peter Nagy, Aparajita Jain and Shreyasi Goenka tell us what it took to turn Nahargarh into the nouveau art spectacle it now stands as.

We find out how FENDI reinforces its relationship with Rome and the world of art by announcing a three-year partnership with Galleria Borghese, an ambitious project that sees the constitution of the Caravaggio Research Institute. Gallery Director Anna Coliva gives us the deets.

Forecast
Along with the established, we shine the spotlight on four very intriguing artists/photographers—Soham Gupta, Unnikrishnan C, Sahil Naik, Saumya Khandelwal—who are all deeply inspired by their surroundings, their being, and the region they come from.

Centrestage
The industrious, world-famous rapper Wiz Khalifa talks about his sensibility, his musical calling and his new album, Rolling Papers 2.

Three Minutes
Boman Irani, Bollywood's veteran in wit, goes through our challenging rapid-fire that leaves you in splits.

Style
Photographer Soham Gupta captures dark and captivating images for our fashion story. Each image, haunting as the other, shares a silent tale.

And there's more to the first issue of the year—look forward to lots more refreshing content, intriguing visual stories and fun pullouts!