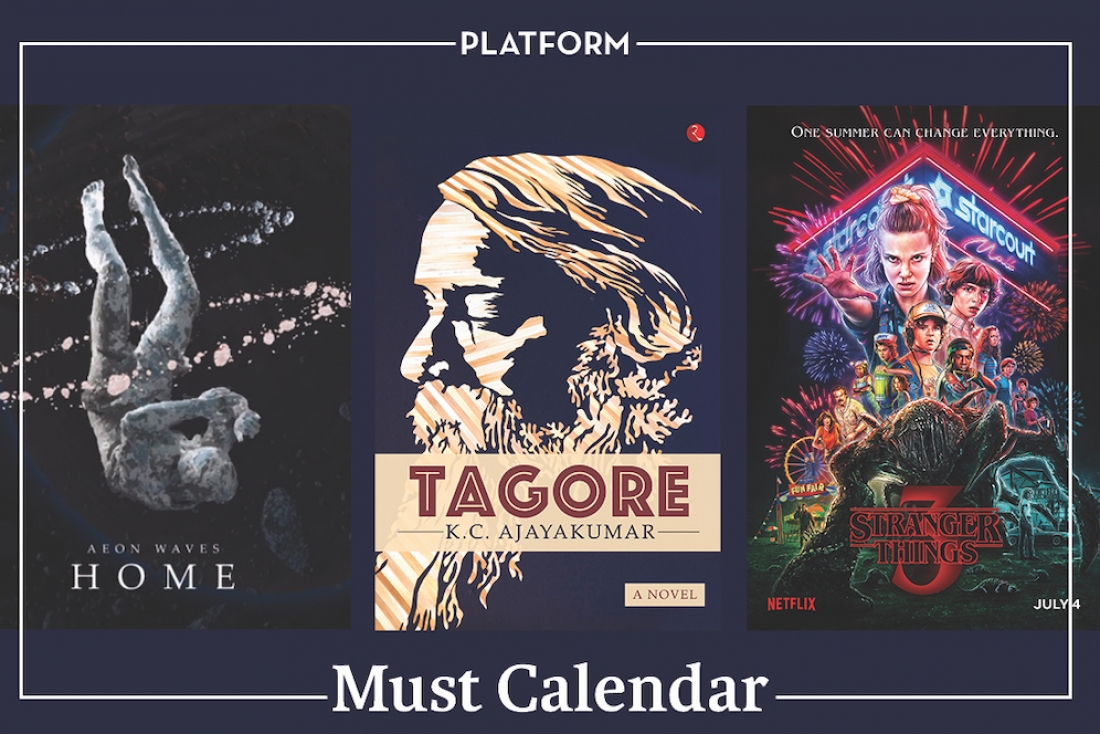 Everything you must read, watch and listen this month. The definitive Platform Calendar.

MUST READ:
A Prayer for Travelers by Ruchika Tomar
Before Cale Lambert reconnected with her old high school classmate Penny, she was a loner. But the two begin waitressing together and form a deep bond — until a violent incident disrupts their reality. Penny disappears and Cale decides to go searching for her, discovering secrets about their small desert town along the way.
Release date: 9th July
The Need by Helen Phillips
While home alone with her two young children, Molly is startled when she believes she hears an intruder. But she is immediately left guessing: is there a real person in her house or is it just a symptom of her worn out, anxiety-ridden mind? In The Need, Molly embarks on a complicated journey that tests everything she knew about being a mother, a wife and a woman.
Release date: 9th July
Supper Club by Lara Williams
Roberta feels stuck. She's not satisfied with her job, yet hesitates to pursue what she really wants to do: cook. But then Roberta meets Stevie, an artist, and the two set out to create a space where they can truly be themselves. As they embrace their appetites and recruit others to join them, Williams explores the complex relationship many women have with their deepest desires.
Release date: 9th July
Costalegre by Courtney Maum
All 15-year-old Lara Calaway wants is for her mother Leonora, a wealthy art collector, to notice her. It's 1937 and they've just left Europe on the brink of World War II, setting up residence in Costalegre, where Leonora has invited a group of surrealist artists to stay at her home. Drawing inspiration from the real-life relationship between Peggy Guggenheim and her daughter Pegeen, Maum reveals the power a mother holds over her daughter as Lara desperately vies for Leonora's attention.
Release date: 16th July
The Nickel Boys by Colson Whitehead
Whitehead, a Pulitzer Prize winner, sets his latest novel in Jim Crow-era Florida, where Elwood Curtis unexpectedly finds himself at the Nickel Academy, an abusive reform school. Inspired by the true story of a school in Florida, Whitehead has crafted a pressing narrative that, like his 2016 novel The Underground Railroad, probes the country's ugly racist past.
Release Date: 16th July
Tagore: A Novel by K.C. Ajayakumar
In this fictional retelling of Rabindranath Tagore's life, we are introduced to the different facets of this eminent man who is considered one the greatest literary geniuses in Indian literature. K.C. Ajayakumar brings to us the earliest accounts of Tagore's life, how his childhood shaped him and how his sensibility shone through his art and literature. Tagore: A Novel tells us a story of a man and his friendships with notable greats like William Butler Yeats, Netaji Subhash Chandra Bose and Mahatma Gandhi, and how he rose to fame in the literary world.
Release date: 20th July
From One Birth To Another: Stories From Jaina Literature by Sudhamahi Regunathan
The stories from the Jaina scriptures were written to convey Jainism's teachings in a more relatable and fun manner. Sudhamahi Regunathan has expertly translated some of these tales in English to introduce us to the wonderful and whimsical stories of Jaina literature. Expect to read stories of a girl who teaches a monk the art of restraint, a boy who is forced to carry on his father's butchering business, and a man who takes a keen interest in the Kamasatra. While they may sound light, there is deep meaning in each tale.
Release date: 20th July
Bhumika: A Story Of Sita by Aditya Iyengar
In the opening pages of this book, we meet a tired and slowly-withering-away Sita, who is contemplating on the 'what ifs' of her life. She wonders what would have happened to her had she not married Rama. Where would her fate have taken her had she not returned to Ayodhya only to bear the brunt of insults? She is constantly plagued by these questions, until one day, Sage Vishvamitra shows her who she could have been instead – Bhumika – a queen who challenges every norm. As the book unfolds you will come across two enigmatic and powerful women, both unique in their own way. This story promises to be an inspiration to all who read it.
Releasing date: July 25
Speaking of Summer by Kalisha Buckhanon
After her twin sister mysteriously goes missing from their shared Harlem home, Autumn Summer begins to spiral out of control. Frustrated by the complacency of the authorities, who appear to be unconcerned by the disappearance of another black woman, Autumn sets out to find her sister herself. Buckhanon unravels a powerful story that examines violence, race and grief.
Release date: 30th July
The Black Dwarves of the Good Little Bay by Varun Thomas Mathew
There is a city on the western shores of India where it no longer rains... The sea has invaded its boundaries and its inhabitants reside in a towering structure called the Bombadrome, which hovers above the barren land. Theirs is an artificially equated society; they lead technologically directed lives; they have no memory of the past. They don't remember that this city was once called Bom Bahia, or Bombay, or Mumbai. Except for one man, the last civil servant of the India of old, a witness to the time when it all fell apart, now bitter, filled with regret and thought to be mad. Sharp, layered and scathing, The Black Dwarves of the Good Little Bay, will grab you by the scruff of your neck and force you to listen. Because the sins of the past can never be fully hidden. Because some sins can never be forgiven.
Release date: 31st July

MUST WATCH
The Last Czars (Season 1)
When social upheaval sweeps Russia in the early 20th century, Czar Nicholas II resists change, sparking a revolution and ending a dynasty. The series was announced all the way back in November 2017 and is set to be one of Netflix's biggest budget docu-series.
Netflix Release Date: July 3rd
Midsommar
Midsommar is a 2019 folk horror film written and directed by Ari Aster and starring Florence Pugh, Jack Reynor, William Jackson Harper, Vilhelm Blomgren, and Will Poulter. It follows a group of friends who travel to Sweden for a festival that only occurs every ninety years, only to find themselves directly in the hands of a pagan cult.
Release Date: July 3rd
Stranger Things 3
Netflix's biggest show is finally back. The third season of Stranger Things has been widely anticipated especially since it'll have been nearly a year and a half wait since season 2 dropped.This nostalgic nod to '80s sci-fi and horror classics has earned 31 Emmy nominations, including two for Outstanding Drama.
Netflix Release Date: July 4th
Queer Eye Season 4
The fab five are coming back and Netflix has also confirmed that a fifth series of the makeover show – a reboot of Queer Eye for the Straight Guy – has also been greenlit.
Netflix Release Date: July 19th
The Lion King
The Lion King is a photorealistic computer-animated remake of the traditionally animated 1994 film of the same name that has proven to be one of the most popular Disney movies till date. The film stars the voices of Donald Glover, Seth Rogen, Chiwetel Ejiofor, Alfre Woodard, Billy Eichner, John Kani, John Oliver, Beyoncé Knowles-Carter, and James Earl Jones reprising his original role as Mufasa.
Release Date: July 19th
Orange is the New Black (Season 7)
The seventh and final season of Orange is the New Black will mark the end to the longest-running Netflix Original to date. We'll see all of our favorite Litchfield inmates return but with substantially different circumstances.
Netflix Release Date: July 26th
Once Upon A Time In Hollywood
Quentin Tarantino's Once Upon a Time... in Hollywood visits 1969 Los Angeles, where everything is changing, as TV star Rick Dalton (Leonardo DiCaprio) and his longtime stunt double Cliff Booth (Brad Pitt) make their way around an industry they hardly recognize anymore. The ninth film from the writer-director features a large ensemble cast and multiple storylines in a tribute to the final moments of Hollywood's golden age.
Release Date: July 26th
Judgemental Hai Kya
The movie follows the story of two individuals whose lives pivot between reality and illusions. Starring Rajkummar Rao and Kangana Ranaut, and directed by Prakesh Kovelamudi.
Release Date: July 26th

Penalty
A story of a North-east Indian football player who's fighting day and night with the society in order to achieve his dreams. The film covers all kinds of layers in one single film from negative backlashes, social pressures to a complete change over in one's life. Helmed by Shubham Singh. The movie stars Kay Kay Menon, Manjot Singh and Shashank Arora in the lead roles.
Release Date: July 26th

MUST LISTEN
Marshmello: Joytime III
The bucket-headed producer has released the long-awaited Joytime III. It features a slew of collaborations including Slushii, Yultron, Bellecour, Wiwek, TYNAN, Crankdat, Flux Pavilion, Elohim, and A Day To Remember. The 13-track album comprises a high-energy, in-your-face tracklist sure to get fans of the producer hyped for the holiday weekend.
Ed Sheeran: No.6 Collaborations Project
No.6 Collaborations Project is the fourth studio album[ by English singer-songwriter Ed Sheeran. Asylum Records and Atlantic Records will release the album on 12 July 2019. The album includes a range of guest appearances from artists such as Justin Bieber, Camila Cabello, Travis Scott, Eminem, 50 Cent, Cardi B, Young Thug and Bruno Mars, among others, alongside British rappers Stormzy, J Hus and Dave. It was preceded by the singles "I Don't Care" with Bieber, "Cross Me" featuring Chance the Rapper and PnB Rock, "Beautiful People" featuring Khalid and "Blow" with Mars and Chris Stapleton.
Ahmer x Sez On The Beat: Little Kid, Big Dreams
Azadi Records has released the debut album by Srinagar-based artiste Ahmer Javed, produced in collaboration with critically acclaimed producer Sez On The Beat. Titled Little Kid, Big Dreams, the album is an acute representation of the situation in Kashmir, from the beginning of the independence struggle and the call for Azadi, to the crackdown on its citizens and the creation of an environment where society stands desperate, without hope and bereft of unity.
SAPTA: RED
Sapta is one of India's top live electronic acts. Formed in 2007, by Marti Bharath, Sapta has continuously evolved to make their sound different and are currently crafting a whole new dimension in the Indian electro-rock community.They are all set to release their 9th album RED in July.
Aeon Waves
Aeon Waves is the pseudonym of Kanishk Budhori, an Ahmedabad (India) based DJ and Producer with a penchant for surreal soundscapes. He uses his technical skill of sound engineering to create some tasteful Drum n Bass masterpieces. He will be releasing his first album after having released more than 6 EPs, end of July.
Chance The Rapper: Owbum
The rapper has hinted on dropping his debit album titles 'Owbum' this month. His mixtape Coloring Book broke barriers in the music industry, as it became the first ever streaming-only album to chart on Billboard's albums chart, and later became the first streaming-only album to win a Grammy.