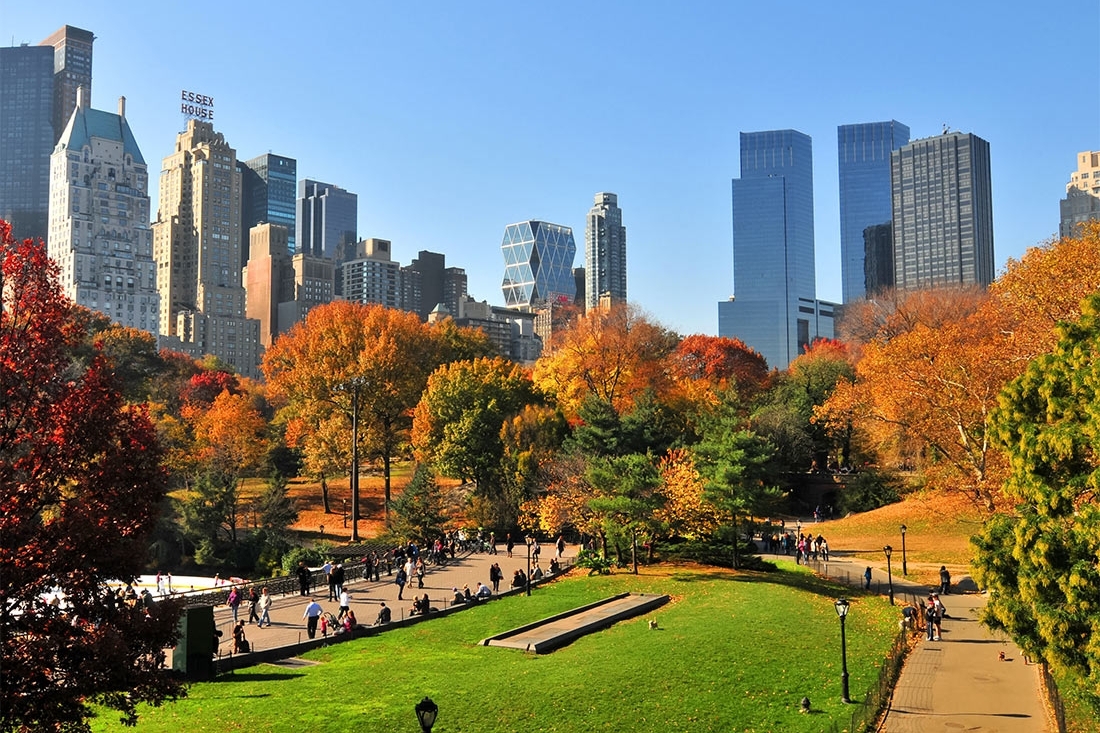 Central Park In NYC During Autumn
New York
So Nice They Had to Name it Twice!
I vividly remember the moment I decided I wanted to move to New York City. I was 12 years of age, sitting with my parents in our home in Delhi waiting to use our brand new VCR player. The video deliveryman had popped around that afternoon [as they did in those days] and my parents had chosen a few movies. They decided on Hannah and her sisters by Woody Allen, and within the first 10 minutes I was hooked! What was this wonder, not just the tall buildings but those chaotic streets, the vast park, the grittiness of Soho [when it was gritty and truly a residing place for artists and galleries], those beautiful upper East side apartments with cosy furnishings, debonair piano playing family members and sharp, witty conversations that flowed like their Thanksgiving wine. I wanted it all, and I wanted to be part of the uptown, the downtown, the old and the new, the traditional and the modern...I often have joked [but only slightly] that Woody Allen and his characters made me move to this wonderful city, and I have the same feeling now as I had all those decades ago-this longing to be part of all of it. I have lived here for 25 years now, and while there have been days I have found it utterly exhausting, it is never ever boring, and never dull.

My love for this wildly varied city is strongest when it shows me sides I didn't know about, and I get to dig and discover its history, or get a glimpse of its hidden beauty. There are a million places to eat, hundreds of shows to watch, museums and galleries to visit, bookstores to browse, hotels to rest in, people to observe. This is a small list of a few all time favourites, divided into Uptown and Downtown and my perfect 24 hours in each.

Downtown is historically where NYC began, before the richest families established their stronghold uptown in the early 1900s, and though now it is vastly gentrified it still maintains an air of its grittier days. The lower east side and Chinatown have blocks of the old tenement buildings interspersed with shiny new apartment buildings and restaurants, Soho is now devoid of galleries and artists [though the loft buildings still stand as multi-million dollar homes] but packed with all the top stores from Chanel to Prada, Moncler to Nespresso, along with all the current new brands like APC, Rachel Comey and Isabel Marant, and the West Village and Meatpacking district [which used to be the home of vast warehouses and meat storage buildings] and is now packed with New York's best galleries and the much loved Highline park.

We start here, in what I refer to as my 'hood'...which is Soho. NYC is laid out in a very organised grid, avenues heading north or south [or sometimes both ways]. Streets going east/west [even numbered streets go eastwards, odd numbered streets go west and there are some major streets—14th, 23rd, 42nd etc. that go both ways]. All this to say that one can make sense of the layout of the city until one arrives at Washington Square Park and then it all goes haywire. Streets suddenly have names not numbers and there are cul de sacs, blocks that are 20 steps long, and twists and turns that befuddle with every step. There is, however, a great pleasure in getting lost here, and chancing about a great bookstore, or coffee shop, or a hidden dive bar.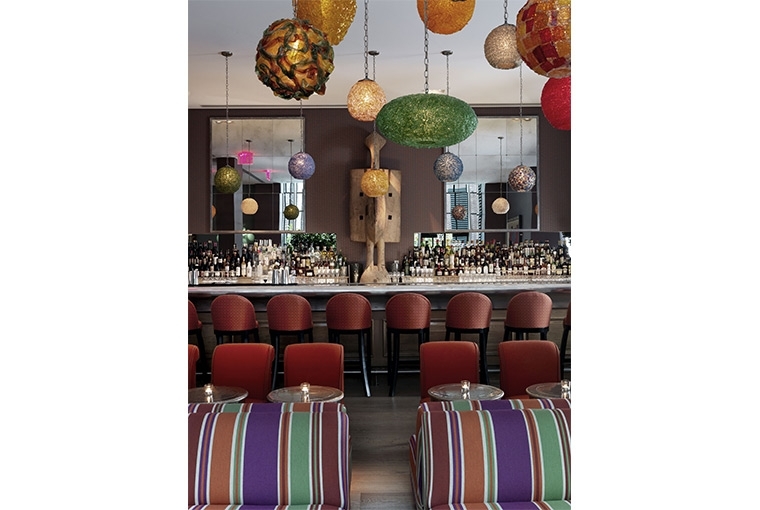 Crosby Street Hotel, The Crosby Bar
Checking into the wonderful Crosby Street Hotel marks the beginning of my 24 hours in Downtown New York. The first New York outpost of the Firmdale Hotel Group [who have 6 hotels in London] it is a visual and aesthetic delight. It is also located in a perfect spot, just at the crossroads of Nolita [North of Little Italy], and Soho [South of Houston street] and the East Village. It has all the signature touches of the Firmdale group—the beautiful rooms, the combination of textiles, texture and colour—indiviual and unique to every room, warm and gracious service and a lovely bar and restaurant. The Crosby Street property also has the most quintessential of New York views. I walked into my room and gasped with joy. Floor to ceiling windows with a clear view of all of the west side of Manhattan, cast iron trims and cosy window seats [to take a moment to really appreciate the beauty of the view].

I spent an hour gazing at the view and then made my way down the streets of Soho towards one of my favourite bookstores:
McNally Jackson [on Prince street] where I browsed through a selection of best sellers, obscure titles, art books, magazines and cookbooks. McNally is one of the few independent bookstores left in NYC and a treasure. They have the most fabulous paper goods [in their sister store around the corner on Mulberry Street] and a café in their main store for a respite from the shoppers of Soho and Nolita. Book in hand I strolled a few short blocks to a much-anticipated lunch at one of my all time favourites in NYC—Lupa!

Lupa is a restaurant that resembles an old style neighbourhood trattoria that one would find only through ones local friends in Rome, this lovely cosy place sits on a tree lined street with big windows that open on to the street in summer [get a window table if weather permits]. The food is typically Roman, with a sublime Amitriciana and Cacio Pepe and daily specials that are hard to find anywhere else in the city. Which is to be expected, as it is owned by Mario Battali and Joe Bastianich. We started with a delicious bottle of Tuscan Rose [all their wines are Italian] and ordered their Spinach Salad with peach [that is accompanied by a warm bacon dressing prepared table sideheaven!], a ginormous Salumi plate [with home cured meats] and Beets with Stratiacelli. As beginnings go, it was quite a delicious one. The Primi course [pasta] is rich with choices, I settled on the Buccatini Amitriciana, while my companions selected the Oxtail Ravioli and the Truffle Cheese Agniotelli. All fantastic, and all worth a try. Next up was the Secondi [main course] where one would assume we would have been more restrained, especially after the first two courses. To the contrary— we chose the Saltimboca, Octopus and Lamb and enjoyed every minute of it. It is a treat, and worth multiple visits.

Walking back from this delightful lunch, in a state of contentment— it is always a good idea to visit some of my favourite stores, sometimes to buy and sometimes to just browse, and heading east I first stop at Zero by Maria Cornejo. Chilean born Maria Cornejo is one of the most talented designers in NY [or actually anywhere], and I have worn her super stylish clothes [and fabulous shoes] for years now. Her motto is "fashion for real women" and she is very purposeful in her ethos of locally made, and responsibly sourced design. I wasn't prepared to try on anything after my decadent [and filling] lunch, but still managed to spend almost an hour admiring her beautiful fringed coats, her soft knits and her flattering dresses. There is not one woman in the world, irrespective of her age or shape who wouldn't look good in those clothes. I leave wistfully, envisioning myself in her Bubble dress with a pattern by the painter Elliot Puckette [who collaborated with her on her last collection]... this is sometimes the beauty of brands that are not mass produced, or splashed across the pages of every magazine...one gets to discover a cult favourite that stands the test of time.

Speaking of cult favourites, one of my NYC essentials is the beautiful world of John Derian Company. All three of John's stores are on east 2nd street, and they are an absolute treasure trove of objects, Astier and Villate ceramics and crockery, candles, rugs, decoupage [which is what John Derian-the genius behind the stores began his business with], furniture, cashmere, the most exquisite bed linens, exclusive art work and finds from France, Morocco, Germany and various corners of the world. It is almost unimaginable that such a store exists and in triplicate!
Satisfied with my shopping stops, it is time for a cultural fix, for which I head towards the new Whitney Museum that has taken up residence on the West side Highway and Gansevoort Street [having moved from the famous Marcel Breuer building uptown on Madison Avenue to a newly designed building by Renzo Piano]. It is the only museum devoted entirely to modern and contemporary American art, and has the largest collection of this art in the world...it truly feels like a New York museum.
The Building sits next to, and beneath the Highline park [which is an elevated railway line that runs on the west side of NYC—abandoned decades ago, now lovingly resurrected as a lush public park and walkway], and it is in this position that [according to the great architect himself] "visitors will see through the building entrance and the large windows on the west side to the Hudson River beyond. Here, all at once, you have the water, the park, the powerful industrial structures and the exciting mix of people, brought together and focused by this new building and the experience of art."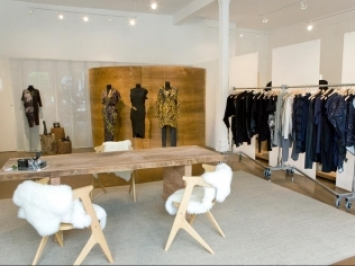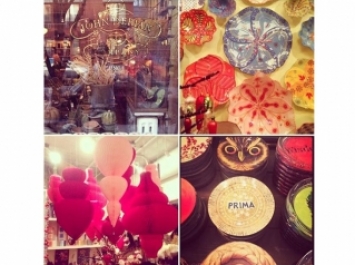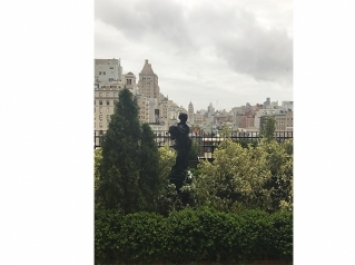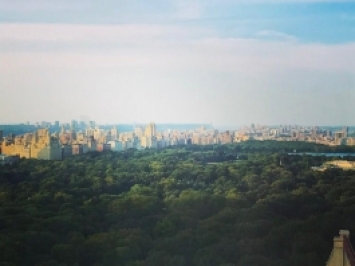 With a few hours still left till dinnertime, I head north towards Chelsea. Now home to every major gallery [all the big guns of course and the smaller quirkier ones—one favourite being Sepia Eye which specializes in photography and is home to many Indian photographers and artists too!], a lot Above: The Pierre Hotel, Facing page: Whitney Musuem of cool fashion, great restaurants and two special bookstores. 192 Books on Tenth Avenue and 21st street is a warm inviting store with floor to ceiling windows looking out onto the avenue, with a well edited selection of photography, film, music, poetry and literary fiction. However, the icing on the cake is a NYC classic just a few short blocks west on 11th avenue and 26th street- Printed Matter books. It describes itself as the "world's leading non-profit organisation dedicated to the dissemination, understanding and appreciation of artists' books". Opened in Soho in the '70s [when Soho was about the artists and rents were affordable], it has the most incredible collection of artists books, of every ilk, many self published by the artists themselves...it is a treasure trove of the history of contemporary art and an absolute delight to walk through. Inspirational and essential!
Wanting to continue this warm fuzzy New York feeling into dinner, I decided that Il Buco was the perfect way to end such a splendid day. Located on a cobblestone street a few short blocks from the hotel, it is a softly lit, romantic, buzzy, special place. The vibe is urban rustic, and the food is super. I head back to my cocoon...content, while plotting the adventures of the next day...uptown!

UPTOWN:
For me, uptown NY begins at Central Park, which is the jewel of this great city. Set over 843 acres, it was established in the late 1850s and expanded, developed and beautified over time to become the star attraction it is today. It houses a zoo, a grand reservoir, tennis courts, great lawns, the MET museum, playing fields, jogging paths, playgrounds, many little lakes, some sweet restaurants [Tavern on the Green is one] and acres of calm which feels incredible in the middle of NYC.
I begin my day uptown by checking into the classic Pierre Hotel, which has one of the best locations to be found in this city. It's a grand old building [opened in 1930] that recently had a massive facelift [on the inside], while preserving its beautiful
Georgian details and its famous Rotunda [that has floor to ceiling frescoes of fawns, nymphs and some of its more famous guests]. One enters the lovely lobby from 62nd street, greeted by liveried old-fashioned doormen, and swooshes up in their art deco wood paneled elevators [which are still operated by elevator operators-who are always ready for a chat and a kind word]. One of the best things about this hotel is the service. Starting with the doorman, to the reception and the wonderful and super efficient concierge, and finally all the elevator operators and staff at the restaurant, everyone is eager to help and gracious. The rooms are classic and comfortable; the views are over the top amazing! To see all of the great history of NYC visible through its architecture from this vantage point was a sight to behold, as was seeing the enormity of Central park laid out from top to tail. Inspired by this view, I decided to make my way through the Park towards two of my favourite museums in the city. First up, the Metropolitan Museum of Art [more fondly known as the Met]. It is the grande dame of New York museums and deserves its title. Spread out over four city blocks on upper Fifth Avenue, it is an impressive building when approached from either its back [which sits in the park] entrance or its imposing front which is on 5th Avenue. It houses 5000 years of art, and entering the museum's Great Hall feels very much like one has stepped into another world. One can spend an entire day there, or in its 2 sister museums: the new Met Breuer on Madison Avenue that explores 20th and 21st century art and the Met at the Cloisters which is set in Northern NY on the Hudson River and is dedicated to the art, architecture and gardens of Medieval Europe. One little known fact: If you start your day early, you can buy a ticket for the Empty Met Tour that allows one to enter before it opens to the public and get a tour with a fantastic guide. It is something I would highly recommend, as it is a rare opportunity to see all the work in this spectacular museum in peace and quiet. That same ticket allows a 24-hour access to the other two Mets too. In many ways it is an ideal day.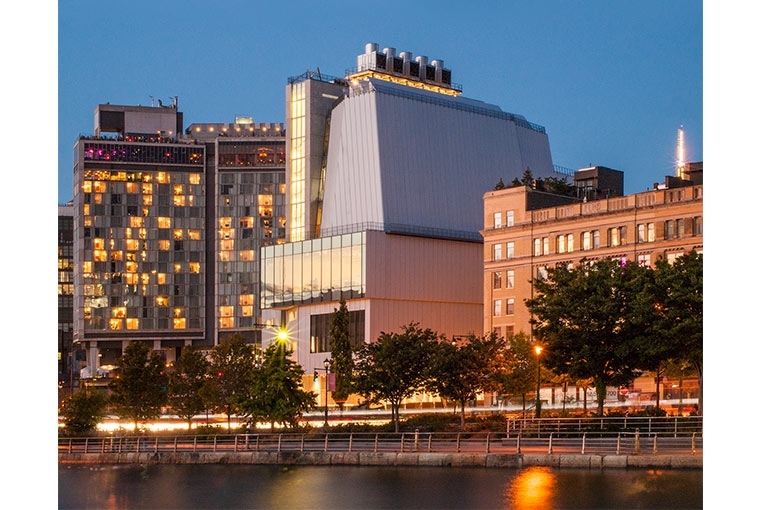 Since I do not have all day at my disposal I walk a few blocks from the Met to its sister museum the Met Breuer. Designed by Marcel Breuer this was formerly the home of the Whitney Museum. It is a stunning brutalist building with a fantastic collection and an excellent restaurant and bar [Flora Bar]. Imagine my delight when I discovered that the current main exhibition was Modernism on the Ganges: Raghubir Singh Photographs [running until January 2, 2018]. Raghubir Singh is a personal favourite and this show is one of the most comprehensive retrospectives of his work. Apart from his wonderful photographs, it includes the work of many of his influences, inspirations and people he collaborated with [for example the filmmaker Satyajit Ray was originally a Graphic designer and designed the cover of Raghubir's Singh's early books- included in the show, while there are some moody photos of Mr. Ray taken by Mr. Singh alongside those]. Noticing the beautiful details and his amazing eye into India was an hour happily spent and after a morning of visual feasts it was time for a meal, and a drink

An extremely pleasant walk down Madison Avenue [past the famous Carlyle Hotel with its old school Bemelmans Bar— with murals by the wonderful illustrator Ludwig Bemelman] and past various typical Madison Avenue stores [truly what one pictures when one thinks of "shopping uptown"] I arrive at one of the best Stores in NY—Barneys! It is one of the contemporary high-end stores along with Bergdorf Goodman for fashion, beauty and lifestyle. It is easy, especially uptown, to get seduced by the siren song of shopping…but there is so much art, culture and nature [the park!] that when in New York those are the real activities worth pursuing. To that end, a matinee at Lincoln center [at The Metropolitan Opera House] of the rejuvenated production of Mozart's Die Zauberflote [The Magic Flute] was called for. Directed by [and sets designed by] Julie Taymor [of Lion King on Broadway fame], and conducted by James Levine [who has been the musical director of the Met Opera for 40 years] it is a triumph!
The building itself, with its arches, stunning interiors, Chagall murals and fountains is worth seeing for the architecture and setting alone. One of my favourite moments at any performance is when the chandeliers that resemble snowflakes rise up into the ceiling as the lights go low. The perfect place to spend an afternoon or evening, alone, as a couple, with friends or with kids…it is home to the Opera, the American Ballet Theatre, the NYC Ballet Company, the New York Film Festival, Jazz at the Lincoln Center and the Philharmonic…a wealth of choices depending on the season. It is a classic, beautiful, satisfying slice of this city, along with other amazing institutions like Carnegie Hall [classical music], The Brooklyn Academy of Music- BAM [contemporary performance, music and theater], the Alvin Ailey Dance Company [modern dance], Madison Square Garden [sports and concerts], and of course…Broadway! Glorious, inspiring, rousing Broadway with its musicals, dramas, comedies, revivals and energy is every visitor's fantasy of this crazy city.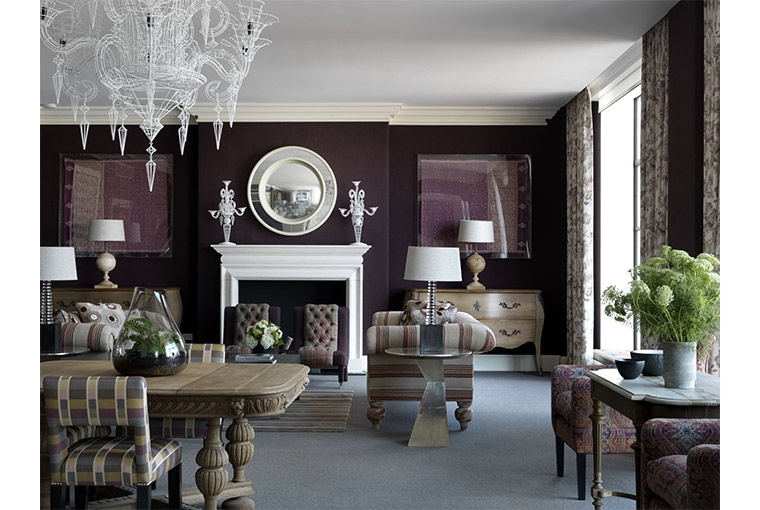 Crosby Street Hotel Suite
I wander through the park as dusk settles onto the city to my perch on the 32nd floor of the plaza, to have a moment of respite before my much-anticipated dinner at the one and only 21 club. I sit at my window watching the sky turn from day to night, the bridges and buildings light up, the lamps of Central Park slowly twinkle on, and the city readies itself for a night out.

The 21 Club is more than a restaurant, it is a piece of New York history that is not just preserved in time, but actually a living breathing reminder of that history…Opened by two brothers in 1930, it is one of America's most famous speakeasies from the Prohibition Era. It has a disappearing wine cellar door that was used to hide any evidence of liquor. As the story goes, raids by police and federal tax officers during the Prohibition Era were persistent and frequent. This led many club owners to go to great lengths to hide their illegal liquor. Jack and Charlie [the brothers] did just that when they designed a complex system of camouflaged doors, invisible chutes, revolving bars and a secret wine cellar to hide and destroy the evidence. Rather cleverly, the wine cellar was not actually part of the '21' building at all, but the basement of No. 19 next door. So when the authorities asked the bar staff if they had any liquor on the premises, they could honestly say no! In reality, it housed 2,000 cases of wine.

This is just one aspect of this wonderful restaurant that makes it so special, and so New York. The 21 Club truly has the feel of an old fashioned gentlemen's club refashioned for the now. Walking through the kitchen I greet the chef [the talented Sylvain Delpique] to the staircase that leads down to the hidden cellar. It truly looks like an impenetrable wall, until I'm shown the thin piece of metal that is the key, one subtle twist and I'm in one of the most fantastic rooms I have ever seen. Floor to ceiling shelves are packed with bottles of wine, but the real treat is the chance to see bottles from the private collections of Elizabeth Taylor, Sophia Loren, Mae West, Frank Sinatra and Aristotle Onassis…amongst many many others. This hidden cellar also has a private dining room that can accommodate up to 20 people—a truly special spot.

We walk back to our table in the main dining room, which is an intimate space. Every inch is occupied with a brilliant array ofsporting and industrial memorabilia, all donated by its patrons. There's a model of a PT-109 torpedo boat from President John F. Kennedy, baseball bat from Willie Mays, a replica of Air Force One from President Clinton, tennis racquets from Chris Evert and John McEnroe—even a golf club from Jack Nicklaus.

Then there is the food and wine! Starting with the delicious Shellfish tower, and the pressed octopus, we moved onto the Steak Tartare [prepared tableside and better than anywhere in Paris!], the Dover Sole and the Filet Mignon. Paired with pommes soufflés [airy puffs of potatoes] and a sublime bottle [or two] of Chambertain it was a simple moment of all the elements of the day coming together in perfect harmony.

Text & Photography Rymn Massand