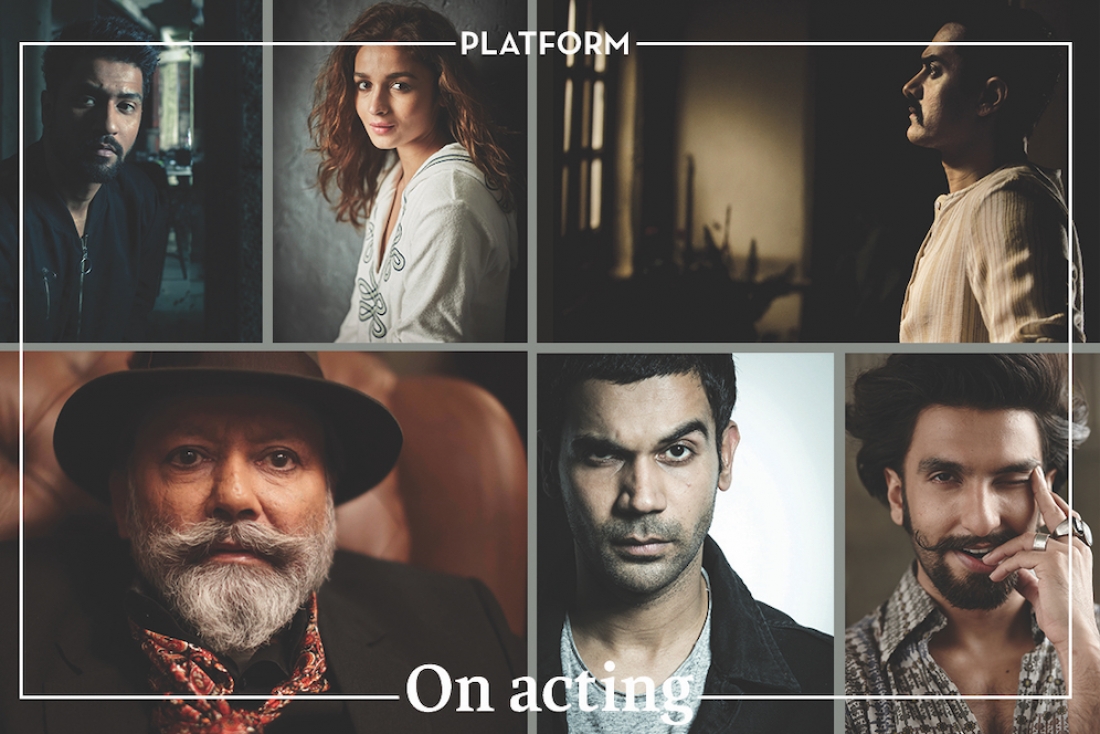 Shakespeare wrote: 'All the world's a stage, And all the men and women merely players; They have their exits and their entrances, And one man in his time plays many parts,' and universally combined the very act of living with the art of acting. From the ancient Greek tragedies to modern day Hollywood and Bollywood, the relevance of acting as an art has remained unfazed. Especially now, from the tinsel of their glamorous lives to the appeal of the critical performaces, actors have always taken centrestage in terms of popularity and influence. Bollywood and Indian theatre has given birth to some of the biggest actors in the world and we revisit our conversations with them to recollect their thoughts on acting.
Shabana Azmi: Anything that is trying to say something new that I agree with, excites me as an actor. If the role is different and if I feel the film is important enough, I go ahead with it. In the past, I have done films in which I wasn't aware of what the ultimate message was and I have been corrected and I stood corrected and after that I made informed choices. I am someone who prepares in advance. We were always taught to first memorize our lines so that when you have to actually say them out loud in front of the camera, they simply become a part of you. I do a lot of work on paper, carefully marking out lines, pauses, the subtext of a line, but in front of the camera I forget it all because the idea is to imbibe it.
Pankaj Kapur: My first love is acting. For me there is no difference when I am acting on stage, television or film, as the character remains the same. The only difference is that when you are performing on stage, you have to project more as you are being seen in a long shot, but the preparation for the part remains the same. Many would say that in theatre, with a live audience in front of you, you feel more fulfilled. However, film is equally tedious and challenging, since film pieces are broken up and one needs to put each scene together to project the whole. And, if you manage to piece it together successfully, then that gives you equal satisfaction.
Naseeruddin Shah: Everybody wants to be the hero. I didn't want to get into any rut but sure I wanted to be the hero. I wanted to be the star and I wanted to sing songs and I got to do all that shit. But I found that I wasn't any good at it. The first few films I got were films that required me to be real. I had to shed all traces of the brash 22-year-old confidence that I was full of at that time and I managed to shed it quite easily because I really think that it wasn't me. Early on in my career I realized never to accept a part no matter what its length, if the character does not have its individual dilemma, which is why I have no aversion to playing one-scene roles. The length of the part has never mattered to me. And I think that's worked to my advantage. The language hasn't changed one bit. The techniques have definitely improved. As far as the acting is concerned, I like these younger actors. I really admire their tenacity and hard work. They are educated, vastly knowledgeable about cinema and most of all disciplined. Having said that, I fear that they are all still stuck, having been veined on commercial cinema. They are unable to cut the umbilical cord.
Aamir Khan: An honest character is what the character is; you play the character and imbibe his characteristics that have been written in the script. Whereas, an honest performance is one where you are trying to create a three-dimensional, flesh and blood character, that people can watch on screen and feel as a fully rounded character. Both kinds of characters are seen on screen, but I think it depends on audiences. But for me it doesn't matter which audience I am catering to, for me the key is to be honest in my performance. The criterion to choose a film remains common no matter who approaches me, an established filmmaker or debutant. It's pretty simple – I am looking for a story that moves me, that touches me and excites me.
Irrfan Khan: I think as an actor you must be able to convey the gravity of the situation—that is important. Whether you have the same perspective is not as essential. The objective is to convey what the story is trying to say, to recreate those experiences for the audience. Whether it's fictionalised or real-life, unless the screenplay and the dialogues are not good, nothing generates interest. But if written well, real-life characters have much more material to play with. There is an extra edge to doing these roles.
Priyanka Chopra: I truly enjoy what I do. Every film that I have worked on, every character I have essayed and every film crew that I have been a part of has helped me fall in love with my craft more and more. I want to constantly push the boundaries as an actor and that is one of the key factors that helps me decide on a film. I choose films that I truly believe in – the ones that pose a challenge to me as an actor and also something that I would, as a member of the audience, go and watch in a theatre!
Ranveer Singh: I have grown up on mainstream masala films and that's what brought me here. But once I came here, I wanted to do exciting work with the Vikram's and the Dibakar's of the world, but slowly I realized that in order to make those brave choices, you had to establish a commercial stand and this could only come with films which had a wide appeal. For better or worse, indie films have a limited audience and so one has to earn one's strides. So I feel one should establish his/her commercial standing as a saleable entity. That would empower you to make those brave decisions. After that, whatever you will pick up, will add to your commercial value.
Alia Bhatt: The story is my first starting point for sure. It has to engage me from start to finish. Then, the character plays a very important role. The character has to challenge me at a different level. It needs to show me a new or different light. I feel as much as possible; one should stay away from one's own life when playing a character. If there are references or similarities then you can draw from your own life. But it's more exciting to create a whole new person altogether, and start from a blank canvas. I like to leave myself behind at home and adopt the character I am playing. To be able to live another life is very exciting.
Rajkumar Rao: When I read a script I look for something different and which, makes me explore new things. I need to be excited and the film should push me as an actor. I just wish to grow as an actor with every film. I am an actor because I want to live various lives and films are the only way I can do that. It is very important to challenge yourself as an actor because I don't like things that come easy. I don't like to put myself in a comfort zone as that is a very dangerous spot. As there won't be any growth. Also I feel you won't survive for too long as people will get bored of seeing the same thing again and again.
Vicky Kaushal: I have always been a person that goes with the flow and concentrates on the present and I am not one who plans the future. I did not feel in synch with the engineering world and asked myself what do I feel in sync with and it was films. I would like to associate myself with films with substance. I don't mind dancing around tress and doing the whole song and dance routine but it should say something and resonate with someone.