The Danish author Hans Christian Anderson once said to travel is to live. While our lives maybe on pause at the moment and the very idea of travel a far away dream, this simply does not imply that we can't reminisce old adventures to channel some positivity during these turbulent times. Take a mental break with Roshni Nadar Malhotra as she travels all the way to Rwanda for a gorilla trek.

When I first mentioned that my family and I were off to Rwanda for Gorilla Trekking; let's just say the response I got from most was rather disconcerting. Especially for those who've watched the film Hotel Rwanda – robbery, rape and murder is apparently inevitable! In 1994, 2 million of the 7 million Rwandan population were either wiped out or displaced within a span of 100 days. A politically driven tribal war resulted in the brutal massacre of men, women and children. The world watched silently as one of the most horrific genocides in recent years unfolded. But today Rwanda has emerged strong and united. Kigali apart from being the capital and the largest city here is peaceful, safe and beautiful, and one of the cleanest cities I have ever been to. And as far as the Gorilla Trek goes it should be a staple on any travel and adventure junky's list!
THE GORILLA TREK ITINERARY
The day at Sabyinyo Silverback Lodge starts early at 5:30 am with a wake up call from your butler and tea in bed. By 6:00 you must make it to the dining area for breakfast, integral for the energy required for the trek. By 7:30 am you arrive at the Park Headquarters where your guide/ ranger will be negotiating which gorilla family will be assigned to your group. I'm not quite sure what goes on there but it's likely that you're assigned different families on different days!
There are multiple gorilla families in the mountains, treks to them range between two to five hours. At any given point the dominant male of a gorilla family will move with his family up and down his territory in search of better vegetation. At Sabyinyo there is a wall dedicated to all the families with a map that identifies their rough location and territory. Families range from those with one dominant Silverback male, females and many babies to families with a few Silverback males and others with twins. One of the families includes the largest known Silverback in the world today! We wanted and got Group 13! A family of 25 gorillas where Akasha, the dominant Silverback male, has developed quite the 'Elvis' reputation. Rwandan wives weren't enough for this charmer; so he crossed over and brought two from Congo and one from Uganda! The rest in his family are adolescents and babies. Only males have the Silverback and when they stand they're seven feet or taller. Akasha, the father to all the babies and protector of his family was chewing on bamboo and thoroughly enjoying on it. He began a strange 'yum, yum, yum' sort of sound and the entire family repeated after him. It was a precious moment.
After you are assigned a family, your ranger and park staff briefs you on the dos & don'ts and of gorilla conservation. Each group then drives to the respective point on the mountain from where the trek begins. Porters are plenty; they speak French mostly, and will carry anything for you or even you! Stretchers are available; there are about eight porters per stretcher since the climb is steep and tough. They don't come cheap, $200 per stretcher, but they will carry you up and down the entire trek except the last 100 meters. Which must be done on foot since oddly shaped objects startle gorillas. Once you reach the family, you are permitted to spend only one hour with them. Again, this is strictly monitored and all part of the conservation efforts. You can trek down at your own pace and there will always be a handful of porters around to assist you. The rest of the day is spent at the lodge and trust me; your body will require the balance time to recuperate!
Mountain Gorillas are only found in the Virunga Mountains, common to Rwanda, Congo and Uganda. In the 1980s they were highly endangered and their numbers dwindled to a mere 300. Stability with increased gorilla tourism has now helped their numbers back to 800. Conservation at a national level requires extensive funding from within and outside the country, hence gorilla 'safaris' are priced high. It is said that some porters and rangers used to be poachers earlier. It was the only way they were guaranteed the next few meals for their families. Today expensive and exclusive tourism provides them respectable employment and a higher return. Perhaps we can learn from Rwanda and apply similar conservation strategies for our tigers!
GETTING THERE
Direct flights connect Kigali to Nairobi and Johannesburg. The best route time-wise from India is on Emirates via Dubai to Nairobi and then onto Kigali. You then have a choice between a two-hour drive or a 20-minute chopper ride to a town called Ruhengeri that borders the magnificent Volcanoes National Park, home to Mountain Gorillas and drive down to Kigali from here. With clear skies around us we opted for the latter!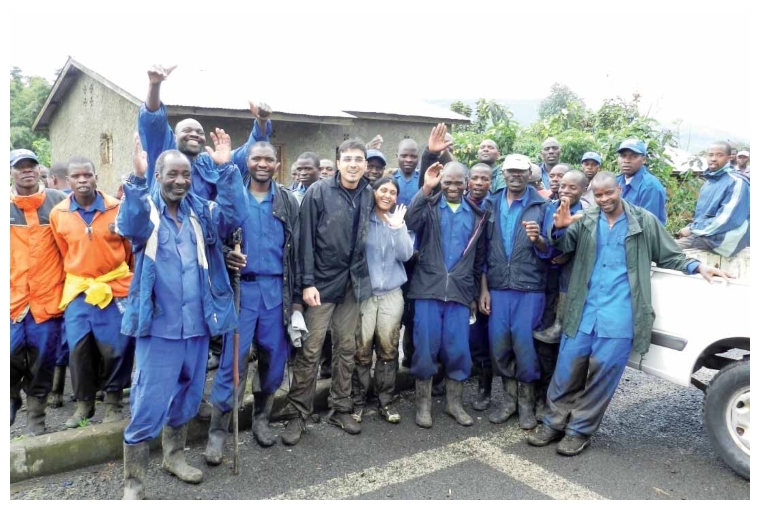 RECOMMENDATIONS
1. Watch Gorillas in the Mist, a 1988 film based on Dian Fossey. The Virunga Mountains today are as beautiful and untouched. If you wondered how the trek and terrain will be, it is exactly as shown in the film. One may or may not agree with Dian Fossey's conservation efforts and there are two very strong & different schools of thought but she can definitely be credited with making the world aware of the existence of our closest cousins!
2. Once you reach the Park Headquarters you discover almost ALL tourists are American. Do not be intimidated by all their fancy hiking gear. Regardless of what you wear, you're going to get absolutely filthy! The only thing we should've invested in was lightweight hiking shoes and a waterproof hooded windcheater. Stinging nettles are all over as you trek, best to wear long, lightweight gloves.
3. An important caveat to note before one plans a Mountain Gorilla Trekking trip to Rwanda is that Children under the age of 16-years are not allowed to go on Gorilla Treks and it is stringently enforced.
4. Primate Safaris is among the top agencies to plan your trip. Their service is impeccable from the time they receive you at the airport till you depart. Ask for Alex, he was our driver/ guide. Not only is he proficient in English but also to hear about Rwanda from a man so knowledgeable and passionate is truly a pleasure. Also, don't forget to book your Gorilla Permit (yes, you need a permit to get on this trek!) way before you get there. A maximum of only 64 permits are issued per day and it costs $500 per person per trek per day.
PLACES TO STAY
In Kigali, the Kigali Serena Hotel is a five star hotel and most preferred by tourists among other options. But in Ruhengeri, the Sabyinyo Silverback Lodge is the only place I would recommend. It sits on a hill with beautiful views of the Virunga Mountains. It's exclusive, reservations must be made six-months in advance. Each cottage is spacious with a deck, fireplace, express laundry and hot water! Basic electricity is available 24-hours but luxuries like hair dryers require generators that are turned on during a specified time period. There is a well stocked bar but you're allowed to bring your own alcohol and the food is absolutely divine. The lounge is internet enabled. And this came as an absolute surprise, in all my travels so far Rwanda turned out to be the place with the best cellular network coverage, even when one is with the gorillas!

This article initially appeared in our November/December 2011 issue and is a part of our extensive archive.
Text
Roshni Nadar Malhotra