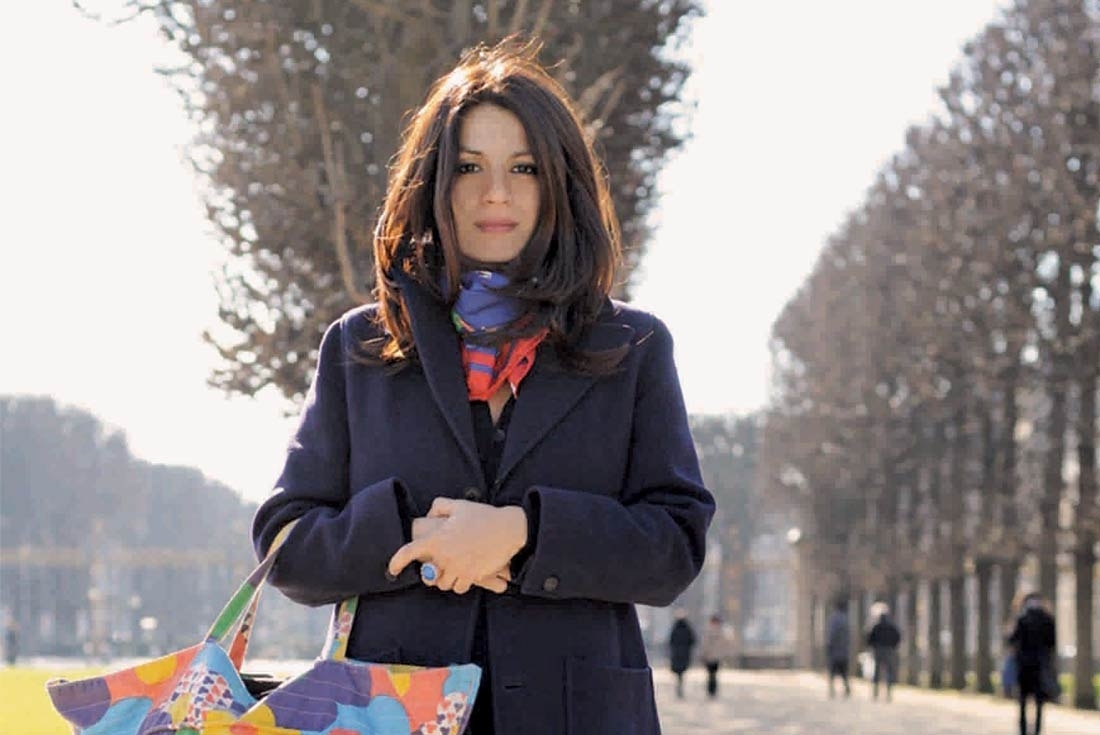 Rymn Massand
The Joy of Discovery
Rymn Massand is a designer, writer, traveller, dreamer, enthusiast and collector of interesting objects from all over the world. Her passion to explore, her attention to detail and her cultural curiosity make her very interesting, and her craft very endearing. Be it the various book jackets she has designed or places she has travelled and documented or interesting artifacts she has displayed at her home, each sphere of her diverse life culminates to make her a creative powerhouse. Being born and brought up in India, living in France and now New York, and marrying a German has influenced Rymn a great deal. 'I have all the sights, sounds and smells of all these places imprinted within me, and an openness to the world that I find powerful and inclusive. It has made me smarter, kinder and better in every single way. I find it incredibly wonderful to have an Indian upbringing with a European sense of beauty, and a New York urgency and possibility.' We got talking to her to understand more about what she does, her inspirations and her love for travel.

Deconstructing Rymn Massand
The more you know = the more you know—something I believe in and something I tell my son daily. I am extremely curious, value knowledge, pursue happiness and hope I do so with grace, humour and kindness.

Essential to me is positivity, and a sense of discovery. Every step of the way, in my life, I have been motivated purely by what interests me, not what makes me more money or is the suitable thing to do, but by what makes me want to know more, and ultimately that is what has brought me my biggest successes. I was a passionate reader from a very early age—insisting on weekly visits to the library, or to Teksons Bookshop in South Extension market, constantly begging my parents to open a bookstore [they did not heed the nagging of an eight-year-old]. This passion for books sustained me, made me happy, and it is what I most loved to design as a graphic designer [getting hired as an art director at the venerable publishing house of Little Brown and Company was a highlight]. My love for the written word also motivated my own foray into writing—which turned into something more than a hobby; and my love for travel, new places, people and adventures has been the force behind my latest endeavour, which is a creative consultancy called RYMN, specialising in travel, writing and design.
Early life
I was born in Chandigarh [my father who was a pilot in the Indian Air Force was posted there]; we moved to Delhi when I was three. I would love to say that somehow Chandigarh's minimalistic Corbusier designs influenced me but in all honesty, it was my family's artistic interests that were my first influences. My great grandfather was a painter [not particularly outstanding in any way, but extremely passionate about it] and my early memories are of him in his garden studio in his home in Chandigarh—the smell of those solvents and paints, seeing his crazily bright oil paintings of flora and fauna emerge from a simple sketch. There was my grandmother who was an amazing classical singer, my mother who liked to draw, and various other family members who dabbled in some form of art or craft. I drew from the moment I could hold a pencil, and there was not one address book of my parents or aunt and uncle that was spared my doodles and sketches. It is not enough, however, to possess a talent… obvious, as it may seem, it's the nurturing of it that makes one an artist. So, my parents encouraged me to draw, never told me it was a childish activity that had to be put aside for more academic pursuits, and with that wonderful support I kept at it.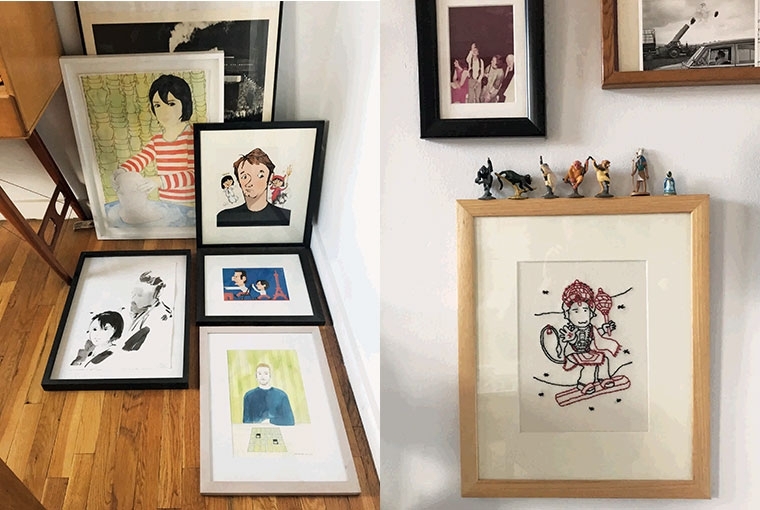 Inspiration
Storytelling in any form. Beauty in any form. Discovery on any level. I believe in an accumulation of inspiration. Music, travel, architecture, illustration, books, wine labels, film, theatre, politics, wildlife, bicycles, comic books, other people, smart friends, beautiful kids, a flower stand at the farmers' market, pencils, a wall of nail polish bottles at the salon, old newspapers, passport covers, a lush plate of pasta, my father's beautiful handwriting, ceramics, a basketball dunk, crosswords, pennants flapping in the breeze at the Pallio in Siena, pewter coloured mansard roofs in Paris, old family crests, Spanish tile work, sunrise through the airplane window on an overnight flight…the list is endless. The backbone of all my design work is how to tell a story, to evoke a feeling, not just how to decorate a pretty package, but to get to some truth and beauty.

Travel
When we lived in Paris for six years [a few years ago], I walked around every day with a smile on my face and a song in my heart! Paris made me understand how important it is to surround oneself with one's own version of beauty and calm. There was a civility there that I found very appealing. This is true, in its own way, of all the different places I have visited. All the languages, their history, the beautiful women
and handsome men [who are so distinctively different from one country to the next], the architecture. My overly fertile imagination loves to observe and concoct scenarios for everything and everyone I encounter. I love the gestures and the cadence of how the Italians speak, how the Parisians interact, how the Spaniards greet each other, how the Germans solve a problem, how the English joke, how the Indians give advice, how a New Yorker gives directions…this is why I love to travel. Once one loves a place and its people, it is impossible not to want to somehow make some record of it, be it a quick sketch or jotting down some observation in one's journal, or a napkin that you keep, and at other times writing about it at length because the joy of discovering something never leaves you and if you are like me, then you want to share it. My friends are a captive audience to my endless stories. Out of appreciation for their patience and to spare them the persistent recitation of my adventures, I started writing articles to subject a wider audience to those stories, and in most of my writing, my excitement and love for my discoveries comes through.
Journey in Design
I started out at my first job in NYC at a small design firm called Eric Baker Design; we worked on a lot of publications, branding and design. The best part of working there was the extensive design library that Eric was well-known within the design community for. That was my first real introduction to the history of great design, book design and typography in particular. I loved it. One of my mentors in those early years was a designer called Carin Goldberg, who is an amazing book jacket designer. I was so inspired by her, and she encouraged me to pursue this field of design I loved. With her support, I moved on to another small design studio called Spot Design [there were only five of us including my brilliant boss Drew Hodges] where we worked on books, music packaging and then the cherry on the cake—entertainment design and advertising [simply put design for Broadway and off Broadway shows, movies, and more]. We had our first phenomenal success with the design for Rent, and then the hit musical Chicago, and from that moment on, it was a roller coaster of bigger and bigger shows and TV and movies. At every pass, the emphasis was on storytelling and figuring how to tell that story in the most appealing, eye-catching and intelligent way. It taught me the invaluable skill of distilling a story down to its most essential message and then figuring out a creative way to convey that. It also introduced me to Broadway musicals and alternative theatre, and the great American songbook from Cole Porter to Gershwin and Rodgers and Hart.

After four years there, I got offered my dream job as Art Director at the publishing house of Little, Brown and Company. The art department was headed by one of the most talented designers out there, Michael Ian Kaye, and he was a master of book jacket design and a master at inspiring his small but super talented art department to do better, smarter and cooler work. I was in heaven, surrounded by books, reading copious amounts [I read everything I design—except the self-help books]. There's a narrative component to my work; after reading the books, it's like lines of dialogue will settle in my thoughts, something I've seen somewhere, some piece of art or a lyric or some little random typography will suddenly make me think, that could be helpful. But it's never stylistic. For me, it's about knowing there's a story within and feeling like there should be a story that surrounds that, in terms of its package. It's always about how you tell the story that's written within.

Of course, I do a lot of packaging design, a lot of beautiful branding and entertainment design, but books have always brought me a particular sense of satisfaction and pride.

Text Shruti Kapur Malhotra