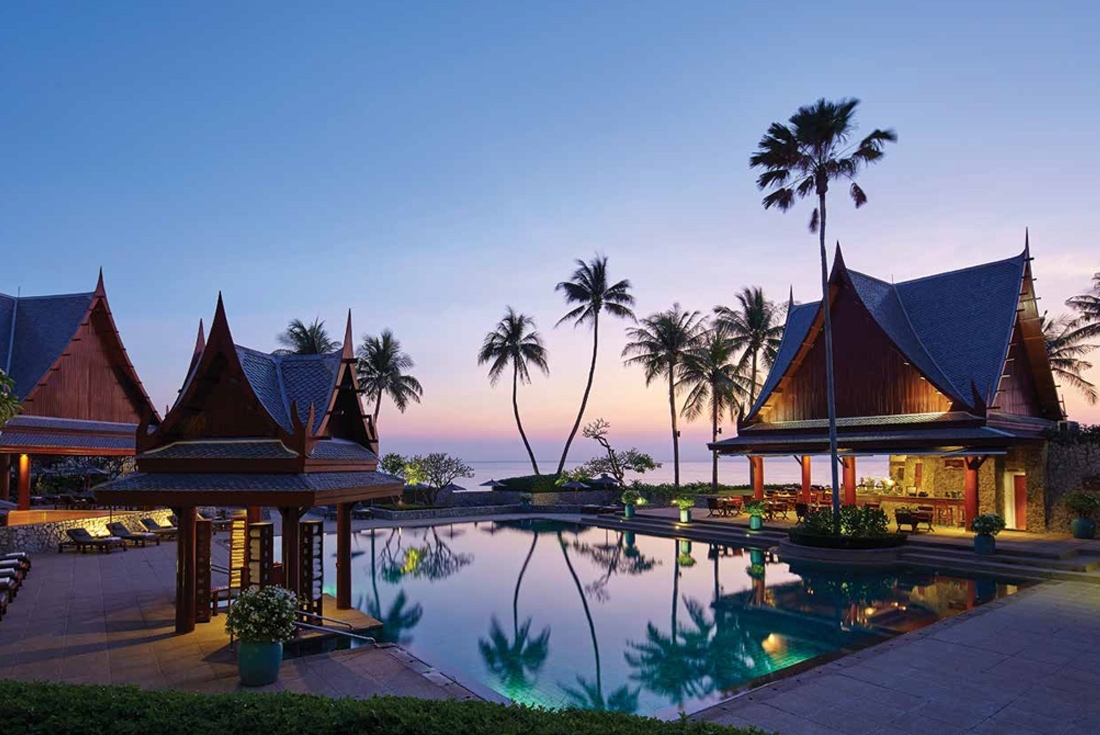 Pool-Beach view at Chive Som
Bangkok is no doubt a whole lot of fun, but it has another brilliant side - one of great comfort food and greater healing for the soul. Our travelling writer recommends you bliss out in Bangkok this season.

Here's first dibs on the finest dining experience I've had thus far this year. At Suhring in Bangkok, a magnificent converted house serving German food, which enjoys a historically unpalatable reputation. But at Suhring, under stunning stewardship of twin brothers, Mathias and Thomas Sühring, German food is reinvented to petite bite size portions served with gusto, panache, and imagination. Choose between nine or 12 courses, and the fare will not disappoint [although the wait staff, perhaps far too enchanted with each other, may not always notice a raised hand for attention]. Spazle, beautiful butter, dark sourdough, darling servings of beer, shavings of exorbitant truffle, house pickles and a sublime dessert with dark chocolate made my experience utterly remarkable. Expect to see exquisitely turned out wealthy Thais on tables surrounding you—Suhring is where Bangkok beau monde bundles out—and then head the next morning to check out where they got their threads from [probably designers Praphaiphan Daengchai who produces for Thinkk Studio, Parsissara and Nisaya—all labels to check out while in town].

The Metropolitan by Como has been my Bangkok hideout for years—its enormous reception room with cathedral height ceiling and clean furniture hide its secret grace. In a city ravaged by traffic and noise, this property offers quietness and elegance as balm for weary travellers [once inside your room, the frenzy of the big city is a dark, distant hum, your room overlooks a large rectangle of blue water, and manicured shrubbery reminds you of Thai attention to detail and precision]. Their large luxe suites are best for families, although all their rooms are marvelously furnished redolent of ashram chic. I never miss a healthy breakfast at their restaurant—yoghurt with berries, pineapple juices—as the Coachella mantra goes: "detox before retox"—and always find myself in their pool at dusk before I head to Havana Social for a drink [it is gloriously hidden away and you'd have to do some digging around to find it] and onward to dinner at Ama or Le Normandie.

For the years I've been frequenting Chiva Som, and no visit is complete without contemplating how stimulating my stays have been, how seamlessly the resort runs, and how my return to India is rewarded by fitness, rejuvenation, and insight achievement. This particular trip was also not without its recompense: after a gemstone reiki session with one of their masters, Kathy Chattawan I had a series of dreams which helped me profoundly process a situation in my personal life. What the reiki did was to affirm that while Chiva Som is a world-class spa its bouquet of matchless therapists distinguishes it as peerless. I've enjoyed stays at La Prarire, the Six Senses, or Bad Ragaz, and closer at home, Atmantan and Ananda, but the Chiva Som fix is on an instinctual plane: you go home more at home with yourself than ever before. There's lot to look forward to at Chiva Som: their menu is extraordinary [make sure you get home their cook book which allows you to easily emulate some of the delicious food you'll wolf down at their restaurant]; the beach in the town of Hua Hin is spectacular, with easy swimming [there is a jelly fish warning]; and their GM Sheila McCann occasionally hosts a Talk Table, where solo travellers like myself are invited to meet other guests: not are you entirely beguiled by Sheila's empress-like graces and sublime conversation but you are bound to meet other hugely engaging guests, all Chiva Som regulars.

But no one really goes to Hua Hin to meet people—you go to Chiva Som to mend yourself. This is a serious place.

So you could start with their signature massage and ask for therapist Emma before heading on for a swim at sea or in their pool. After a delicious lunch—their restaurants are truly exceptional with organic fare right out of their farms—I'd sign up for their acupuncture. Their therapist Hashi Satoshi is like a pandit or a shaman because a treatment with him allows you to enter your neglected corners and recognize what is bruised or alienated by life's torment, how your energies are awry, and what knot of sadness must be freed to allow life to flow freely through your veins—no one can help you more than Satoshi, who has an oracular touch and the laughing eyes of a sage. Pax Nuchjarin was enlisted to do a lymphatic drain, and while the process starts out feeling like a massage it is only when done do you realise how this has raised your awareness of time and lifted a cloud of toxins. Treat yourself to some reflexology followed by an aloe body mask, and you'll see why most guests here are repeat visitors: there is very little flaw with the place, but I suppose one can crib about the odd mosquito on the grounds. Here's what I believe would the best use: to go there before a big event, a wedding, your 50th birthday: and a tune up there would be ideal before you have to present yourself to the world. Your skin will glow. Your muscles feel taut and lustrous. Your step is agile and light. Your digestion is strong and refined. I now only ever go to Chiva Som before I need to tone up to wreck another marriage but I suspect you could use it in reverse and save your own?


Text Shikoba Sarin