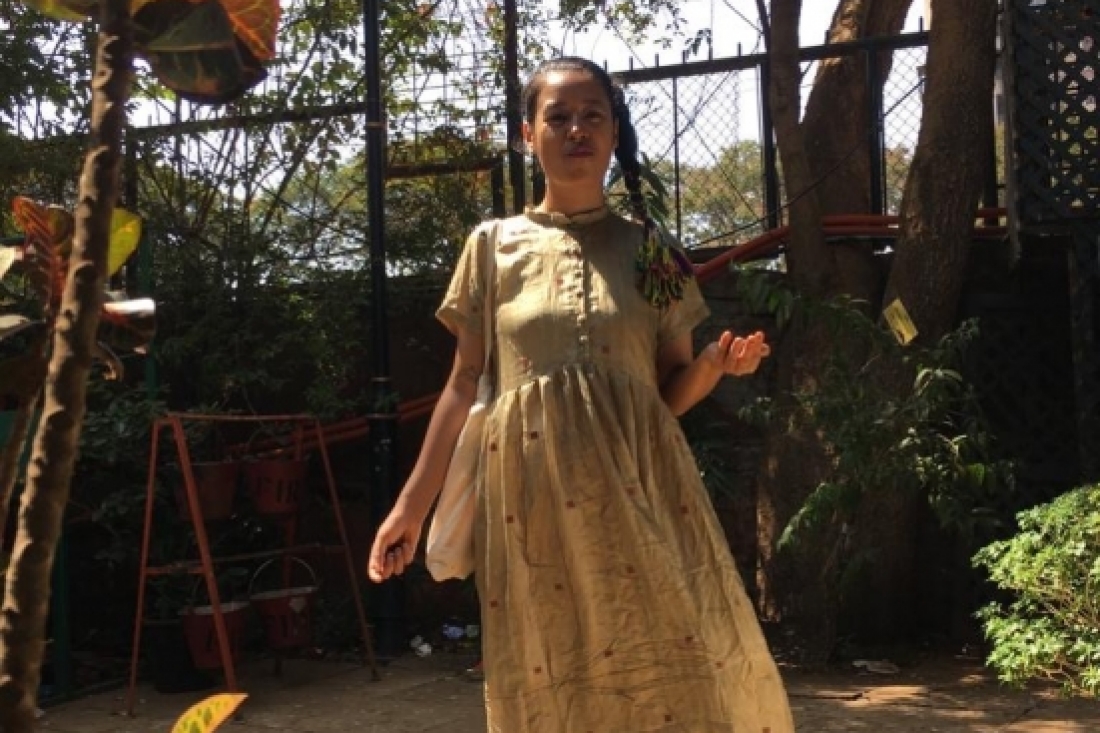 Aqui Thami started the Sister Library as a roaming library with the intent of carrying books to places that feel an absence of libraries. The space is not simply a space for reading, but also collective healing. Thami, a doctoral student now, has very happily only read writings by women for the last five to six years. In her healing space, women come to talk about what it means to share the burdens and the joys of being a woman.
Platform speaks to her about her plans for the year 2020 and where the Sister Library seeks to set foot in next.

Could you tell me a little about yourself and your journey?
I grew up in Darjeeling. I left home when I was 15, but I used to love reading as a kid. Since it was a place that wasn't urbanized and did not have book shops, I would always ask people to get me books. You know how people usually ask kids if they would like candy or toys, I was the kid who always wanted books. Also, since the area I lived in was affected by conflict, and there were a lot of bandhs, strikes and curfews, we did not really have much to do as children. We did not have places to play. So, I pretty much stayed at home reading a lot.

You've said that you've only read Women's Writing in the last few years. What led you to this decision?
It was a very conscious decision that I made very happily. When I started reading women I read a lot of fiction and poetry. Since I am also a doctoral student, I also read a lot of academic papers. Finding academic papers about indigenous women written by indigenous women was slightly difficult. In an attempt to read women, I was also looking to read women who were writing about themselves rather than white women writing on indigeneity and caste. Gradually I found them and expanded my research to also include fiction writing from indigenous women in India and across the globe.
Sister Library was ideally supposed to be a traveling library; however, it has now found a stable home in Mumbai. How has this evolved your vision for the library? What is it that a stable library offers that perhaps a nomadic library doesn't?
When this work started as an immersive installation, the idea was to have a physical space. I did not know how it would shape but I was quite sure of the traveling bit, or the "roaming" bit of it as I like to call it. As a child I always longed for a library and a space where women could just come together, this work was born out of that longing. Although Bombay is one of the biggest cities, and with a large population, we do realize that it is still a city where people already have access to libraries, so the idea is to still travel. Last year we did a lot of big cities but now in 2020, we are trying to put money together and go to the North East and parts of the Himalayas. What we could do with the physical space that a roaming space didn't do was to have a reputation. For instance, now, women and young children know that they can come here. What we have now is that people can come again and again. We also have a feminist movie night now. We have also done a feminist pre-school by women who are successful in their fields to come and take a class. So, these women do not necessarily have to be qualified. We also have women from the bastis that are coming and teaching. So, we're really trying to unlearn the system that decides what is knowledge and what is not knowledge while also trying to play with the class relation of who as a woman is a teacher and imparter of knowledge, and who isn't. We also have the Community Pot Luck. Lastly, we have the Mahila Mandali which is a women's circle we have every full moon. So, these are some things we have been able to do with a stable library every month that a roaming library couldn't have. So, that creates a space for discussion of ideas by the people who are participating. It is exciting for me to see how little changes take place.

I've read that you've often described the library as a space for healing. Can you give reasons for doing so?
I feel my practice is itself a practice of healing because of the wounds of colonisation and patriarchy that it tries to undo and I think arts just became a medium for me to do the same. Library was one of the spaces that I created where I felt I was absolutely at peace, and then I see that reflected with many other people who come and visit. A lot of times when women come, they're in tears because it is the first time they're in a space like that. A lot of them are very happy and get a sense of belonging and feel connected to their community because of how they are in a space that is just for women. I think this is very important to healing because we have been trained to carry our own burdens, we don't think of sharing. We don't realize that it is not our individual problem, but larger structures are at play that make it difficult for us. The idea is not to alter ourselves and fool ourselves, and to not live like a machine. The library is a space to not let people feel isolated and share with others why you feel the way you feel and what to do about it next. Also, it is just a space to see things we have never seen clearly and it doesn't have to be through a meeting, but it could also be through zines.
Your library involves books as well as more creative mediums like zines. Do you think having zines helps you expand your readership and make the library more accessible?
Zines is one of the mediums I use in my practice and it is very liberating in the sense that there is no editor who is going to mince words. The maker has complete control on what she wants to share, and that is a very important aspect to me especially when it comes to women's writing. It is also about talking about things that are more personal and more private. Although we all realize that the personal is political, we do not really have a way to convey that in the mainstream way of sharing our stories. It is a long way for a native woman to go to a publisher and then share their stories, but a zine creates that space, and that has been really exciting, and one way in which the library is accessible. I have zines from New Zealand, South Africa, Canada, USA, the Europe – from almost every country I have done a residency in. I think for people who do not like reading a big fat research book, zines are a concise medium to gain insights into women's lives.

Is there any particular way that you curate the library and make choices about which books to shelf and which ones to reserve for later?
For now, the library has 1200 books, and 300 zines, but it is also ever growing. I have decided to put a lot of classics, then there are some graphic novels and art books. I think the idea was to have a variety of work, also in different languages so that everybody had the opportunity to access the books and celebrate works of women.

What is next for you now?
Like I said, we'd like to take the Library to the North East and belts of the Himalayas. We also want to start a printing unit because a lot of time women who come from the bastis do not really have the ability to carry a book home because rats can eat it, things can fall on it. So yes, we do want to set up a printing unit!

Text Muskan Nagpal