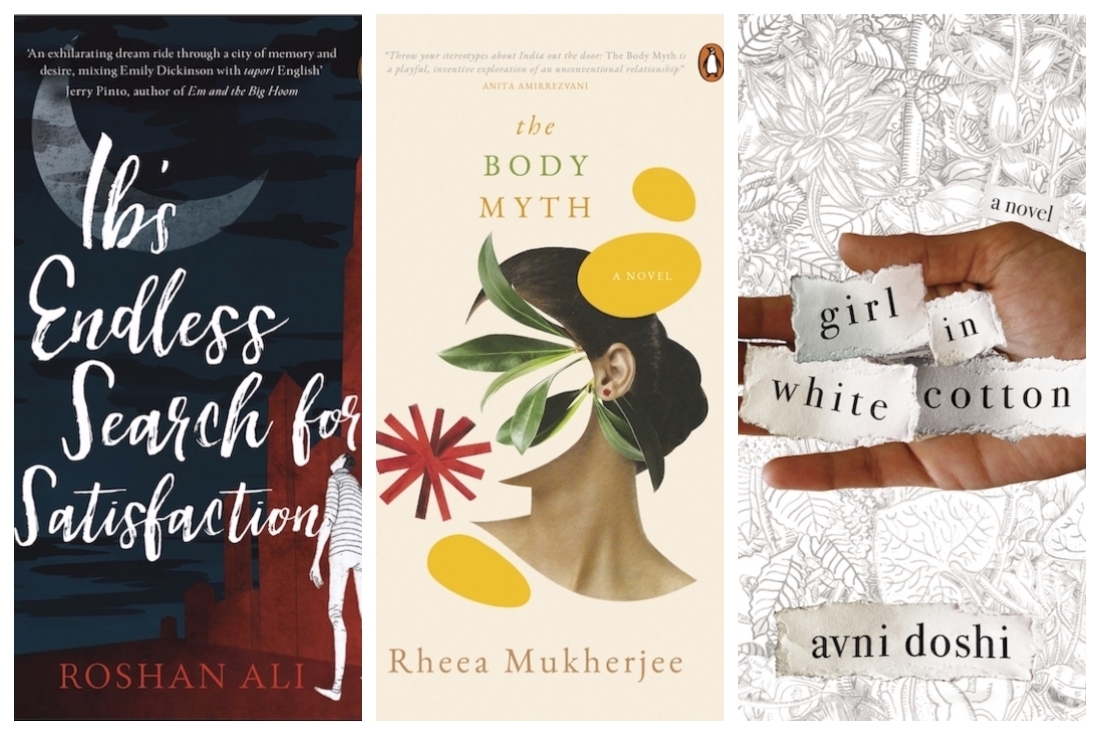 Debut Authors at Jaipur Literature Festival
2019 was a rather fertile year in terms of debut literary produce. This year's Jaipur Literature Festival will see many debut names make an appearance as speakers and panelists. We've round up some of the debut names we spoke to last year that are participating in Jaipur Literature Festival this year.

Avni Doshi's Girl in White Cotton
Avni Doshi had some beginner's luck as a fiction writer. She had just started writing Girl in White Cotton when she heard about the Tibor Jones prize in 2013. She decided to use the prize as a deadline to finish the first draft, but in the end she won. 'Soon I had an agent – I applied to and was awarded a fellowship. Everything was flowing and felt effortless until the time came to revisit the manuscript. I now really believe there is a danger in showing your work too early. It wasn't ready. I wasn't ready. I didn't know how to rework it, but I kept trying, and that's all you could see in those drafts. Effort. Pretense. I was trying to write what I thought I should write. I was trying to sound a certain way. It took me seven years and eight drafts to find this character's voice.'

Lisa Ray's Close to the Bone
When you open Close to the Bone, the debut book by model turned writer, Lisa Ray, the first thing that arrests you are these words written on the inside of the book jacket, in a muted gold colour, 'How fortunate it is when life alters you without warning'. At once, the anticipation of the misery associated with cancer and its victims or survivors is broken and positivity abounds this book.
There is a lot of honesty and heart in Ray's prose. As she takes you through her journey, she explores many ideas like that of fame and spirituality, dismantles many facades of the glamour industry and opens up about her identity and nomadic existence with wit and charm. Certainly, the most appealing part of the memoir is how well Ray uses her words to connect with the readers and despite the many instances of heart breaks along the way, the book triumphs in the end. Quite aptly she writes at the end of the 'Prologue', ' I am composed of all things seen and known and experienced, the emotions of a life lived close to the bone.'

Rheea Mukherjee's The Body Myth
Rheea Mukherjee's The Body Myth is an intriguing endeavour in exploring the mind-body duality. Philosophers and academicians have spoken and written ad nauseam about how the mind and body are distinct and separable and even vice versa. Mukherjee's work takes this debate and explores it in a fictional setting, the heart of which is an unconventional love story. The narrator Mira lives alone, and with only the French existentialists as companions, until the day she witnesses a beautiful woman having a seizure in the park. Mira runs to help her but is cautious, for she could have sworn the woman looked around to see if anyone was watching right before the seizure began. Mira is quickly drawn into the lives of this mysterious woman Sara, who suffers a myriad of unexplained illnesses, and her kind, intensely supportive husband Rahil, striking up intimate, volatile and fragile friendships with each of them that quickly become something more. Intense and unpredictable, The Body Myth is a meditation on love and loss. Most importantly, the book is an exercise in asking some significant questions like 'Do we trust what our body is telling us? And how separate is the body from the mind, if at all?'

Taran Khan's Shadow City
When Indian journalist Taran Khan arrives in Kabul in 2006, she imagines it as a return to the land her forebears hailed from centuries ago. It is a city both familiar and unknown. She finds an unexpected guide in her grandfather who – despite never visiting the city – knows it intimately through books and stories, poetry and myth. With his voice in her head, and falling in with poets, doctors, actors and other Kabulis, Khan uncovers a place quite different from the one she anticipated. Her wanderings reveal a fragile city in a state of flux: stricken by near-constant war, but flickering with the promise of peace, a shape-shifting place governed by age-old codes but experimenting with new modes of living. These walks take her to the unvisited tombs of the dead, and to the land of the living: the booksellers, archaeologists, intrepid film-makers and entrepreneurs who are remaking and rebuilding this ancient 3,000-year-old city. Lost in its labyrinthine streets Khan reads the city more closely, excavating the ghostly iterations of Kabul's past and its layers of forgotten memories – unearthing a city that has been brutally erased and redrawn as each new war sweeps through. And as NATO troops begin to withdraw from the country, Khan watches as her friends and comrades also prepare to depart, and the cycle of transformation begins again. Filled with unique insights about the meaning of home and the haunting power of loss and absence, Taran Khan conjures a magic that is spellbinding and utterly her own.

Roshan Ali's Ib's Endless Journey for Satisfaction
'And then finally I felt sadness, aided perhaps by those futile notes, by the dust that keeps thickening, by the untouchable past, the inevitable future, and by everything else that pushes us around.' Ib lives with his schizophrenic father and his 'nice' mother negotiating life, not knowing what to do, steered by uncaring winds and pushy people. From his slimy, unmiraculous birth to the tragic death of a loved one, Ib wanders the city, from one thing to another, confused, lost and alone, all the while reflecting on his predicament. He is searching for something-what he does not know-and must overcome many obstacles: family, religion, love and, finally, death. Will he be defeated by 'this wreckage of modern life?' Will a mysterious woman lift him out of the 'cement' in his soul? In this journey of sadness and self-reflection, Ib transforms into an ordinary man from an ordinary boy and along the way, tries to figure out life and understand himself. In this audacious debut that is insightful, original and deeply disturbing, Roshan Ali's play of language is nothing less than masterful.

Yashica Dutt's Coming Out As Dalit
The harshest and perhaps the most brutal aspect of hiding your identity (for me at least) is that it feels like nothing. You think this is all there is, this is your life without the option of it being any different. The cruelest thing hiding can do to you is to take away your options. I became so used to hiding my Dalitness that I didn't know I had the option to tell anyone about it. I just lived everyday – like many of us still do – thinking the weight of my caste was somehow justified and how things were supposed to be. As a lifestyle journalist, I worried about being careful enough to keep the construct of my 'upper' caste. I had to pretend to know things I knew nothing about (I made up for it with intense research, of course) because if not, I feared people would find out my caste. They would see through the pretense. Coming out gave me the courage to admit that I won't know everything about everything and that that's okay. When I finally stopped pretending to be 'upper' caste, I was able to be more authentic and honest about what I wrote. And I think it comes across in the book.
Text
Nidhi Verma