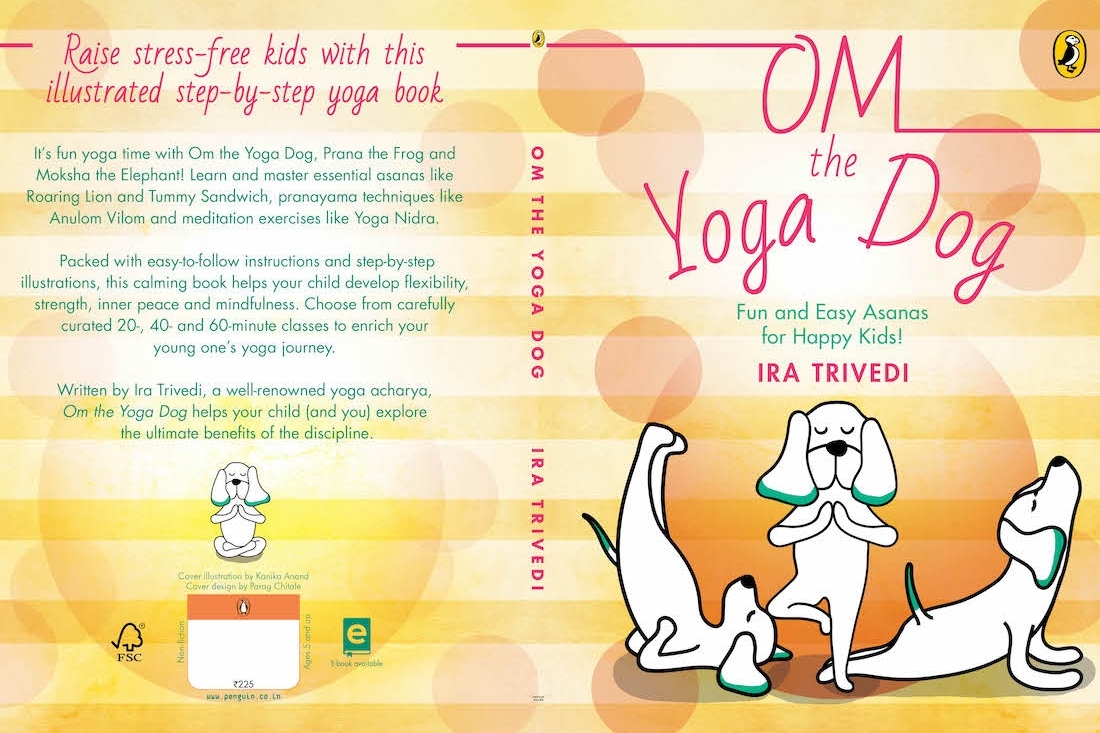 Om the Yoga Dog
Ira Trivedi
From essays to fiction to nonfiction, and now an illustrated book for kids and grown-ups, author and yoga acharya Ira Trivedi's bibliography is very diverse. In her latest book, Om the Yoga Dog, she combines her two loves — writing and yoga. The book helps you and your child explore the benefits of the discipline. We connected with Ira to know more about the book and her inspiration.
What drives you to continue exploring life?
That's a great question. I'd like to say that I draw from my own experiences. You know, a lot of my books are based on phases of my life that have inspired me — whether it's my high school years for Nikhil and Riya or it's my experiences with the beauty pageants for my very first novel, or whether it's living in Delhi that inspired The Great Indian Love Story. It is the same with yoga. I've always used my own life experiences, and that's why I think for me in life, it's so important to continue to explore and to always continuously grow because if I stop growing and if I stop exploring, then I feel that the writing will also stop.
What inspired Om the Yoga Dog?
Well, interestingly enough, it's my own dog. I have a small not-for-profit and I was trying to do a logo for that, and Om was right in front of me doing some yoga. I thought to myself, well, if we have to get a brand ambassador, then who could be better than Om who's always doing yoga?
Can you tell us a little about Om?
So Om has two best friends. They're Prana, the frog and Moksha, the elephant. Prana is really good at breathing and Moksha is very mindful. They're the ones who stay with Om throughout the book and carry the story forward along with him. Om teaches the different practices that are required to make a holistic yoga practice.
How did you visualise the physical form?
I actually drew out a physical form. I looked at my own dog and I thought to myself, how would he look as a cartoon? I drew a very brief sketch and we had a lovely designer, Kanika Anand, who was a student at Srishti at the time and really helped me come up with illustrations. There was Mansi as well who actually had a yoga background. So she was able to really help with a lot of the yoga nuances that we needed. So that was pretty cool I thought, that both of these girls brought their own elements into it.
What is the importance of yoga in our lives and daily practice?
I think now, it's more important than ever before. I think everyone would agree with me that since the pandemic, all of us are taking care of our health more than ever before. And we will continue to do so for several years to come. I think that yoga is something that we can do very safely at home. It doesn't require much physical touch, and I am really happy that there's going to be a lot of new hygiene standards in the practice of yoga. We are caught in the middle of a very unforeseen circumstance.
What does change look like in your industry and what is the new normal?
In our industry, one change has been that everything has gone virtual. I think this has been a beautiful change in the industry. At least for me personally, I don't think I'm going to go back to offline classes anytime soon, because the kind of response that we've received with online classes has been so immense. It's given people across the world access to our classes and we love it. Even the teachers love it. One of our teachers is French and she just left for France because that's where her hometown is, and now she can teach from there. It's so convenient and now yoga teachers will flock to this system because it's such a beautiful system.
What's in store for the new future?
Well, to be honest I am so busy with the growth of our online studio that I think for the near future, it's going to be this for a while. I have several other books planned in the Om series actually, cause I love the series. For now let people absorb Om in all his glory and then we can move on to other beautiful characters. So I think this Om series is here to stay and there's amazing stuff that we can actually do with it. So I'm super excited about that.
Text
Shruti Kapur Malhotra