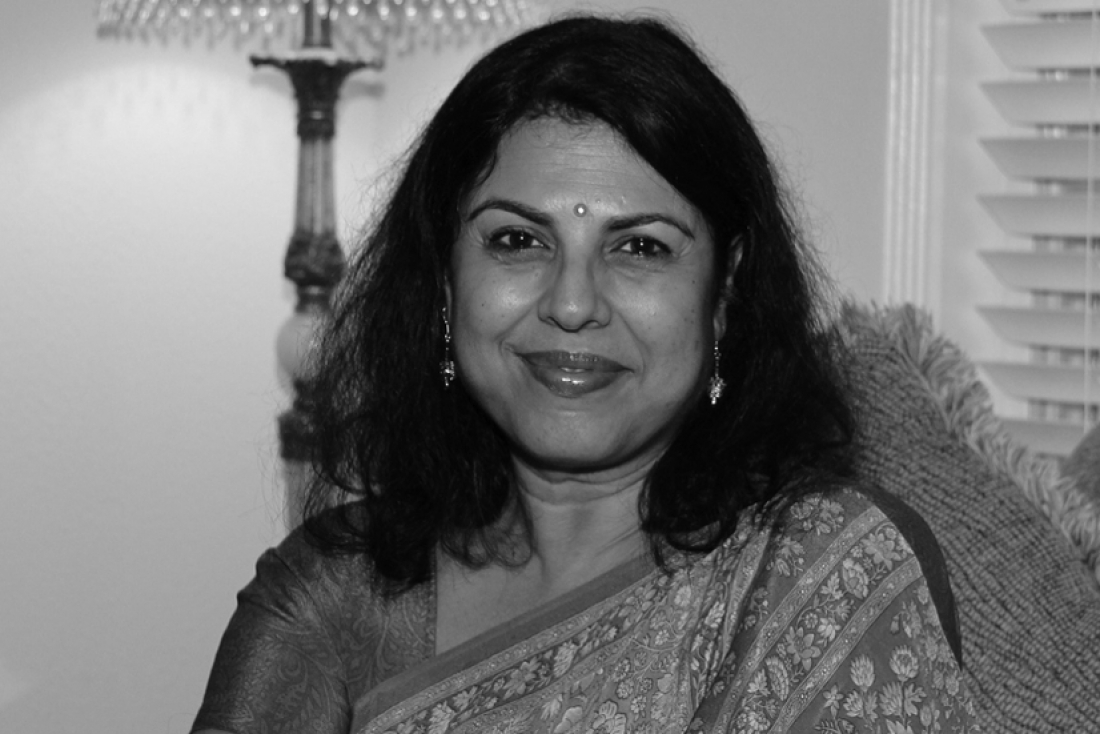 The Voice of the Woman
Chitra Banerjee Divakaruni
Chitra Banerjee Divakaruni is a storyteller who enlightens your mind and feeds it with knowledge. Be it her book of short stories, Arranged Marriage, or the path-breaking Palace of Illusions that is celebrating its tenth anniversary, her writing is fuelled by her own experiences as a first-generation immigrant and a woman between cultures and traditions. Her stories are relatable and touch a nerve.

She writes strong female characters so beautifully and continues to challenge herself with different forms. Even though her stories have an Indian context, her reach is global. Growing up, she never thought she would be a writer; however, she was a voracious reader. After moving to the United States, it became imperative for her to write. She started writing so she could not forget her heritage, her culture and her growing up years that were spent in India. She continued to write so she could make sense of immigrant life, which came as a big shock. Hailing from a very traditional Bengali family, she found herself in the US all by herself at a time when there was not such a large Indian community so there she was amongst all these "foreign people", trying to make sense of all of that and that's how writing became her outlet and turned out therapeutic.
While she was in India on a book tour, I got a chance to interact with her to learn more about her characters, her stories and the challenges she sets for herself.
Most of your books have women protagonists—what intrigues you to create women characters time and again as it's challenging at many levels and has its pros and cons?
Female voices are very important for me philosophically. For many years now, I have been involved with women's issues and women activism. I work with battered women. I work with trafficking and so it's very important for me to put the woman in the centre of my novel. Also as a reader, I noticed that for centuries, women were not the main protagonists. So for me it's very important to base my central character around a woman, to show the multitudinous avatars of a woman—how they react, how they take up challenges, how they fall, how they rise—I want to make that the centre of the story. There are men and I hope I write them well, but my focus and my heart is with the women and I hope both men and women are reading these books because it's very important for men to read books and understand women.
What inspired your most recent booik, Before We Visit The Goddess?
I started thinking about this book after my own mother passed away. It's a book about mothers and daughters. I was in a space where I was thinking, what have I learnt from my mother? What is the heritage she has given and left me, what is the heritage I am passing on to my children? That's a major theme in the book— how complex that is. Along with that, women's success is also a major theme in the novel. My mother was a single parent for many years. She brought us up, my two brothers and I, with great difficulty, and so when I was growing up she always told me that I want you to be a successful woman. I don't want you to struggle like I am struggling. So the question of what is a successful woman is central to this novel.
So according to you, who or what makes for a successful woman?
I think the answers are in the lives of these three women. They are each successful in a different way. According to me, a successful woman is one who can take chances with her life and if she falls, she has the courage to stand up again.
"According to me, a successful woman is one who can take chances with her life and if she falls, she has the courage to stand up again."
How much of your own reality is weaved into your stories?
In my most recent book, Before we visit the Goddess, geographical reality is taken from my own reality as each of the three places these women live in have been lived by me. For me, a city becomes a character so it's very important to understand and experience the city, as a place affects people and people affect spaces. So I like to write about places I am familiar with and that I understand the vibe of.
With each book you like to challenge yourself—with BWVTG you have used a structure that somewhat combines short stories and novels. How did you decide on this format and how exciting was it to experiment?
With this book, I experimented with a form that I have not used before, which is novel-in-stories. It was very exciting as I wanted to write a three-generation story but I did not want the same old 800-pages long saga. I wanted to focus on resonant moments and connect those moments. And I wanted the reader to experience the three distinct voices, the three different characters; so I thought this format would work best. I also wanted the reader to be surprised and to look forward to whose voice would come in the chapter following.
"For me, a city becomes a character so it's very important to understand and experience the city, as a place affects people and people affect spaces."
You have spanned three generations, have three distinct voices, shown three cities and many other characters as well—what kind of research went into BWVTG?
I had to do a lot of research. The most important research was of the grandmother's life as she comes from a generation that was unknown to me. So I needed to study what the city of Kolkata was like. What was the attitude of people towards women's education? What kind of education was available? Then there was a very interesting part of the research where what kind of sweets were hot at the time, as she goes on to open her own Bengali sweet shop. For the second generation, I researched about the challenges that immigrants were facing and that part was not that difficult as I have already researched and experienced it. With Tara, the third generation, I had to do a lot of research again and I did that by talking to the younger generation and just observing them and seeing in what way they rebel against the cultures that have been passed on to them, and yet how at times they return to their heritage in interesting ways. With Tara's character, I tried to push the envelope a little and portrayed her not only as a good girl. There were shades of rebellion and wrong choices as well.
How do you define spirituality and what role does it play in your novels?
Spirituality plays a very important role in my life. All of my books have that spiritual core, as it's so central to life. But I want spirituality to be something human and deep, and not necessarily traditional or conventional. So it's not always based around religion—my books look at life with a larger worldview.
What next?
I am writing Under The Sorrow Tree, which will be a retelling of our other epic, The Ramayana, with Sita as the protagonist.
Text Shruti Kapur Malhotra