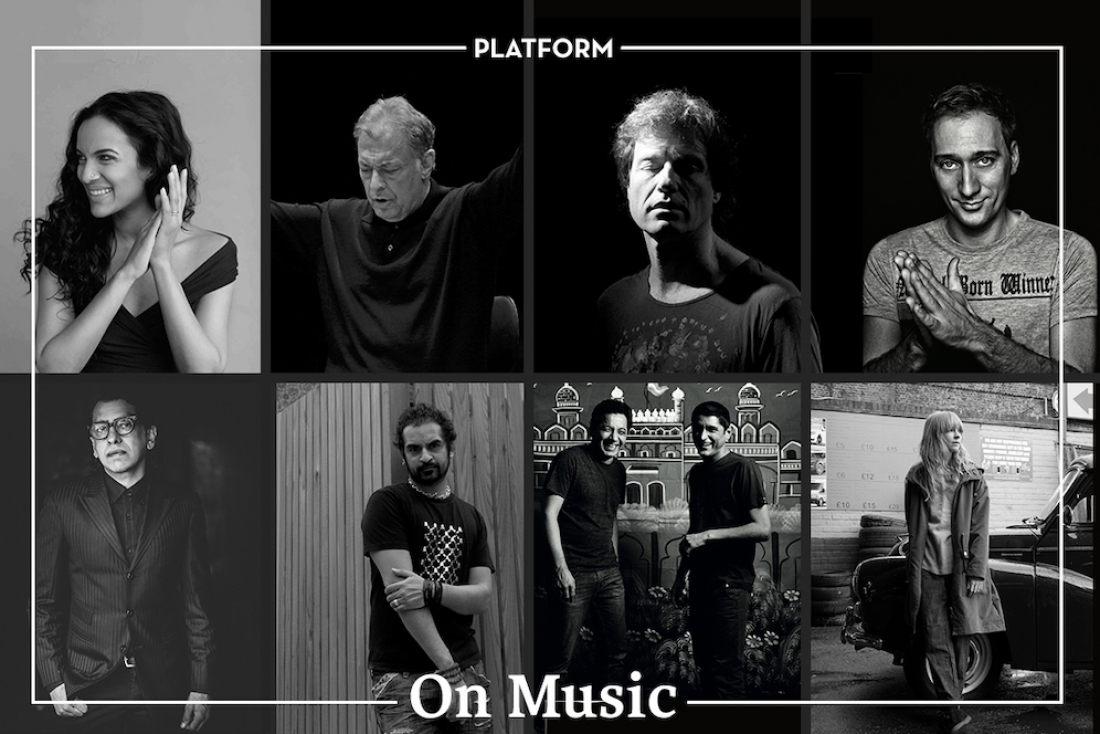 An Ode to Music
Iconspeak
This World Music Day, we revisit our conversations with some of the biggest icons of music and share insights into their sound, sensibility and views on the practice.
Zubin Mehta: Music is my primary language. It's the language with which I communicate with the world. It begins with communicating with my orchestra itself and then through their brilliant playing to the people sitting behind me. Music brings people together. We musicians are not astute politicians and might not be able to change history but we can bring people together. And, that's what I do in the Middle East. We can get Arabs and Jews to sit together and smile at each other during a concert. But we don't do enough, we have to do a lot more to bring youth into concert halls because they are the future. In Europe we have no problem our houses are always full with young people. But in America there is a real crisis and I hope they are doing something to change that.
Anoushka Shankar: If something resonates strongly, then you have to [acknowledge it]. If it's your truth, you have to speak it. Being an artist isn't separate from being a human being; it's just that music is what I do with my time. Music brings people back to their hearts and that raises the consciousness. As a human being I feel responsible. We all make an impact on the world just by virtue of walking—your footprints make an impact on the world… breathing does. You exist, therefore you make an impact. So with that whole amount of time, the question is how positive do I want my impact to be?
Karsh Kale: It sounds a bit clichéd but it's true that the further along you get in your musical journey, the less you realize you know. Even though I never had a formal guru, I cannot claim to have learned music by myself. I was always fortunate enough to be able to retain musical information from how to make sound on an instrument to a particular new melody or rhythm cycle. If I were in the right environment, I would learn. What has been different for me, besides the freedom to explore new possibilities, is the freedom to listen to my own instinct as opposed to hearing the voice of my guru or teacher guiding me along. At times it has left me in a very lonely place musically, but in all I am very fortunate to be where I am and enjoy interacting with many people I consider to be my teachers.Today as I travel quite a bit, music is less influenced by a particular place and more influenced by the journey between places.
Paul van Dyk: Electronic music in general is exciting to me. There are so many different great sub-genres that combine and actually create what electronic music is. And I think that's the interesting part, to combine all these elements. That's what I've always done – I've never done purely trance or purely house or electro or whatever you want to call it. It's always a sort of a mixture of all that. It drives from, let's say techno, it has to have the melodic elements of trance, it has the baselines from electro, and it has chopped up elements of dubstep. So there are so many things you find in my music that I think it's fair to say it's electronic music without being a part of any of those genres in particular.
Norah Jones: I don't practise singing a lot, but I sang so much growing up. I mean, even if I wasn't in a room singing specific practise things; singing along with Aretha Franklin in the car is practise and singing in the shower is practise. I've been in the choir since I was five years old, so I sang in church choir, then I sang in school choir, so I had tons of practise. Not in the way you think of it maybe, like when you're sitting in a room with a ruler. Growing up I listened to a lot of Ray Charles and Aretha and Willie and Hank Williams and Billy Holiday – I got into jazz in high school and I was obsessed with that. And then, when I moved to New York I got back into country music and I've been obsessed with Neil Young for the last 8 years. He's my hero on guitar – I kind of want to play the guitar like him.
Nusrat Durrani: I've been listening to music forever. Music is about dreaming, travelling and imagining. It's all about connection and therapy. However, in my professional life, I've realized that music has great power. It's a connective tis- sue. It's something that can make you transcend your differences. The pow- er of music to make change and bring people closer, I've realized over time, is beautiful. I've tried to centre my career around that. Not in a touchy-feely, let's hold hands and sing Kumbaya kind of way, but to be able to understand or open up to somebody else's song, even if it's in a different language.
Armin van Buuren: The art of DJing is the art of the moment, the art of being at that specific time and trying to interact with the crowd and making a choice for your next track.Music is the opposite of a formula. You try to do something new every time, every track has to be unique in order to stand out. I never work according to the same formula, if you try to recreate a hit in the same way with the same sound, it's not going to work, I can guarantee that.
Hernán Cattáneo: The music I write is a combination of all that I have been hearing through my younger years. I really like melodic music that I get from my mother; I really like progressive music that I got from my sisters—long, hypnotic sounds. I've never liked hard music or hard rock or fast techno. I was more into subtle, more cinematic, hypnotic sounds…more organic, and I think all the elements of the music I've been playing in the last 30 years have that common denominator of the music I used to hear when I was a kid. I have a long career and the good thing about electronic music is that the dynamics are big, so it changes all the time. One thing is the change of the sounds of the kind of music you play. But the style and elements remain the same—never too hard, never too fast.
Lucy Rose: I loved my first record to bits and a lot of that sound was very organic and stemmed from a different kind of place. I remember thinking, 'I don't care what anyone thinks, I want to write sad songs'. I would refuse to stand and perform, almost never made eye contact. I was never really 'performing'. It was almost as if I'd decided, 'I'm doing this for me and if you want to be a part of it, you can.' But as the crowds got bigger, I lost that side of me a bit. I enjoyed seeing people smile and making everyone happy, which guided me towards my second record which was slightly more upbeat and up-tempo. I think I did that to prove to myself in a way that my music can make people happy as well, instead of just making them sad. But it was only recently that I really found my sound, that kind of stands in the middle of the two approaches. It comes through in my new record– it is the first time I felt like I really understood myself and my sound.
Midival Punditz: Our environment inspires our music and that could be while we are traveling or right in our city of Delhi. Our friends and other artists also have a lot of influence on our work since they become a part of our environment. Our musical aesthetic is deeply rooted in Indian folk and classical music along with electronic music styles. We call it Indian Electronica. It is the most honest expression of what we like to do together as a band and we believe maintaining that honesty is extremely important for our vision. We of course listen to and are influenced by a variety of music styles but Indian electronica style is what comes out most comfortably for us.