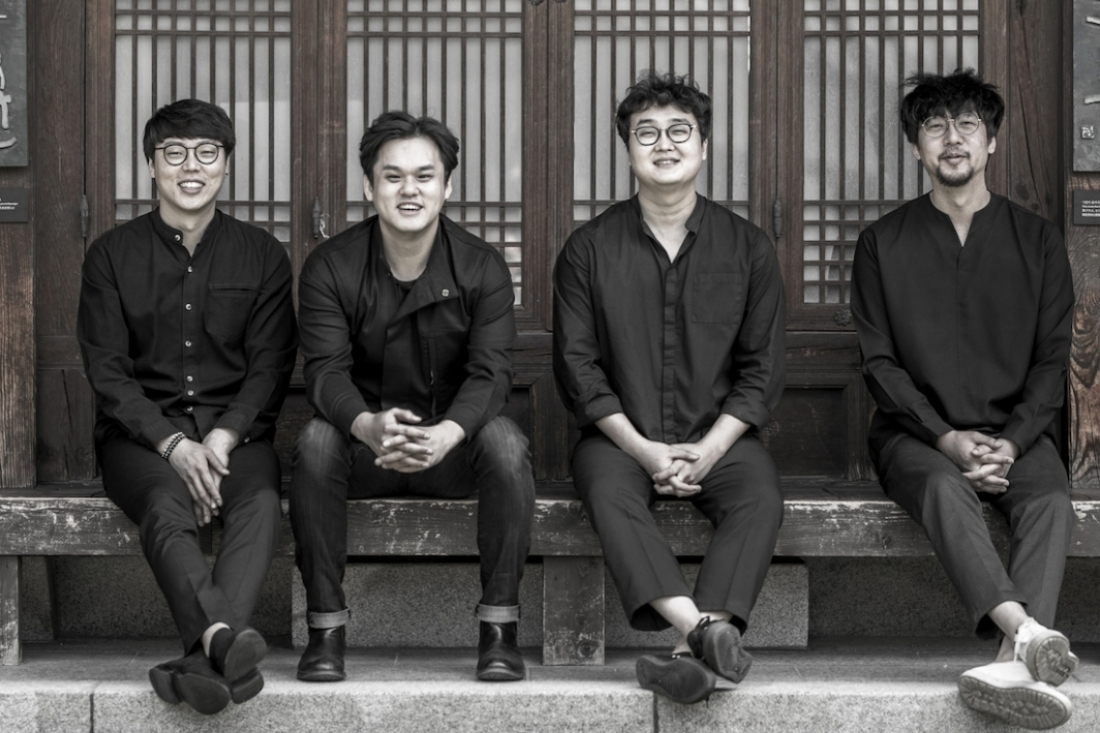 NaMu, a four-member band led by Aram Lee, focuses on traditional Korean music, creating an ensemble of classical music, jazz, and hypnotic sounds. Ajaeng and Janggu [Korean musical instruments] player Minwang Hwang, vocalist and percussionist Seongryong Yeo, and acoustic and electric bass player Inhwan Choi produce pure harmony with Aram's euphonic notes on daegeum and yanggeum which are traditional Korean instruments. Traditional music coming out of South Korea has it tough owing to the abundant pop music they are known for. The Korean music industry has raked in millions churning out enormous talent that relies not just on their sounds but also on pure perseverance. NaMu, however, is not your typical Korean boy band. It stands out amongst the crowd in this highly competitive industry. They've managed to find their sound and create a distinct presence.
Officially debuting in 2017, NaMu is familiar on Indian grounds, having performed in Kochi, Chennai, and Kolkata. 'Indian and Korean traditional music share similar elements. But the Indian audience is not accustomed to Korean traditional music; it might sound rather strange to them. Nevertheless, the crowd is exuberant and the energy fuels our performance. All seven tunes that we've performed in Kochi are self-composed and quite new,' says Aram.
Last year, the band is released a variety of new works. 'In addition to the Song of Willowwe performed on this India tour, there are also works like NaMu the Wander and Silkroad Gut. Although we always focus on traditional music, we are interested in various genres of music and artists at the same time.'
"We want to show you that there are not only the big bands like BTS and Big Bang, but music like NaMu too."
But how does NaMu find its feet amongst bands such as BTS and Big Bang? 'We can't compare ourselves to groups like BTS and Big Bang. We are not dreaming of becoming idols in the traditional music scene. But we can expand the fan base that we love to play to. We want to show you that there are not only the big bands like BTS and Big Bang, but music like NaMu too.'
One google search about the Korean music industry tells you how playing traditional music in Korea is a big challenge. It's a rather small market that NaMu is trying to break into. Not because the music is not as good but because of the fact that Koreans love pop music. 'Traditional music is something ordinary people in Korea don't have access to, and that's why they're not too comfortable with this kind of music. We always try to make new work, and perform a lot. If even one more person can hear our music, wouldn't traditional music become familiar someday?' Aram hopes.
And, they are no strangers to Indian classical music. A devout fan of music director and classical flautist Hariprasad Chaurasia, Aram hopes to someday meet the guru in person. The band toured five cities in India this time around. 'Many young people sat down, or stood at a distance, listening to our music. We couldn't see the details but for them, it was their first time listening to our music, and it could be very strange and very interesting. But there was a time when the audience really liked our music. There was something deeper that we shared with them. Maybe it was because there was something similar to Indian music.' We agree, there is something about their music that carries the Indian soul. 'We honestly love Indian music. About three years ago, I remember attending Zakir Hussain's concert. That experience blew my mind. It was called Remembering Shakti and felt like an out-of-body experiences. And another time I can't forget was when someone suggested listening to Hariprasad Chaursaia. I think all these experi- ences influenced us and inspired us to adapt a somewhat Indian style in our music.'
In 2018, NaMu released a new work called Silkroad Gut.An offshore tour in 2019 is also in the works.

Text Hansika Lohani Mehtani