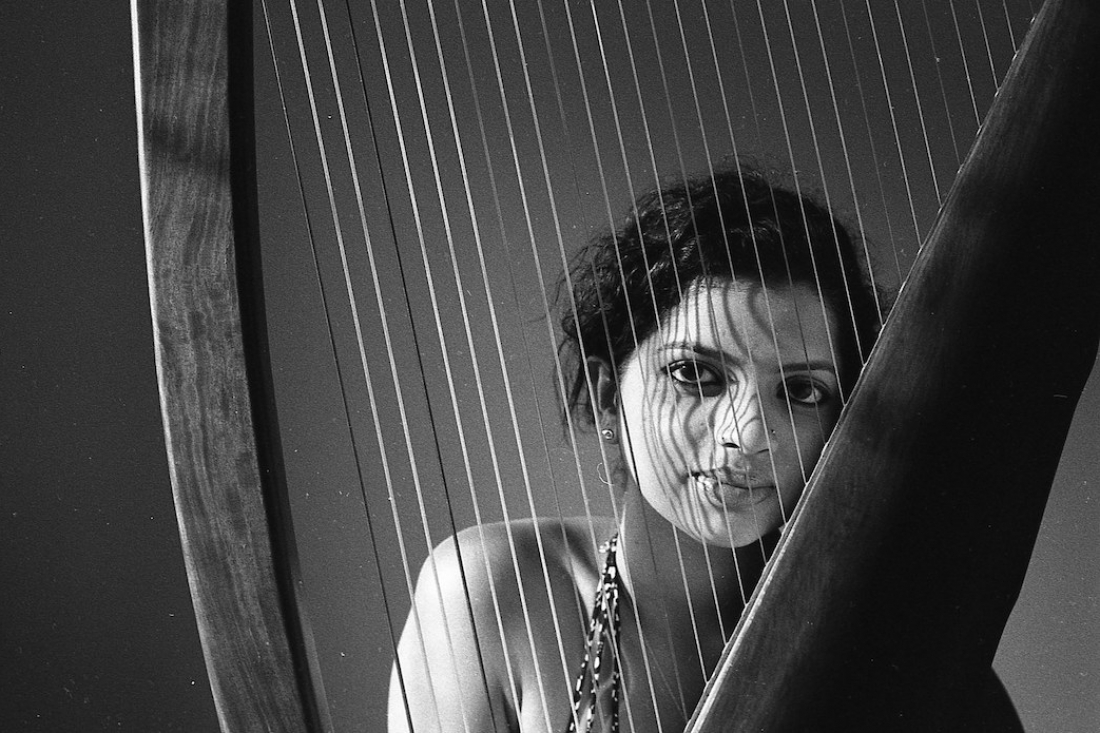 Photograph by: Prashin Jagger
'The best thing about being a musician is the one hour set you get to perform after working tirelessly over the music for months or maybe even years' says the Mumbai based harpist and musician,Nush Lewis. Co-founder of Offset, her music education venture, she aims to bring together musicians from all across into a singular space. Her new EP Bridges focuses on self discovery and personal growth with each song, a unique lyrical experience in itself.
Excerpts from our conversation with Nush follow:

When did you discover the musician in you?
I was born and raised in the Middle East in a fairly musical family. When I say that, I mean we are a family that enjoys music and if we can't play an instrument, we can definitely sing in key. Music was a large part of our day, right from waking up to the sound of the radio to listening to music at home and jamming. So I don't think my parents were too surprised when I told them that I wanted to get into music professionally. That was a decision that I took in my final year college in Bangalore, thanks to an amazing college choir that I was a part of!
Your idols in the world of music?
I think my first legit memory of music was watching Michael Jackson's video of 'Bad' on MTV when I was probably two and a half. He was the only musician I could recognise on TV. Everyone else was almost like fictional characters. We also grew up to a lot of The Beatles, The Carpenters, Patsy Cline and Elvis Presley. But I was also a complete 90s pop kid and loved the Spice Girls and all the boy bands. Alanis Morrisette was probably the first legit songwriter that I fell in love with. Missy Elliott was the coolest female rapper and producer and of course No Doubt.
What's your favourite aspect of being a musician?
The best thing about being a musician is the one hour set that you get to perform after working tirelessly over the music for months or maybe years. And those months are the toughest because writing the music can be quite mentally exhausting but you know when you put it out there that it's going to be worth it.
What inspired your new EP Bridges?
Bridges is a body work that represents an artist's personal growth moving against all odds and self discovery. It has been about two years in the making in terms of writing and rewriting. Sonically, it was driven by the piano as opposed to the last EP. The storytelling in the songs opened up a more harmonic spectrum because of it. The usage of live drums and bass has also played a big role in the making of the EP. Bridges turned into a beautiful concept piece when I involved paper cut artist, Vaishnavi Kumar, who created a piece each for each song. Having a physical visual element like that made presenting this EP even more special.
Tell us more about Travel, Untuned, Lament, Threads, and Distance.
Travel tells a story of unachievable love, Lament is a grandmother's battle with mental illness, Untuned leaping into freedom and embracing it, Threads is about the lies we surround ourselves with and Distance is about an alternate universe we would like to escape to. Of the five songs, two are collaborations with producers. Threads is a collaboration with Italian producer, Luca Petracca and Distance is a collaboration with ambient artist, Riatsu.
How has your journey with Offset been so far?
Music education has always been something that I've been extremely passionate about since I started teaching. And there's so much that we can do with it in our country. OffSet has been such an amazing ride so far. We've been lucky to work with such amazing musicians, producers and engineers in the industry. We're currently working on some really exciting education projects that will be announced soon.
What's next?
Looking forward to some collaborative work with some incredible musicians and songwriters and of course new material is being worked on for the next EP.

Text Priyanshi Jain