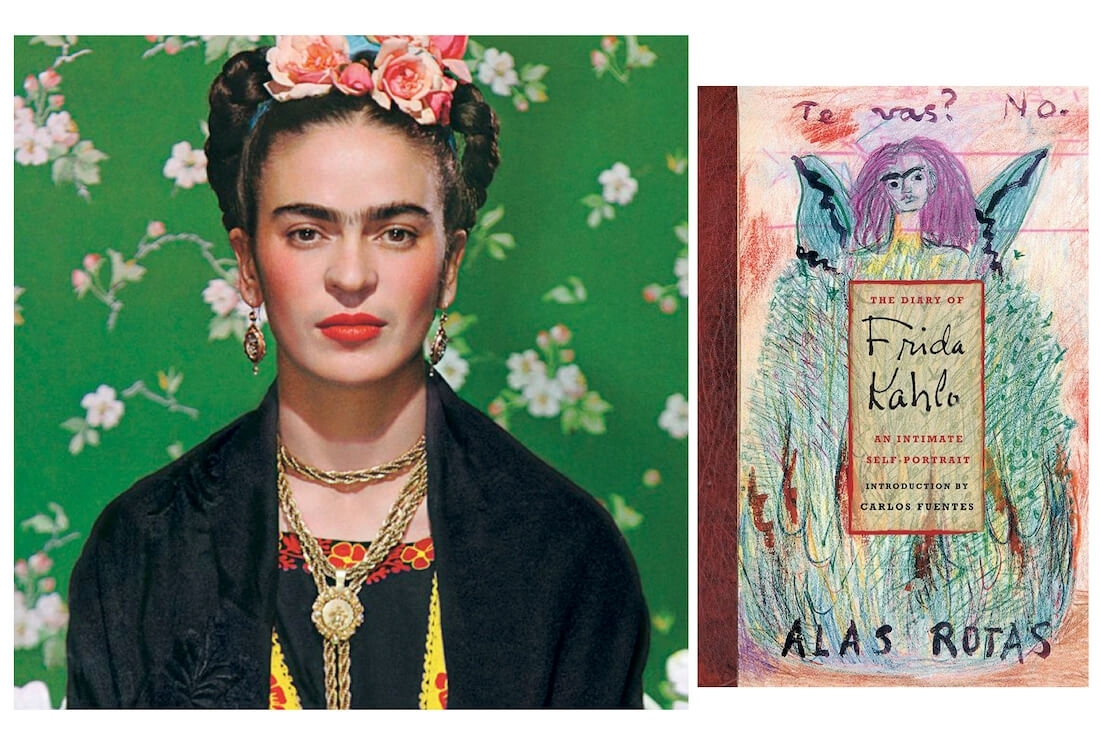 R:The Diary of Frida Kahlo, An Intimate Self-Portrait by Frida Kahlo
Today we celebrate the birth of the inimitable Frida Kahlo, hailed as a feminist icon way ahead of her time and one of Mexico's greatest artists. A politically radical trailblazer, Frida's genuine global appreciation and appeal is rooted in her identification with revolution and resistance. Born on this day back in 1907, Frida endured multiple physical ordeals throughout her life that debilitated most of her body. Best known for her self-portraits and paintings that explored her identity and self, Frida also simultaneously navigated the emotional afflictions and ongoing struggles of her life caused by her turbulent relationship with celebrated painter Diego Rivera.
Once, a primary figure of the artistic and literary Surrealist movement in 1938, Andre Breton embraced Frida's art as Surrealist and included her in the 1940 International Exhibition of Surrealism in Mexico. She however rejected this association — 'I never painted dreams. I painted my own reality,' she said. For instance, an iconic work of hers titled My Dress Hangs There takes the form of a disorderly collage of commercial advertisements, celebrity culture, and social unrest against the backdrop of a concrete jungle where modern skyscrapers mix with kitschy Greek structures and a medieval church. In effect, it appears that the only authentic item in this chaotic scene is the artist's traditional Tehuana dress, the focal point of the work.
To celebrate the icon on what would be her 113th birthday, we have curated a Platform edit of all things Frida.
Frida: A Biography of Frida Kahlo by Hayden Herrera (1983)
The stranger-than-fiction life of the artist has been eloquently captured by Hayden Herrera in this powerful biography. Art and communism in Mexico is alluded to with great detail, so as to help the reader understand the complexities of her life and where she came from. An elaborate interweaving of pain and celebration, Herrera does a brilliant job of balancing a biographical and historical examination of Frida and the influences that shaped her.
L:Frida Kahlo, Self-Portrait on the Borderline Between Mexico and the United States, 1932, Private Collection ; R: Frida, the film
Frida in America by Celia Stahr (2020)
A first in-depth biography of the formative years spent by Frida in the United States, a place she found hard to identify with and which further fuelled her Mexican identity. With vivid detail, Frida in America recreates the pivotal journey that made Señora Rivera the world famous Frida Kahlo. Her experiences in Detroit and New York inspired many of her groundbreaking paintings. Stahr explores the inception of Frida's independent identity through the depiction of her painful personal experiences in her art.

The Diary of Frida Kahlo: An Intimate Self-Portrait by Frida Kahlo (1995)
Kept under restricted access for over 40 years in Mexico, this illustrated journal was finally released in 1995. The intimate documents record the last ten years of her turbulent life, revealing many new dimensions of her complex disposition. The diary is a captivating book filled with Frida's thoughts, poems, dreams and personal declarations. The brightly coloured, rounded script is accompanied by watercolour illustrations, which offer insight into her creative approach. These sketches and paintings were often reworked and incorporated into Frida's later works. The fascinating aspect of this published work is that it was never meant for public consumption. Perusing through it allows readers to gain an intimate understanding of Frida's works, which only as uniquely voyeuristic a work as this could allow.
Frida, the film (2002)
Directed by Julie Taymor and starring Salma Hayek, the Mexican artist's myriad faces come to life vividly in this film, which is based on Herrera's 1983 biography. Artfully composed, Taymor's graphic portrayal remains, for the most part, faithful to the facts of the painter's life. The unique visual language and gritty narrative trajectory, makes this film a must watch.
The life and times of Frida Kahlo by PBS America (2005)
The first ever documentary to explore the historical and cultural influences that shaped the life of Frida, it offers a profound understanding of her way of life and political climate of the time. Directed and written by Amy Stechler, the filmmaker was granted unprecedented access to photographs, paintings, newsreels and home movies, many of which had never been published or broadcasted. Stechler's research included more than 20 interviews with principals in Frida's life, including Mexican authors Carlos Fuentes and Carlos Monsivais and her principal biographer, Hayden Herrera.
L:Frida Kahlo, My Dress Hangs There, 1933, Hoover Gallery ; R: Frida Kahlo© 1995 Banco de México, as a trustee for the Diego Rivera and Frida Kahlo Museums
La Casa Azul
The popular residence of Kahlo, 247 de la Calle de Londres in the centre of Coyoacán, Mexico city is also known as La Casa Azul (The Blue House) by the locals because of its striking cobalt-blue walls. Following her death in 1954, the residence was turned into a museum dedicated to her life and works. Thanks to the burgeoning power of technology, it's fairly simple to catch a glimpse of the place where much of Frida's works, politics and thoughts were shaped. Google Arts and Culture opened the doors to La Casa Azul. Viewers can now take a virtual tour of the museum, tucked away in the suburbs of Mexico.
You can find the virtual tour here: https://artsandculture.google.com/partner/museo-frida-kahlo
The Musical World of Frida Kahlo and Diego Rivera
For those of us, who like our share of discovering new obscure music and artists everyday, Spotify also offers a playlist that celebrates music from the worlds of both Frida and her husband Diego. Think traditional mariachi of Mexico, folk music of Latin America and the like.
You can find the playlist here: https://open.spotify.com/playlist/5LcpUyhCEHQxSolD0VcnaN
Podcast by Melvyn Bragg
If reading and watching the above films and books is a seemingly arduous task to do, BBC Radio also has a podcast that discusses the life and times of Kahlo, by host Melvyn Bragg.
You can find the podcast here: https://www.bbc.co.uk/programmes/b06125zc
It is safe to say, the cultural icon has been memorialised in more than one medium. Here's to celebrating her life and legacy!

Text Samadrita Khasnabis