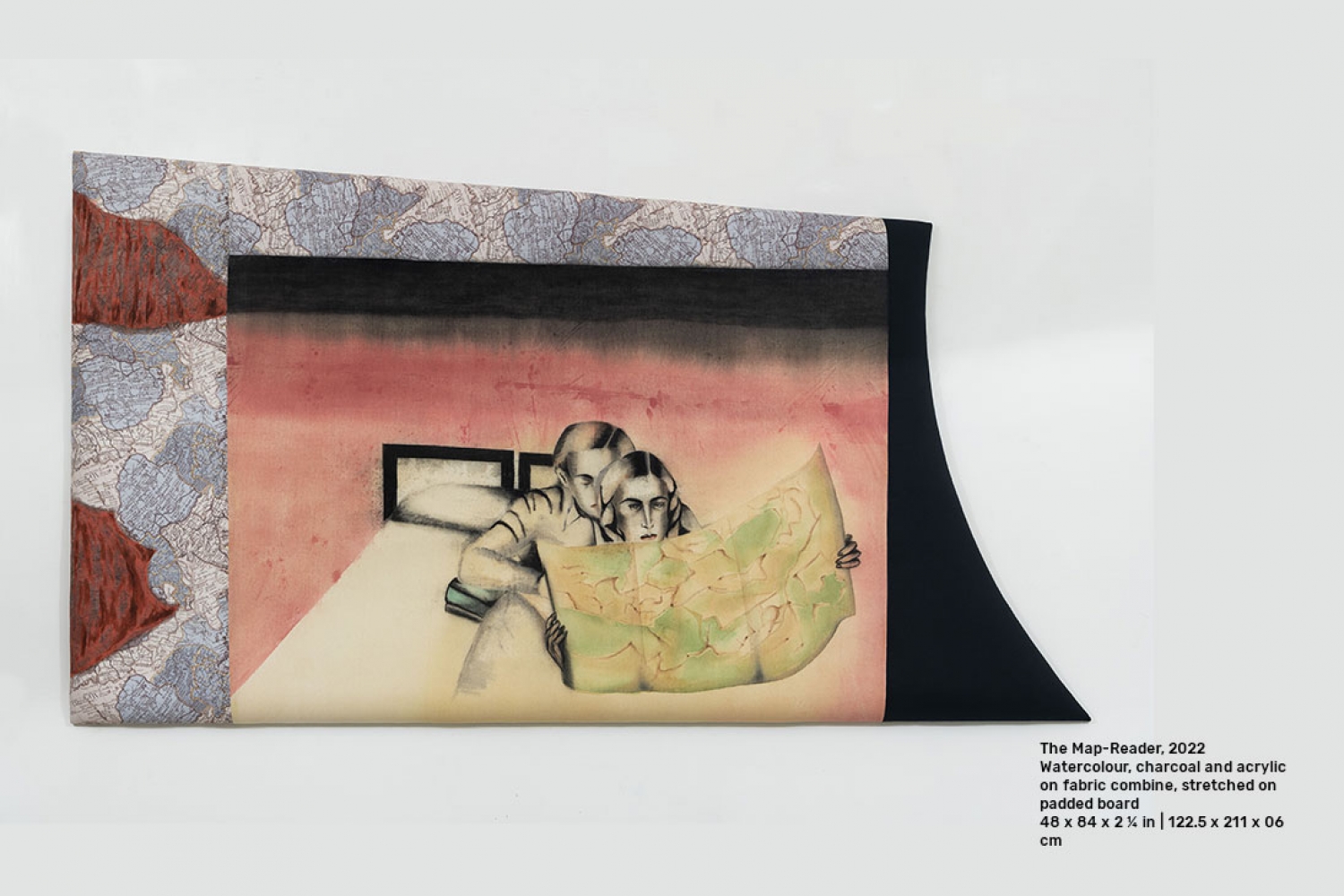 Anatomy of a Flame
Anuj Dodiya
Vadehra Art Gallery is pleased to present Anatomy of a Flame, the first-ever solo exhibition in London by leading Indian contemporary artist Anju Dodiya. Taking place on the ground floor of Frieze's space at No. 9 Cork Street, in the heart of London's Mayfair, the exhibition will feature a curated selection of Dodiya's celebrated painted mattresses and watercolours along with photo-collage works, all created within the last two years. The exhibition opens to the public on 1 June and runs until 18 June 2022.
With compositional narratives that explore the psychology of experience, Anju Dodiya works with powerful images that revel in the emotional theatre of an inner world. Dodiya's protagonists are most often female and assembled from popular mythologies and autobiographical fictions, which enter the realm of the imagination through a kind of felicitous discovery. Much of the emotion in Dodiya's work is captured in a resonant state of unrest, and pre-occupations with the creative process, exemplifying narratives of anxiety, artistic and otherwise. The temperature of colour becomes the vortex where alternative realities are conjured.
Anatomy of a Flame features a recent body of work completed over the last two years, simmering with thoughts of longing amidst solitude. Dodiya writes, 'What breathes within us, nudges us to wake every day and take on the world? There is love. There are reasons. There is the swift energy of the life that we construct.' For Dodiya, restlessness rules the shadowed rooms we inhabit, living amongst pillows and lying upon mattresses, or breathing behind masks. She mentions connecting with others through intuitive, quivering antennae.
Dodiya's delight in stain, mark and shape continues to overlap with her agitated gaze in this suite of work, as seen in her watercolours Speeding, Before the crimson dream and Pillowbearer with shadow. Tower of Slowness meditates on the variety of roles we play every day – octopus hands that battle with pencils and knives, a woman awaiting a phone call, a nester embracing family. Her mattress paintings, objects by default, relate to the intimate and domestic, in which truths of self-knowledge are disclosed through meticulous restraint and creative disorientation, but still rife with energy, smouldering to challenge the world outside. These shaped mattresses, including The Map-reader, Clouds for a Diver and Drifting Clouds, have grown from her earlier mattress paintings, engaged with sharp forms, now named 'soft shards' as reminders of domestic ease coloured by an incurable existential anxiety. She includes collage-like interventions using fabric sourced from different geographies, as vibrant disrupters. The photo-works titled Anatomy are images of Dodiya's oscillations around art, home and the world, bearing traces of revisitation and erasure. They come together in a poem of pauses, seen within the harsh glare of urban, mundane reality. The disturbing, bright light pressurizes the viewer to go closer to the image and conduct an intimate interaction, becoming a performer viewer, a participant under the lights.
Anatomy of a Flame will be on view at No. 9 Cork Street from 1 June to 18 June 2022. There will be a celebratory reception on Tuesday, 7 June (6–8 pm) and an in-person conversation between artist Anju Dodiya and writer and academic Dr Cleo Roberts-Komireddi on Thursday 9 June (6.30 pm onwards). An e-catalogue is also available on request.

Date 13-06-2022