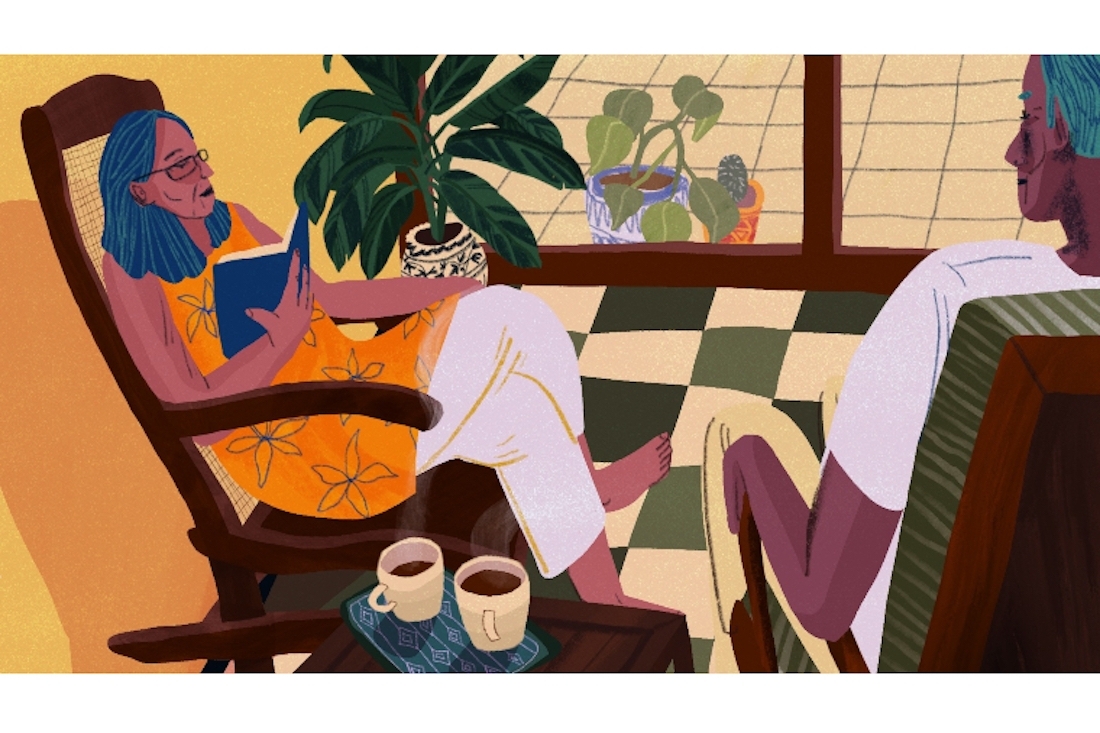 For When Chai Met Toast; When We Feel Young
The Artist
Artist and illustrator Anjali Kamat has been drawing ever since she can remember. Growing up in Vadodara, she was a quiet child. As an eight year old who had moved from a smaller, more bustling neighbourhood to a quieter, more serene setting, she was often left to her own devices for entertainment. Storytelling was her escape, she would find herself lost in narratives and eventually she started conjuring up her own and drew to express herself further. She adds, 'I always struggled a little with expressing myself through spoken words. So I would rely on drawing to communicate instead. My friends and family used to get all sorts of cards from me with little drawings in them! This was what really drew me towards illustration — its ability to support or even replace words, and communicate so effectively.'
The Inspiration
Good storytelling is key for Anjali. It doesn't matter if it's an illustration that supports academic text or a mere concert poster. She is consistently inspired by innovative and novel methods of carefully crafting a narrative, and especially how it all comes together in the digital space. She explains, 'I'd done an exchange semester in Lucerne, Switzerland where I did a course called 'Story-Screen', which was deeply inspiring because I realised I did not have to restrict myself to paper or static work. Since then, I keep trying to work with gifs or animation or coding or anything really, which can become a vessel for telling a good story with images.'
Apart from that, a lot of her inspiration for comics comes from banal, everyday thoughts or moments of introspection. With the volume of information being thrown at us via social media in our lives, she naturally produces art that reacts to this contemporary reality. Anjali adds, 'I like being a sponge and letting what I experience or see or read about, leak into my art.' She also likes for her artwork to tackle issues such as identity, love, relationships, the body, mental health and loneliness.
The Process
The end product may be perfect to look at but the process of creation is often tedious and all consuming. Anjali's process is very personal, it begins with a fleeting thought or emotion she's been stuck on, post which, it is transferred to her preferred medium — paper. Over time, as she's evolving and working tireless on refining her craft, she has started paying attention to details which she would gladly gloss over initially. She elucidates, 'I have begun to gain immense admiration for practitioners who spend hours thinking about every element of their medium, and how each stroke contributes towards telling their story.'
Her process begins with an idea that germinates for some days or even weeks, and she meticulously notes down the details of how she wants to present it. A rather intuitive process, the making is her favourite bit from the artworks. She breaks it down further, 'The sharing of it is always cathartic. Instagram allows me to instantly put it out there, and while it might have its drawbacks, mostly, it is a huge gift because I can see my audience react to my work in real time.'
When it comes to her client-based projects, things run a little differently. The approach is more planned and systematic. With a major in Information Arts and Information Design Practices from Srishti Institute in Bangalore as her educational background, Anjali understands the importance of gathering information, sieving through and perceiving it to construct narratives. She spends a major chunk of the time researching, to deliver work that suits the context.
To The Viewer
As someone who describes her work to be intentionally messy, Anjali's idiosyncratic illustrations include hand drawn, expressive strokes that are full of warm, vivid colours and textures. For consumers of her art, the intent is straightforward, she wishes to evoke something in them by conveying her feelings. She explains, 'When something I make can trigger an old memory, or drive someone to introspection, or even pique their interest slightly in something worthwhile, that is when I consider my work to be a job well done.'
The Pandemic and Beyond
This year the artist got the opportunity to illustrate a video for the indie band When Chai Met Toast, which turned out to be rather challenging for her. It was a project that came her way while she was still in the final year of her college, and post that the pandemic hit the world. She tells me, 'It was hard working on something like animation, which is very slow, sustained work, while also trying to graduate college and keep my spirits up during a weird time for the world. I also really wanted to do justice to the story of the song.'
Like for all the students graduating in 2020, the lockdown proved to be a rough phase for her. Presently she's busy transitioning to the adult world post design school. She's working hard, trying to find her footing and doing smaller illustration projects, while also trying to build a solid portfolio. It's thrilling and daunting at the same time for her to learn to communicate about her work. On a parting note, she adds, 'During this time, it has been essential for me to try and find a healthy balance in working hours, and to make allowances for myself when it comes to the pressure of being productive all the time.'
Text
Unnati Saini