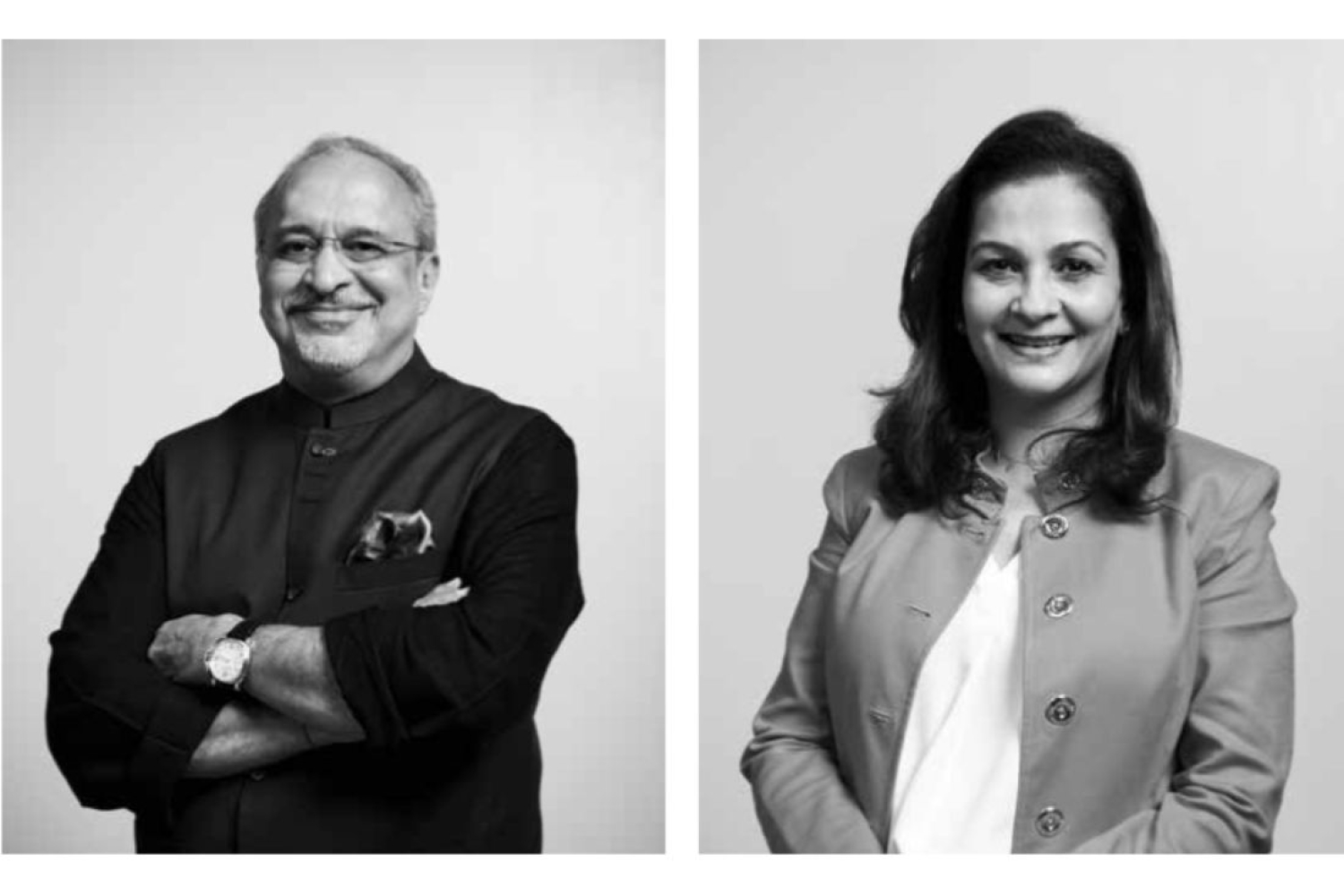 Art Mumbai
Minal and Dinesh Vazirani, Nakul Dev Chawla and Conor Macklin
The First ever Art Fair in Mumbai – Art Mumbai is all ready to add to the cultural landscape that already exists in the very cosmopolitan city of Mumbai. Curated and created by four art patrons and collectors, the fair will present various galleries from India opening doors for art connoisseurs and dealers in Mumbai.

How was the fair conceptualised and how did the team come together?
Nakul Dev Chawla: The art fair is something I have been trying to do for a while. Since Dinesh and I have a close professional association, we have been discussing the idea and potential for a Mumbai art fair since pre-pandemic. Then COVID hit and three years elapsed. Last year around February, I called Dinesh and said that it is the best time to launch an art fair in Mumbai and fill a bit of a vacuum. We would also have a first mover advantage. Conor too had been a part of these discussions so then we all came together and decided to go ahead with Art Mumbai.

What would you say is the DNA of Art Mumbai?
Conor Macklin: Bollywood, the financial capital of India, those black and yellow taxis, Colaba, cricket, mayhem! We will have all this, and the best art in India.
What has been you curatorial process? Is there a theme you are gravitating towards?
Conor Macklin: This year it's mostly showing the best galleries from India and giving them a shot at meeting collectors in Mumbai. I would like to see the forthcoming editions offer a wider range of art, including antiquities and jewels and a section for younger galleries. While this year the curatorial focus has been on South Asian Art and artists, by edition two we will also have some international galleries and artists showcasing as well. Will there be any curated conversations or insights shared by industry insiders?
Nakul Dev Chawla: Yes, there will be a speaker series with industry experts who will share perspectives and insights regarding the art landscape in India and globally. The topics have been carefully thought out to expand the conversation around art. We are looking forward to the participation of interesting and accomplished speakers, including representatives of renowned international museums. A complete programme will be available soon.

What role has the city of Mumbai played in shaping the landscape of the fair?
Dinesh Vazirani: The city of Mumbai is an integral part of Art Mumbai, tracing back to the Progressive Artists Group which was formed in 1947, which has led the modern art movement over the last few decades. Mumbai also has a rich culture and heritage of the arts, performing arts, fashion, music, literature. From the old heritage buildings to the Art Deco movement from the 1940s onwards to international level skyscraper designs, Mumbai has always been at the cutting edge of design and incorporated it into the fabric of society. Art Mumbai is a fair that would like to acknowledge Mumbai's legacy as an artistic hub and celebrate its prominence as a pioneer in promoting India's culture.

Art Mumbai is taking place at the Mahalaxmi Racecourse Member's Enclosure from November 17-19, 2023

This is an all exclusive excerpt from our upcoming November EZ. Stay tuned to get your free copy!

Words Jia Khanna
Date 13.11.2023