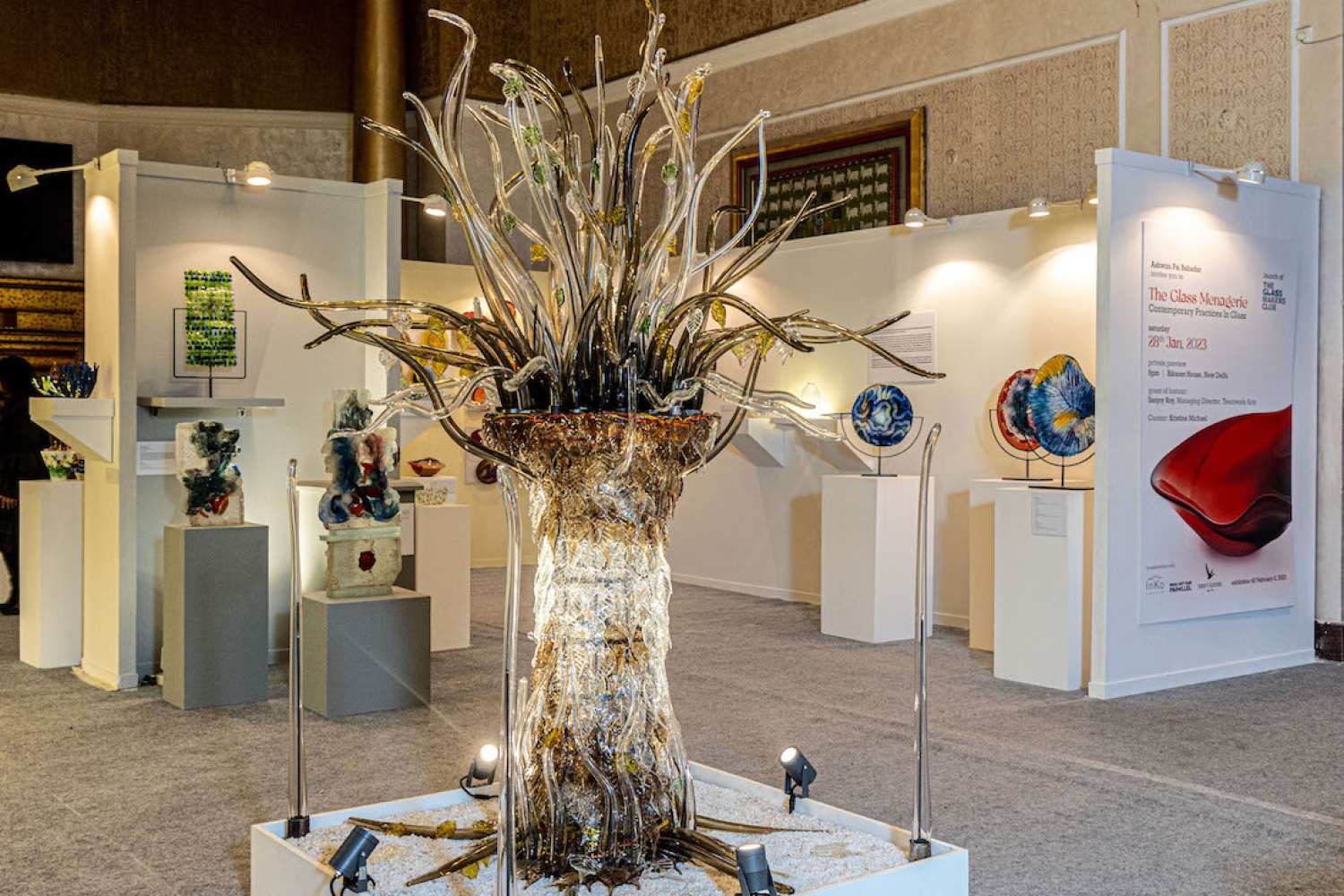 Currently on view at The Bikaner House, The Glass Menagerie, Contemporary Practices in Glass is a path breaking group exhibition of contemporary Indian artists working in glass. It explores distinctively different approaches to manipulating this miraculous material. Glass may be fragile, but its silicate origins as grains of sand endure and transform on geological timescales that dwarf our man made world. Being both solid and permeable to light, glass is the perfect poetic interface between metaphoric worlds.
The Glass Menagerie was conceptualised to coincide with the opening of the official launch of the The Glass Makers Club, South Asia's first ever forum to highlight and advocate studio art glass and its myriad possibilities. Ashwini Pai Bahadur, presently the Director of Artspeaks India, an arts and cultural enterprise, is also the Founder of The Glass Makers Club. We are in conversation with her to learn more about the Club and the show.
Could you tell us a little bit about yourself and how you were led towards the world of art?
I have always been passionate about the arts and have been keen on collecting and acquiring art since I was nineteen years. Early exposure within an art loving family and interactions with the doyennes of the art and cultural world in the 1980s fuelled an interest which would later become all consuming.
What is the origin story of The Glass Maker's Club?
The Glass Makers Club was born out of a passion of appreciating and acquiring glass art objects. I have always felt that Glass as a medium in the arts was not getting its due and therefore launched South Asia's first-ever Glass Maker's Club, a platform and forum directed towards the medium of glass and its multiple avatars. At the core of the Club's agenda will be to provide Glass with the space and recognition it deserves; to bring together artists, practitioners, writers, connoisseurs, and collectors exploring the medium in different ways; and to collectively address the infrastructural and other challenges that makers of glass continue to face. Though a niche field of practice, glass art in India is connected to a long legacy of historical trade and courtly patronage, building community artisanship and craft of a very high level, particularly in blown glass techniques. Glass has made its presence felt in the space of contemporary art and design as well, with a few individuals and studios leading the way.
How was The Glass Menagerie, Contemporary Practices in Glass conceptualised?
Curator Kristine Michael conceptualised the show comprising glass artworks of eighteen Glass Maker artists to mark this launch. We hope that The Glass Menagerie, Contemporary Practices in Glass, will hopefully fuel the growing interest in the medium as this exhibition aims to bring to the fore the brilliance and luminosity of the material, transformed and orchestrated into forms by the expert hands of contemporary Indian artists.
Each artist has evolved their own inimitable, innovative style of working which makes this exhibition a rare chance for Indian art lovers and connoisseurs to delve into a new realm of expression. At the heart of it all, for each artist, is the love for the materiality of glass. They find creative fulfilment and joy in the experimentation and exploration of the medium, and the constant learning that comes with it. Every piece created is a unique combination of colour, form and artistic expression.
In the field of glass art, the notion of the collective process involving groups of people besides the designer/artist gives us a specific historical moment where, either as a utilitarian artefact or as an object of art, it demonstrates an aesthetic wealth. It embodies materials, knowledge, design and handwork skills. It reflects, but is not bound by, tradition, and is not static while permitting new materials, techniques, interpretations, experiences and expressions into the public domain. It is in the visible harnessing of the localised traditional knowledge and practice of the craft of glass from Firozabad and Purdil Nagar and the embracing of viable technology that works in both rural and urban contexts that makes this exhibition a spectacular showcase for contemporary voices in glass.
Could you break down for us further your intent and sensibility behind the exhibition?
The intent has been to source from artists practicing in glass in their own domains and their expertise, both conceptually and in their studio practice. The exhibition is in three interlinked conceptual sections: Explorations of Nature, secondly, Exploration of Use and Contemplation, and thirdly, Exploration of the Sacred. Artist have, for millennia, been inspired by nature and its myriad intricate forms creating magical worlds. Reshmi Dey's Bodhi Tree epitomises the significance that many of the world's mythologies, have given deep and sacred meanings observing the growth, revival of their foliage and death of trees, and sees them as powerful symbols of growth, death and rebirth.
The fantastical world of underwater whispers of the deep oceans are the inspiration behind Radhika Krish's Marine Murals. Sisir Sahana's art reflects his presence in his society, where the people strive for peace and happiness, strength and harmony in an ever changing course of time. His series Old Seeds New Age visualises nature that is a rich constituent of human beings, animals, birds, insects, trees, plants. Debasmita Ghosh and Studio Glassic are inspired by the life around us, manifested with extraordinary details of form, colours and diversity, and brings it into her range of jewellery which is a tribute to the multitudes of forms in nature such as the plethora of delicate and alluring flowers. Asad Hajeebhoy works with fused and stained glass techniques to bring the world of nature into our lives.
In the second section, we see the vessel form as the epitome of beauty. It exists to hold or contain, both literally and metaphorically. It is all-encompassing in its generosity — it receives, it holds, it gives. It is a vehicle for the artists ideas and feelings. Srila Mukherjee's blown glass vessels are inspired by her passion for both functional art as well as for the vessel form. It is a creative combination of form with function, craft with art, which she feels ultimately brings beauty into our everyday lives. Nandini Datta brings out the property of reflection, transparency, complex fluid forms and soft colour refracted with light through a wide variety of beautifully handcrafted forms. Glass Sutra uses soft glowing colours to represent varied climactic terrains and their flora and fauna with their light installations and vessels, where each has its own character, unique technique and narrates a beautiful story, be it the materialisation of nature, an ancient process, or a culture.
Nehmat Mongia constantly looks through waste for unique textures and forms and brings them back to her studio in order to create an archive of explorations and experiments that she incorporates in newer works and ways. Anuj Kumar Poddar reuses scrap materials endeavouring to give new life to them by giving it a form thereby using it as a metaphor for our lives. Harsh Vardhan Nowlakha looks at "time" as a metaphor for the human experience and creates artefacts that bring a sense of stillness and serenity to the viewer. Hemi Bawa explores the sacred through the quality of silence, and a leaning towards spiritual and contemplative spaces that reoccur in Holy Book. She feels the processes of glass crafting teaches one about life itself, and deliberates on the surreal context of time and the manner in which it has become warped during the pandemic.
Varun Cursetji focuses on issues of identity as well as humankind's relationship with its past. He has been exploring the connections that objects can have with tradition or how they represent the cultural facets of society. Anjali Srinivasan's studio processes develop ways to discover, access and restructure information held in a material's history such as the iconic Sheesh Mahal. She attempts to explore how to make the obsolete relevant to the here and now, not merely by physical location, but what she sees as a definitive condition or pattern of existence today. Raghvi Bhatia has created a sacred language, a new craft and ritual objects, based on Zellige, a Moorish mosaic craft wherein glazed tiles are individually chiselled into one of thirteen hundred distinct shapes. All shapes have specific names, and fit into one another in multiple ways to create thousands of patterns. She has assembled a lexicon of these names to translate Zellige patterns into poetry.
Atul Bakshi believes that a sculpture should always 'speak' to its viewer, and that each time a viewer engages with the work, a new meaning should be discovered within it. M. Sasidharan works on the age of the Anthropocene, where man has enveloped himself within a make-believe ecosystem, with one endangered, the other temporal demonstrates a ceaseless strife between the sacred and the profane.
Lastly, what kind of challenges have you faced with the venture of The Glass Maker's Club?
The challenges one faces for any new idea and concept. Glass as a medium is very fragile so the logistics on handling glass are a huge challenge. Identifying glass artists are also a challenge as there is still not adequate infrastructural support for glass artists here in India.
Words Nidhi Verma
Date 02-02-2023