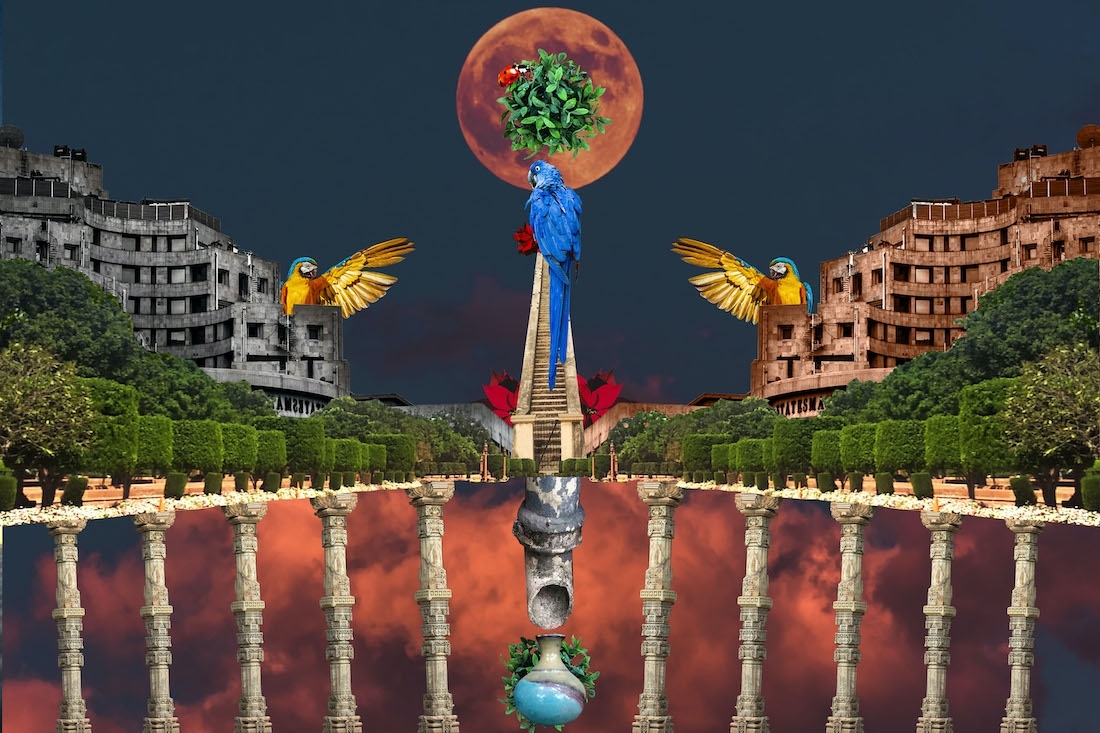 Ayushi Chaurasia aka Yushi Chau describes herself as an archivist by day and a collagist by night. Since childhood, the artist has lived life through the visuals around her, and would always be found cooking up dramatic and magical plot lines in her head. Her education also began at home. Surrounded by creative women, she always found inspiration in her mother, who would indulge in stitching, embroidering and painting. There was a paradigm shift when Ayushi began studying Liberal Arts at the Young India Fellowship during her time at Ashoka University— a fusion occurred between her imagined visuals and what she was reading and listening to in class. She adds, 'I think it was a way of understanding complex ideas and philosophies, and expanding the limits of my brain cells. However it was only in the beginning of this year that I started depending heavily on collaging as a way to manifest what goes on inside my head.'
Ayushi's vivid collages are full of possibilities. Juxtaposing elements of architecture and nature within a very mundane setup, lends a feeling of disbelief to her work, turning it into an interesting puzzle waiting to be deciphered. Her collages find inspiration from Buddhist mono-scenic narrative styles, and tireless research in Islamic architecture of the country backs up her imagery. 'I definitely think a lot about ecosophy and architecture which reflect in my art. My collages derive heavily from the internalised absurdism and wilderness of my own existence. Perhaps, for the sake of understanding, one can put my collages under the quotes of magical realism, where objects and ideas are blown out of proportions and yet, somehow, find a structure to exist within. This last thought takes a lot of inspiration from my own ideas and learnings from my archiving practise,' explains Ayushi.
The principles of archiving — that essentially work towards building a system for diverse objects and artefacts to help them find equal representation — aid in bringing together her collages. Her collages are further marked by the everlasting female presence, which finds itself directly or indirectly manifested in most of her work. Sometimes this happens through the actual physical presence of her mother, female friends and acquaintances, and sometimes through repetition of objects and ideas that are connected to them. Driven sometimes by anger, her whimsical artwork is open to interpretation for all. 'I'm still grieving the loss of my mother who passed away last year. When I create, a lot of that kinetic anger gets converted into creative energy. The motivation is very internal,' she asserts.
The First Modernist
Perhaps the first modernist was a woman who was trying to adjust the rope in between urban poor ditches, hanging freshly washed wet clothes, while looking at a vast cityscape of fleeting architecture
Ayushi's practice flows freely, there is no set process to how she does things, although the artist does agree that she often finds herself obsessing over people, nature and ideas, while building narratives. All of these eventually find their places subtly in the collages. She breaks it down further, 'I am into disfiguring and breaking down the already existing structures and reimagining them in outrageous proportions and through outlandish means. I am always trying to outdo my previous collage in order to break out of patterns and boredom. At the same time, yes, I often start with ideas. Ideas and thoughts that I picked up from somewhere. I keep on building it in my head till I know what I have to do.' Yet there are also times when she begins with nothing but a blank canvas and experiments with images she's archived, both from the analogue and the digital medium.
Shreya's Dream
This collage is an imitation of a popular Buddhist relief/motif/narrative of Queen Maya who was visited by an elephant in her dream.
Making the best of the situation at hand, Ayushi considered the pandemic to be a kick-start for her. At the time when her anxiety was at an all time high, she recognised the beauty of creation and how it gave her an actual high. This supported her in staying afloat. At the moment, the artist is working on new ideas and experimenting with the video format to incorporate movement in her collages for the future.

All images are © of the artist and cannot be reproduced in any manner. Follow the artist on Instagram for more work.
Text Unnati Saini
A portrait of Pakeeza'a dead lover