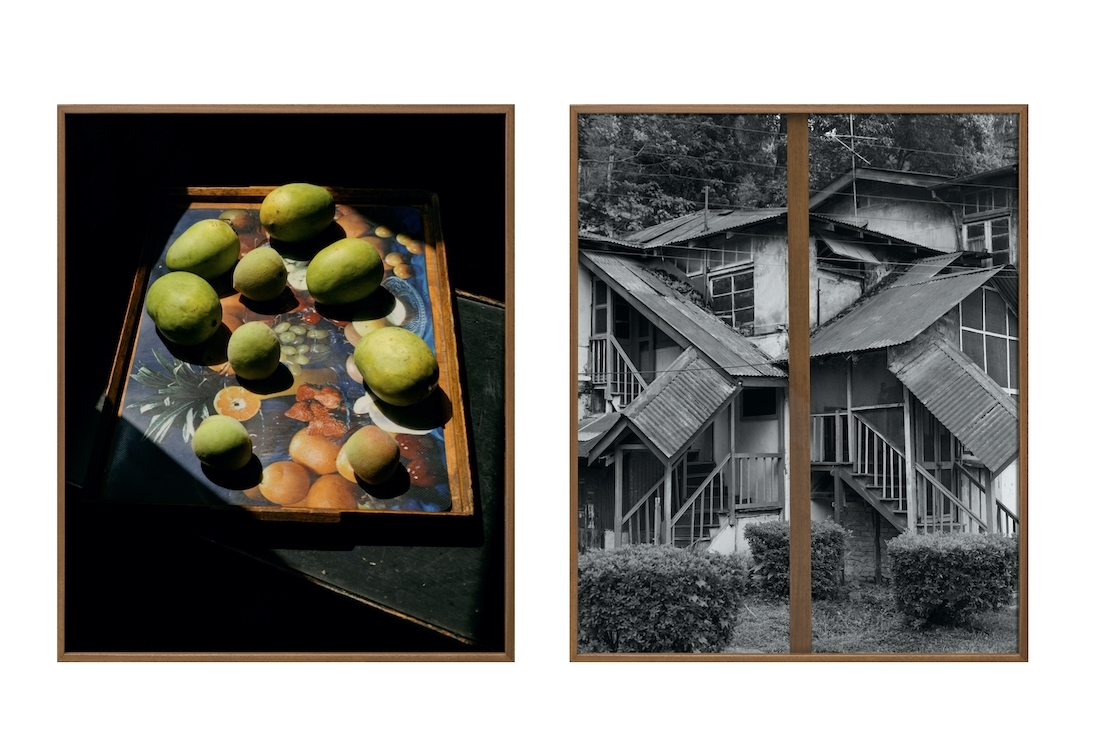 Bharat Sikka The Sapper, 2019 PhotoRag 308 paper with wooden frame Edition of 3
The Viewing Room is an avenue for Nature Morte to showcase new works being made by its artists, despite the current lack of actual exhibitions in its gallery space. In most cases, the artists will be responding to the current situation by thinking outside of their own comfort zones and creating works from a new perspective.
Bharat Sikka's The Sapper is as multi-layered as the relationship that it narrates between a father and an adult son. Through photography, Sikka creates the possibilities for observation, recollection, close comparison and collaboration, and gives this long-term project a title that both describes and belies its substance. The Sapper is an entitling that offers up a cue for the viewer: an explanation of the circumstances, behaviors and predilections that we can read into the portrayal of this former 'sapper' of the Indian Army Corps of Engineers. It suggests a double-edged understanding of this father -- the push and pull of his sense of selfhood -- as both held in his public, now-historical role, and despite of it. The title could be read as holding its subject at an observable distance and implies, perhaps, the urge of an adult child to adopt a vantage point of parity from which to see their father as another adult. It gestures towards the idea of photography as an act of inherent scrutiny and of pinpointing and fixing its ostensible and complicated subject.
But The Sapper is also disarming in its descriptive simplicity and thus creates an entry point into Sikka's intimate renderings of what is mirrored within, and passes between, this photographer-son and father. Throughout Sikka's constellation of photographs and photographic objects is the concentrated presence of deeply human tendencies to assemble and order things. With true familiarity, Sikka captures the manifestations of his father's methods of being, ranging from his almost-incidental and unconscious daily actions through to the traces (the 'what-is-left') of engineering projects and ambitious creative intentions that have fallen wide. The Sapper is a story of companionship with neither the patriarch nor the photographer commanding superiority over the other. There is a negotiated equality that happens within the photographic space that they create together, where ideas are exchanged and their authorship is fluidly passed between father and son. Sikka finds these visual signifiers from within the close proximity of his encounters with his father – amplifying, annotating and re-enacting them through his own photographic ordering and assembling. Father and adult son become inseparable in their shared endeavors. It calls to mind Umberto Eco's belief that what we become is formed from the 'little scraps of wisdom' that fathers teach us unwittingly and indirectly. –- Charlotte Cotton, 2019.
Bharat Sikka was born in 1973 and raised in India, where he began his photographic practice before studying at Parsons School of Design, New York. Sikka's long-term photographic projects have centered on the cultural residues and societal transformations within India, rendered with the visual language and materials forms of contemporary art photography. His work subtly speaks to India's history and regionality (of Kashmir in the series Where the Flowers Still Grow), the tide of globalization (in the series Matter), and masculinity (in the series Indian Men).
Charlotte Cotton is an independent curator and writer, with a special focus on photography. She was a curator at the Victoria and Albert Museum, London from 1996 to 2004 and a curator at the Los Angeles County Museum of Art from 2007 to 2009. Her book Photography is Magic was published by Aperture in 2015.

View the exhibit here: https://viewingroom.naturemorte.com/bharatsikka

Image Credit Courtesy of the artist and Nature Morte