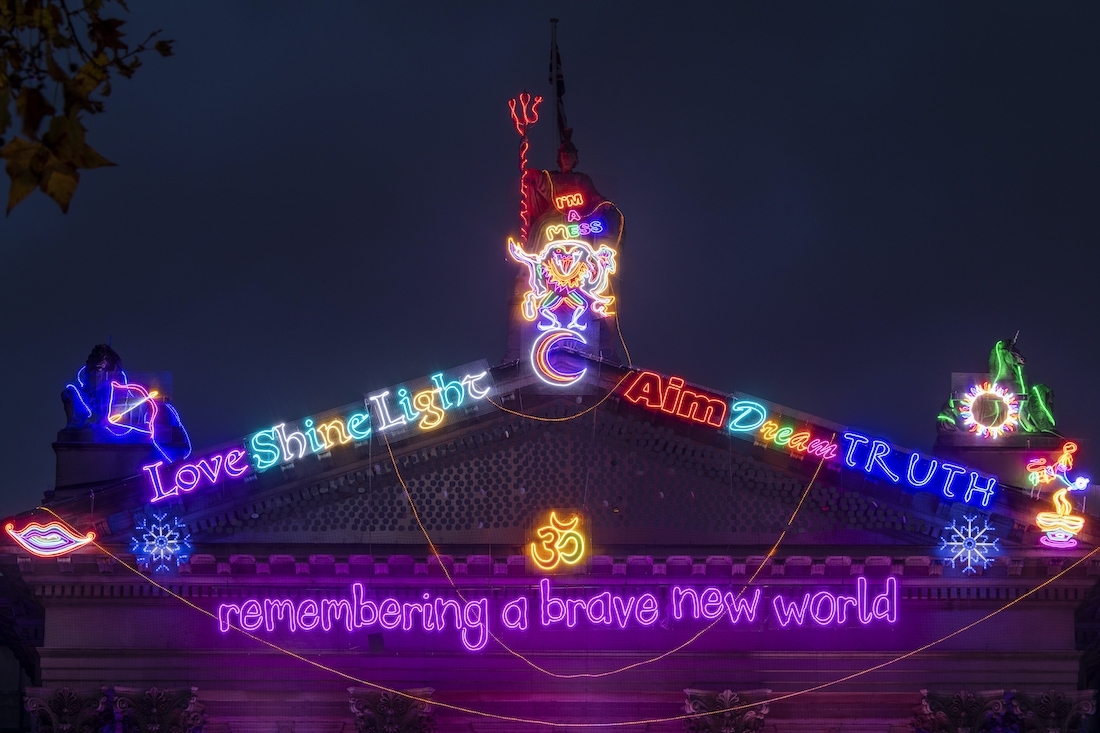 Chila Kumari Singh Burman
In conversation with the artist about her journey, artistry, and her magnificent installation at Tate Britain, that combines Hindu mythology, Bollywood imagery, colonial history and personal memories.
Let's start from the beginning, how did your romance with art begin?
My relationship with art began at school. From the age of five I had always been very good at art in school.
You are a 'Punjabi Liverpudlian', how did your growing up years influence the artist you are today?
Growing up in a working-class family in Liverpool, we had to be creative and create our own fun. We used to spend the evenings after school on the streets, making up our own games, which I think has influenced the approach I have towards my art today. I derive a lot of inspiration from my childhood memories of going to the Hindu temple every Sunday and watching Bollywood films. My dad's ice-cream van was also very visually interesting to me and is a major reference in my artwork.
What kind of stories do you like to share through your art? What have been your greatest inspirations?
I want to share stories about anything and everything. Some of my greatest inspirations have been Hindu mythology, Bollywood films and my dad's ice-cream van.
At times your art is taken from your own reality — what opportunities do you feel come your way when creating from your own experiences and interactions?
The benefits that come from working from my own personal memories and experiences are vast, especially when people relate to or are inspired by them. It is important for me to share my reality as a south Asian woman, as I want our voices to be heard.
What kind of challenges did you face when starting out?
Occasionally institutional and systemic racism and misogyny, which are still big issues today.
Can you deconstruct your process? How do you decide what goes where and when?
I have no idea how I decide what goes where or how to describe my process; it is all instinctual and comes from my subconscious.
Your most recent creation was for the Tate — what inspired that installation?
The installation transformed the front of Tate Britain into a celebration of bright lights and swirling colour. remembering a brave new world combines Hindu mythology, Bollywood imagery, colonial history and personal memories. Inspired by my childhood visits to the Blackpool illuminations and my family's ice-cream van, I covered the façade of Tate Britain with vinyl, bling and lights. I changed the figure of Britannia, a symbol of British imperialism, into Kali, the Hindu goddess of liberation and power. The many illuminated deities, shapes and words are joined by Lakshmibai, the Rani (queen) of Jhansi. Lakshmibai was a fierce female warrior in India's resistance to British colonial rule in the 19th century. The commission opened to coincide with Diwali, the Festival of Light. It is a celebration of new beginnings, the triumph of good over evil, light over darkness. remembering a brave new world takes inspiration from the luminous struggles and victories of the past to offer hope for a brighter future.
Lastly, the last year has been extremely challenging and it continues to be — how has your outlook towards art changed. What is your new normal?
While making the commission for the Tate, I had no time to think, I just knew I needed to create artwork that would shine a light in such dark times. I wanted to create art that would bring joy and hope to people, and believe that art can inspire sociability and happiness even during a pandemic. I am very fortunate to have a studio where I can continue to spend my life almost normally by making work daily.
Text Shruti Kapur Malhotra
Date 29-03-2021