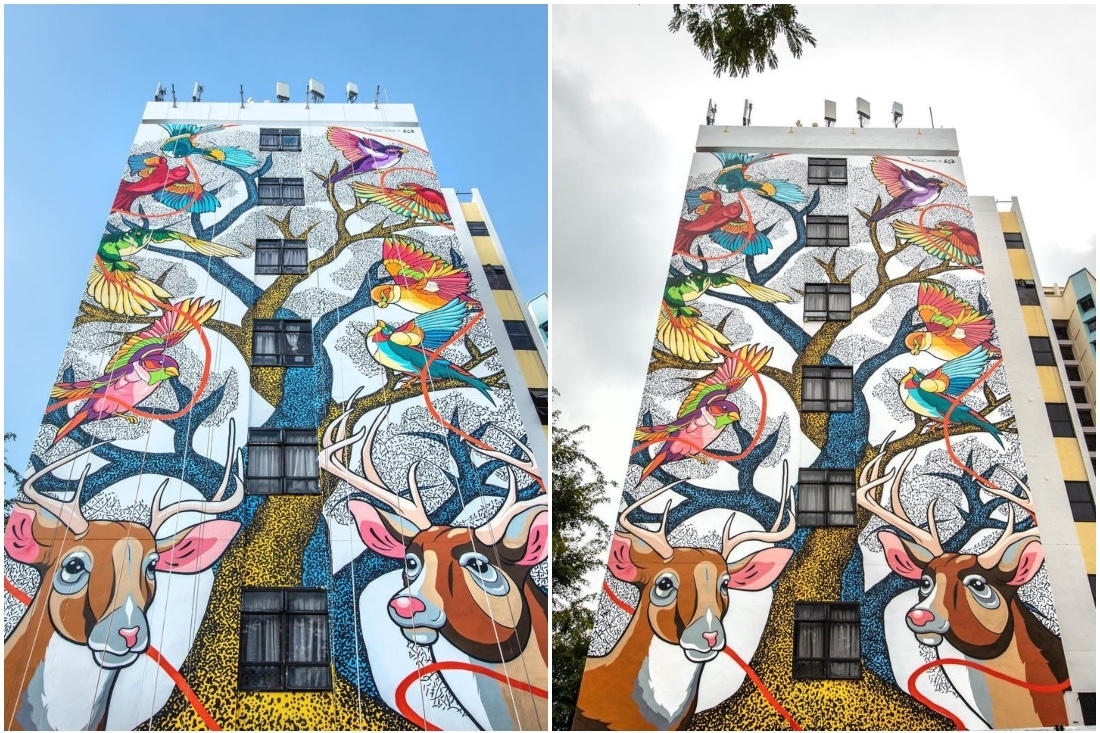 The Mural at Little India; Image Courtesy: St+Art India Facebook
Dancing in Unison by St+Art India
The work, realised on the facade of the Broadway Hotel in Little India on the occasion of Artwalk 2021, is the result of a unique collaboration between Bhajju Shyam and Sam Lo, made possible through the partnership between St+art India Foundation and Singapore Tourism Board's regional office in India. Bhajju Shyam is one of the primary living exponents of Gond art. He was born and raised in the village of Patangarh, Madhya Pradesh, which is known to be the home of the Gond Pradhan indigenous tribe. He was awarded a Padma Shri in 2018, the fourth highest civilian award given by the Republic of India.

According to the Gond belief system, each and everything whether it is a hill, a river, or a tree is inhabited by a spirit and, consequently, is sacred. All natural elements are said to have healing properties, extending to their artistic representation, and it is believed that everything in the world is interconnected in inherent ways. Bhajju, through his work, continues the exploration of these ancient narratives, while often adapting it to the urban context. Sam Lo, a young and renowned Singapore-based urban artist, revolves their work around social commentaries fueled by daily observations of their surroundings and research into the sociopolitical climate. They explore natural elements in order to understand the world around us.
Thus, we see Sam and Bhajju come together to express their artform in Singapore - a city that is known for its harmonious blend of nature and its built environment. Through the mural, the artists lyrically investigate the value of nature and our relationship with it, by bringing together their perspectives, to reveal that despite varying histories and cultures, we all are interconnected. This inherent connection inspired the choice of going beyond geographical and systemic divisions, including the ones prevalent in the art world. This collaboration explores the traditional elements and belief systems that inform Bhajju's world, in conjunction to Sam's contemporary one.

They draw parallels between characteristics of India, a country steeped in history, traditions and cultures, and Singapore, generally perceived as modern city-state in a garden, thereby establishing a marriage between the old and new where both nature and culture appear as a human constant. The mural, titled "Dancing in Unison" embodies the idea that respect for nature and the environment at large is what will guarantee our co-existence. Every feature in the work extends on this idea of the necessary dance between our urban living and nature. The tree - an iconic element from Gond art designed by Bhajju – engulfs the urban environment of human dwelling (personified by the windows of the building) becomes a metaphor for the universe where everything is interconnected from the land to the air. Its branches host vibrantly coloured sparrows, an element which reoccurs in Sam's work, as a symbol of freedom, being one of the most common birds in India and Singapore.
Bhajju Shyam at the Lodhi Art District
Sam's deer, a revered animal in India serves as a tribute to Gond art, another common element from it, which in this gentle appropriation manifests our contemporary interconnection where elements from different cultures are seen blending together in our globalised and accessible world. Sam further reinforces this idea by designing a red ribbon, another common element in their work, as a reminder of an omnipresent energy that connects us all, and one which connects her beliefs with those at the core of Gond Art.

This mural bears the fruits of many months of planning where the artists have virtually connected to create this composition. Due to Covid-19 restrictions, it will be painted solely by Sam Lo. This effort aptly resonates with the theme of Artwalk 2021 – "In Spite Of"- where artists overcome limitations and geographical boundaries to come together to realise their creations, made possible by their passions and hopes for harmony for the future.

Text St+Art India
Date 16-02-2021