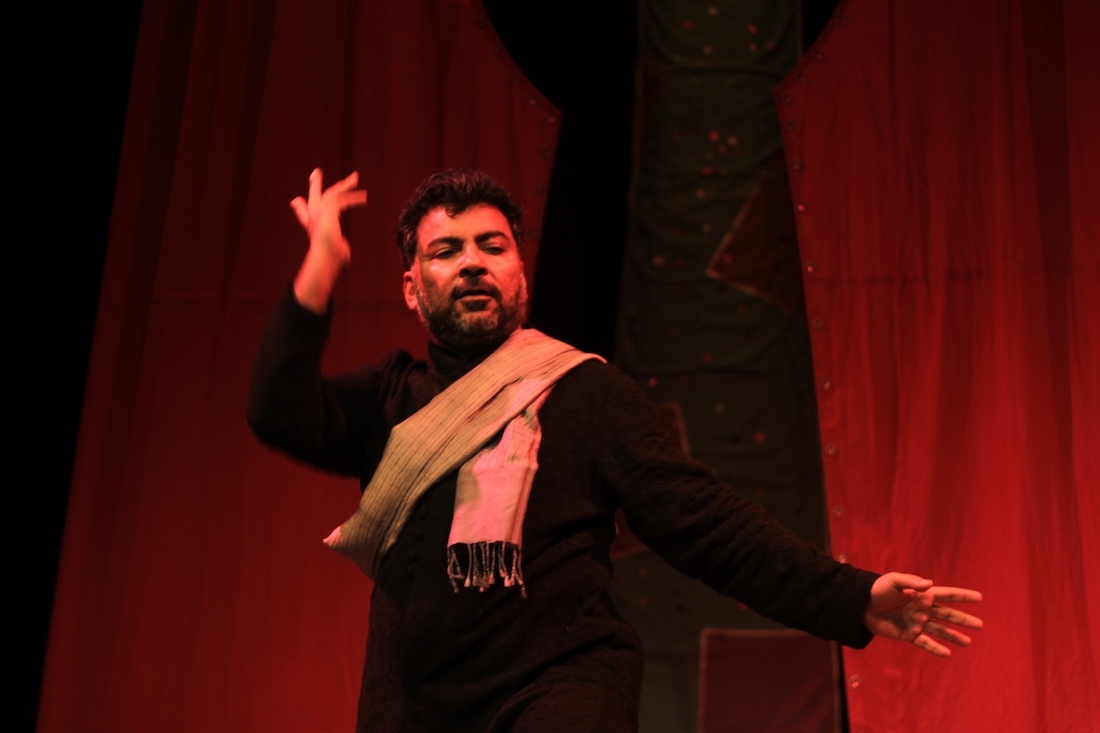 Danish Husain is an actor and a performer. He is most widely known for his revival of the art of Dastangoi. He believes Dastangoi involves not mere performance, rather, it is an art that tests the knowledge of the performer. One needs to understand their history and culture to be a Dastango. When asked how Danish got introduced to Dastangoi, he says it came to him at a very late stage in life, much like acting. More recently, Danish has received critical acclaim for his role in Bard of Blood. Platform talks to Danish about his journey, and how he has meandered through multiple paths in this process.
How did your encounter with storytelling come about? Can you take us through your journey?
I think we shouldn't have a narrow view of storytelling. The very basis of human civilisation is storytelling. Because we are able to create stories that people unknown to us could believe in, we are able to create cooperation and collaboration at mass level. Each one of us is encountering storytelling right from our births. Our identity, ethnicity, religion, nationalism, gender, political orientation, culture - everything is a narrative, a story at work that we buy in, and shape the rest of our lives around it.
But to answer your specific question, I encountered Dastangoi in my early theatre days. I resigned from the banking sector in 2002 to pursue theatre and acting full time. In a very short period, I was lucky enough to act with few of the best theatre directors in the country - Barry John, Rajinder Nath, Sabina Mehta Jaitley, MS Sathyu, MK Raina, and finally I landed with Habib Tanvir. I was part of the famed Habib Tanvir play Agra Bazaar. We were performing at the Virasat theatre festival in Dehradun in 2005. Dastangoihad just been reinvented and reintroduced a few months back. A handful of shows had happened and not many people were aware of this art form. Post our performance, Habib Saheb as it was customary for him, lined up the cast and crew on the stage while he sat in the front row, his pipe lit, smoke billowing out of his pipe, as he took stock of the performance and sized each and every actor on the stage. Post his ritual admonishment and feedback, he advised all of us and stressed on us to watch the Dastangoi performance tomorrow morning. He said If any here claimed to be an actor of any worth then they must have this art form in their repertoire. I was astonished, what was this art form that I was blissfully unaware of. I took note of my ignorance and made it a point that I have to attend this performance tomorrow morning. Next day, when I experienced Dastangoi I was completely taken by the form. I had seen in my childhood Marsiyagos perform long epic elegiac poems written by Mir Anis, Mirza Dabeer, Mir Waheed, et al, about battles of Karbala. Though held in religious context, these poems were complete dramatised performances. They were mesmerising. But Marsiya performances only worked in the religious settings of Muharram. The milieu was very important. Dastangoi immediately offered a similar literary register but in prose form and in a secular context. The stories of fantasy, magic, trickery could be performed anywhere. Theatre stripped to its bare - just two actors, their voices, and the upper torso of their bodies to perform with.
Six months later, I found myself performing the art form unbeknownst to me that soon I will become an integral part of this form's revival.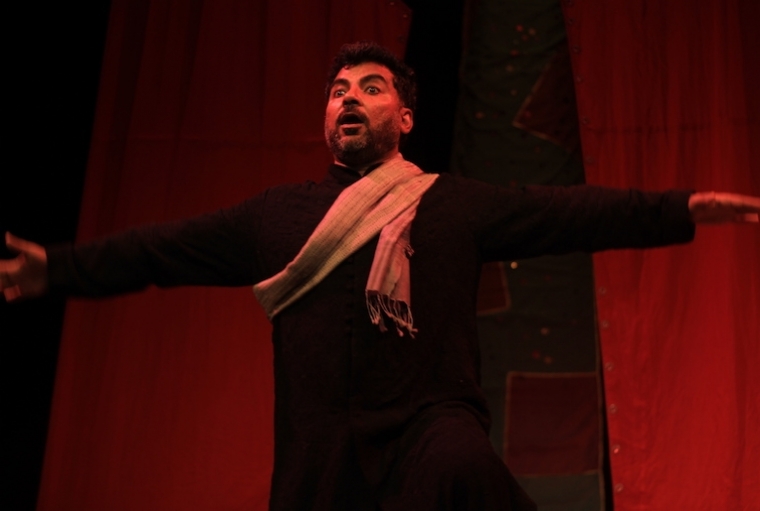 How do you think the art of Urdu storytelling through the form of Dastangoi changes the way in which a story is perceived?
Dastangoi more than the art of storytelling is the art of virtuoso display of the storyteller's dazzling array of their encyclopaedic linguistic, cultural, historical knowledge. An important aspect of Dastangoi was "Dastan Rokna" i.e., where the storyteller freezes the plot of the story and indulges in detours, diversions, descriptions, asides, and the longer a Dastango could hold a plot, the greater the storyteller he or she was acknowledged. It was an art form of dramatic recitation, which involved breath control, voice modulation, facial gestures, hand movements, a felicity with language, and a possession of encyclopaedic knowledge. The idea was to hold audiences attention, mesmerise them as long as one can. Ashraf Subuhi Dehelavi in his book Dilli Ki Chand Ajeeb Hastiyan devotes a chapter on Mir Baqir Ali, the last famous Dastango who died in Delhi in 1928, and writes about attending one of his performances. He writes that Mir Baqir Ali had the ability to transform from an imperious monarch to a toothless old lady right in front of our eyes. A three minute recording of Mir Baqir Ali survives from 1920 as part of George Grierson's mammoth Linguistic Survey of India. Mir Baqir Ali rattles off some 20 names of weapons in a period of 15 seconds without any fumble, pause, or compromising on any voice clarity. Clearly, it demanded a high level of voice and breath coordination.
However, to return to your question, Dastangoi influences the performance of oral storytelling in ways where it both enhances the visual imagery forming in audiences minds and provides aural sensory pleasures. It is an effective form if one wishes to master the art of storytelling.
You've earned yourself eclectic titles such as performer, actor, writer among others. How doyou think one aspect of your identity reflects itself in another?
To don multiple hats is not an unusual thing specific to me. We all discharge multiple roles in our lives and there is a fluidity when we switch from one role to another. An almost organic unnoticeable transformation when we move from one role to another. One doesn't consciously say now I go from a journalist mode to a wife mode. Same holds good for me too. But yes, the different roles we play are interconnected and they do influence each other. I think my being a storyteller does give me a certain leverage when I am approaching a text whether as an actor or a writer or a director.
I've read that you started your career at a later stage in life. Do you think this gave you the wisdom to be a little naive with your art and experiment more?
Yes, I was trained as an economist and worked in banks for good five and a half years before making to switch to acting and theatre. I was in my early thirties when I resigned from banking. There were pros to it that I entered the field with a very different perspective and understanding, and cons that I had no formal training in theatre and acting. And I acutely sensed both. I think I used my limitations to my advantage. The additional exposure I had brought a deeper and a more nuanced understanding of the text for me. I further kept up by reading and experiencing a lot. More than my specific case I think it is important for artists to be open and empathetic. The more we absorb, the better we are in reflecting the world as it is. We are mirrors unlike mirrors. Mirrors don't absorb anything and reflect everything. We absorb and become our subjects so much so that we get mistaken for mirrors.
Naivety can be a strength and a folly at the same time. One must understand that. Not coming from a tradition, process at times gives one the advantage of breaking norms, bending conventions, approaching ideas with a fresh perspective. Yet at the same time one should be aware of one's knowledge gaps, ignorance, shortcomings and work on them. I think I worked on both the pros and cons. I do not know how effective I have been. But it's a journey and I am still going through it.
You've been attempting to revive vernacular languages and dialects. How do you think multilingualism through stories becomes an act of resistance in the contemporary world?
We have to understand that power in any form imposes its own understanding of the status quo on everyone. So, there are on one hand the imperial western forces embedded through popular culture, Hollywood, cuisine, the language of business mainly English, and most of all technology. And on the other hand forces within the country that wish to impose their monolithic, homogenous vision of our country on us. Digging stories from various languages of our country and performing them on stage thus become an act to not tow the mainstream position, an act that says we are multicultural and diverse. When voices are in unison, an out of tune note becomes an act of resistance, rebellion.
In the contemporary world, where almost everything is instant and people have smaller attention spans, do you think the nature of storytelling will have to undergo challenges? How do you think these challenges could/should be tackled?
Yes, our distractions have increased. Yes, we have become a more visual than an aural culture. Yes, people are short on attention span. Peer pressure, social expectations, polarisations have increased. But human beings have been great conjurers since inception. They have devised ways of holding attention of their fellow species members in every age. I guess storytellers like Qalandars of the past will have to keep upping their game. And to be honest the greatest of the storytellers are already in the past. We will have to just hone our skills and up our game to match their skills. The human naivety to fall for a con act has not changed. We just need to be smart cons.
What are some projects you're involved in that we can look forward to?
My current theatre projects involve our theatre company's current productions - Ira Lewis's iconic play Chinese Coffee; my adaptation of Ibne Insha's master satirical text Qissa Urdu Ki Aakhiri Kitaab Ka; Rajiv Joseph's award winning play Guards At The Taj; and our new production, Annie Zaidi's award winning play Untitled #1 that opened this year at the iconic Prithvi Theatre Festival. Besides the ongoing storytelling project Qissebaazi where we are adding 6 more storytellers in our repertoire and tales in Haryanavi, Marwari, Bengali, Hindi and Urdu that will open on Jan 03, 2020 at Prithvi Theatre. And of course, the ongoing poetry performance project Poetrification with my friend Denzil Smith. I am also working on two new theatre scripts where I will be collaborating with two renowned theatre directors but they are in nascent stage so I will desist from speaking about them.
My personal upcoming projects involve collaborating with Ustad Hidayat Hussain Khan on a concert about his father Ustad Vilayat Khan's life that hopefully open in March 2020 in New York City. Besides a film with Baba Azmi, Navjot Gulati, Imran Rasheed, and Sooni Taraporevala awaiting release. A web series with Pushpendra Mishra for Voot. And I begin shooting for a new Netflix series and a Hotstar series this month. It may sound a lot but trust me it is manageable. Like my Mom says just rob time from your own life like a dacoit. Thank you Mom. My mentor, teacher, guide. I pray for your long life and health and your perennial guidance.

Text Muskan Nagpal