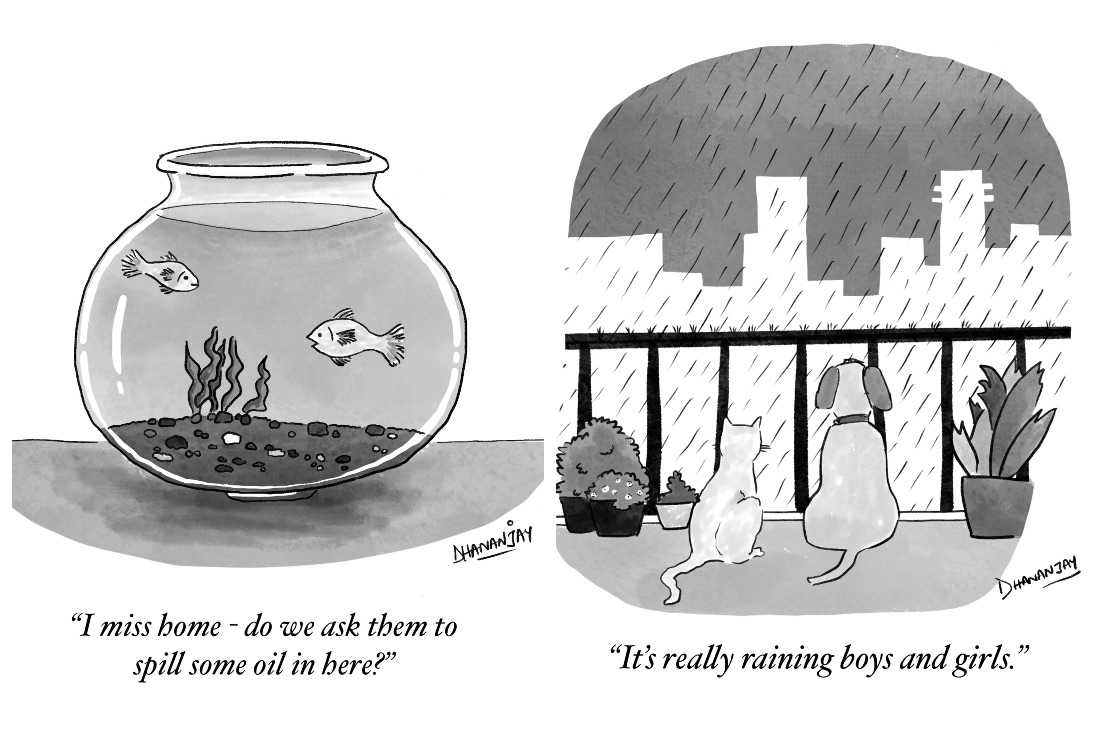 For cartoonist and designer Dhananjay Khanna, art has been a vital part of his life for as long as he can remember. Something that began as a mundane hobby class one fateful summer, has now metamorphosed into a professional skill. He tells me, 'My teacher saw something, told my parents about my 'exceptional talent' for a 4-year-old and that was the beginning of my seven-year-long stint with Mr. Dipankar Mazumdar, my art teacher. I learnt how to draw and paint until I entered my teens and drawing was no longer 'cool' for me. I eventually started to learn how to play the guitar — I am a Grade 4 Guitarist from Rockschool, Trinity College. I played and sang in bands, and composed songs throughout school. When I got into college for engineering, I got selected as a musician in the theatre society. I was really shy to even audition for acting. I had acted in school in a couple of plays, even won an award in acting, but doing it in front of strangers and getting them to like me was really scary. Being a musician was a good way to be a part of the theatre. I liked to be behind the scenes.'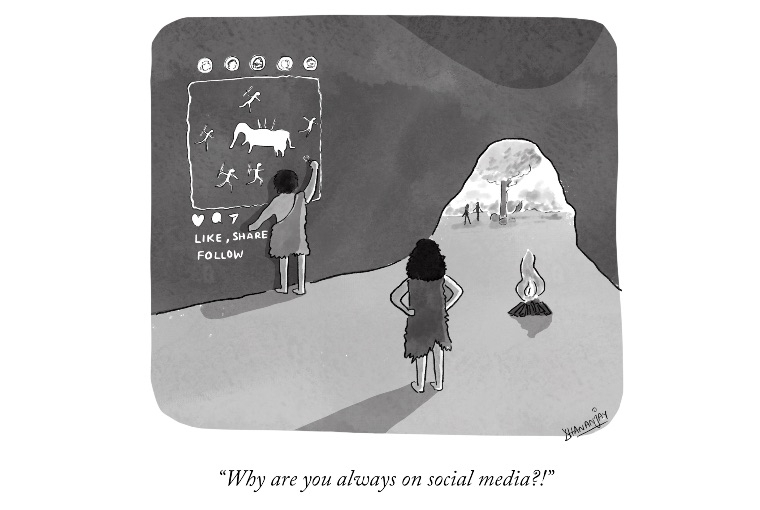 Observation was key for Dhananjay during this period and it helped him develop and pitch his own narrative. Venturing deeper into filmmaking, he started making ad films for startups, short films for festivals and comedy sketches on the Youtube channel, Teen Pathar Productions. Owing to the pandemic at hand, things changed drastically — stepping out for filming wasn't possible anymore and neither was shooting with a crew. While the young artist couldn't stop writing, he immensely missed the process of shooting. Thus, drawing came back to him. 'I finally had time to not just doodle in my notebooks, but draw, sketch and paint. I am a huge New Yorker fan and I started drawing cartoons and comics as a pastime,' he shares. An activity which was motivated by childhood nostalgia, essentially became a ritual for Dhananjay and has been a cathartic experience for him this past year.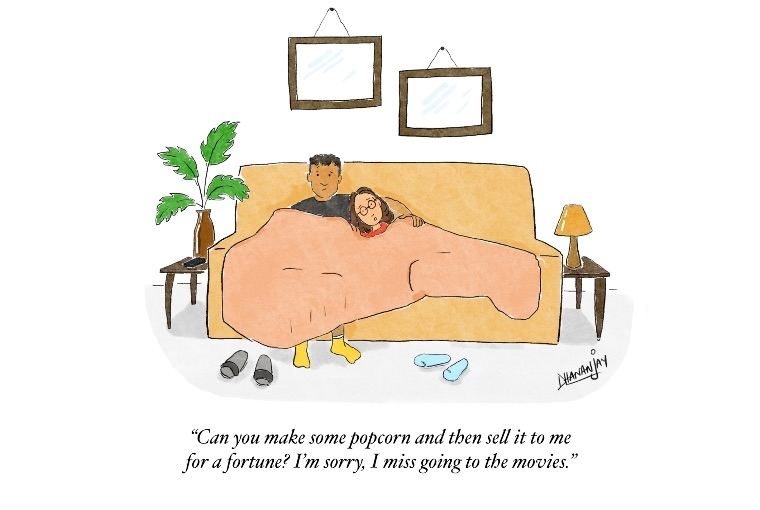 Inspired by quotidian objects and actions, he aims to explore the beauty in human flaws through his work. The social construct within which we find ourselves can be rather comical, according to the artist, yet it also helps one interact and communicate — the irony of it all is what he likes to capture with his work. When it comes to the creative process, it all begins with his drawing pad and pen. He usually ponders upon a recent event, something personal or topical. Dhananjay then goes on to find the humour in the situation and twists and tweaks the language around to find the punch. He explains, 'It can take from five minutes to an hour to even days without any idea, but I keep at it. I usually write the captions first and then think of the visual for the cartoon that best depicts the joke. And then I leave it for a few hours, come back to it and decide if I like it. I also send it to my friends for their thoughts, to understand a different perspective and to detach myself from it. Finally, I draw it on my iPad on Procreate.'
Inspired by the New Yorker cartoons, Dhananjay's visuals borrow their lucidity from them. He deconstructs the cartoons further, 'You have a visual and a caption below in inverted commas and not a dialogue bubble. Also, one looks at the visual first and then reads the caption, which adds another kick to the punchline because you don't understand it at first, but when you read the caption, it all adds up.' When it comes to art, he also strongly believes in not revealing everything to the audience. Open for interpretation without any rigid structure binding it in place, he is fascinated by how some of the readers may even come up with a '5' in a '2+2' algorithm he put up.
'I believe cartoons don't teach you anything. They don't speak to your ego, but to your conscience. They talk about things as big as the existential crisis and the meaning and purpose of our lives, without sounding preachy, packaged in some very fine humour, and boom - it hits you,' adds the artist, summing up his beliefs. He wishes for his readers to be able to laugh at themselves and develop a deeper understanding of the self, considering a majority of his work is centred around human nature and the world.
During the pandemic's second wave, when things became adverse, he began drawing again, did a course on animation, attended screenwriting classes and shared his work online, developing an audience. He worked on himself to deal with what was going on outside and hence his creativity fared for the better. Talking about it further, he describes, 'The second wave changed everything. I understood what people meant when they said they're dealing with anxiety and fear. I understood that stress. I lost my uncle and many others I knew to COVID. It was probably the worst phase of our lives. I have never felt as helpless and vulnerable before. So it took time and is still taking time for us to heal. I am a cartoonist and I write jokes, right? How are you supposed to write jokes when something like this happens to you? All I can say is, writing and drawing every day kept me going and is helping me find my way through this grief. So, while the first wave helped me grow as an artist, I think I grew as a person during the second one.'
Text Unnati Saini
Date 20-07-2021