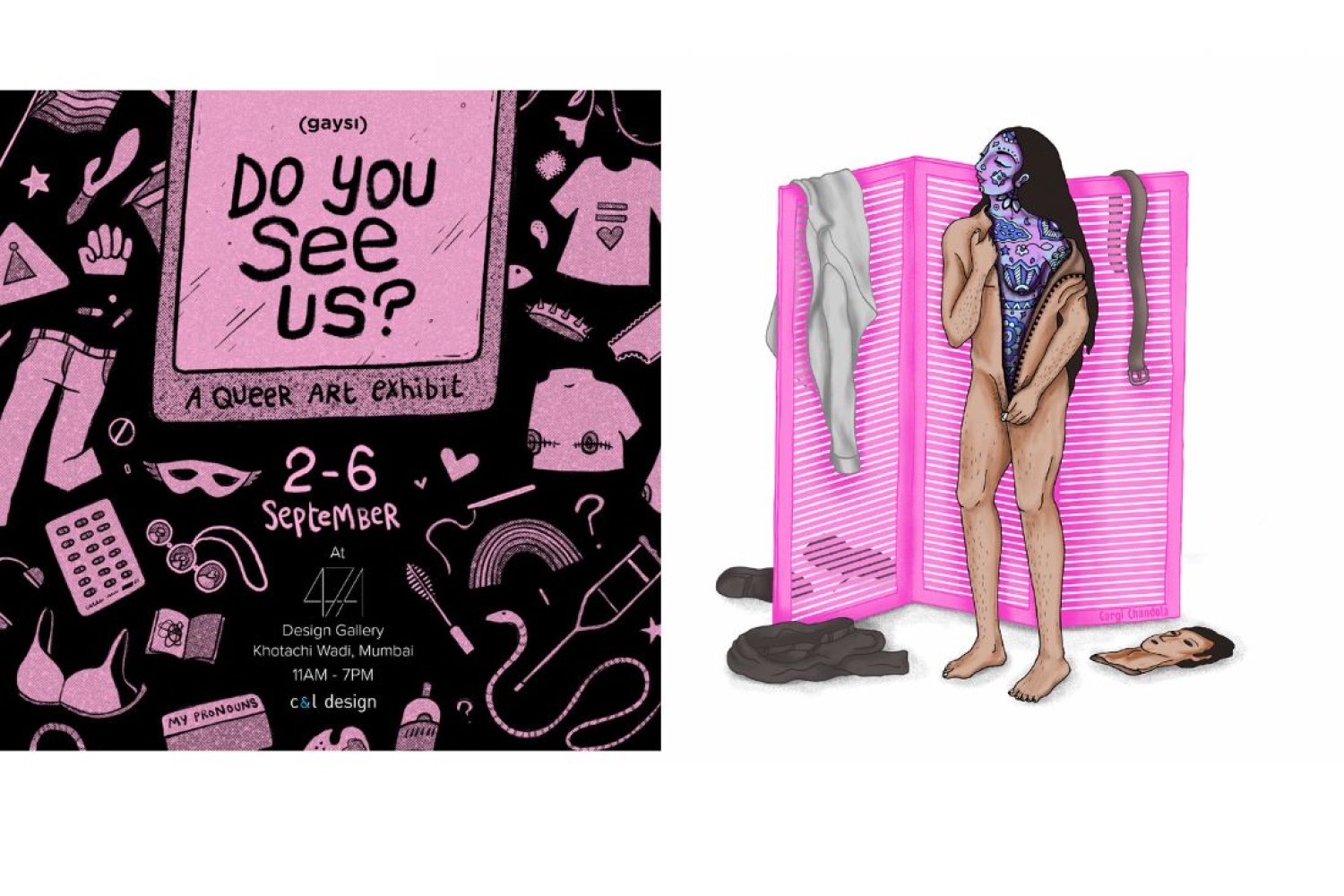 On Trans Passing by Gargi Chandola
Do You See Us?
Gaysi Family
The first-ever art exhibition hosted by Gaysi Family, Do You See Us?, invites everyone to perceive the many aspects of queerness and Indianness. Showcasing the works of over 40 queer illustrators from different parts of India, the exhibition passes the mic to queer folks to express their joy, complexities, love and intersections — and put forward the question in front of the public: do you see us entirely for who we are and what we entail? From 2nd - 6th September, Do You See Us? is tented at 47A Design Gallery — accompanied with guided walkthroughs, panel discussions and everything queer! To know more about this artistic reclamation of public narratives, we had a chat with Gaysi Family's Digital Editor, Tejaswi Subramanian.

Tell us about the title Do You See Us? and how does the exhibition reclaim the queer public narrative?
Do You See Us? is about being seen for our queerness beyond the perception of homosexuality. Queer community is not a monolithic. There are several intersections and identities within the umbrella. In terms of identities — bisexual, transgender, intersex, asexual people are often overlooked in the narrative. We wanted to highlight those diverse experiences within the umbrella. There are also several intersections, a very important one being caste and religion in our country, which brings a sense of diversity within the community. So, Do You See Us? tries to question that do you see us for all these different aspects of our identities that are often overlooked in media and mainstream narrative?

What drew you to the artists you chose for the exhibition?
All of them are queer and most of them are queer artists that have worked with Gaysi for our publication. Some of them have been regulars and some have even published books children's books with us. One of them is also our art director, Priya Dali. And there are other collectives who are quite prominent in the community, especially in India and South Asia. For instance, there is the Queer Muslim Project. We wanted to also draw from their body of work.

How does the exhibit showcase the many layers of being queer in India and celebrates its diversity?
Through this exhibition we are actually addressing five different themes. Do you see our queerness? That is, our queerness goes much beyond whom we have sex with and how we have sex. It's also to do with various different identities, for instance trans-ness, for instance how we experience heartbreak, how we relate to another, how we go about relating to our chosen family. Then do you see our desire? How we express our desire? How we pursue our desire?

Then, do you see our politics, which has got to do with so many different rights and so many different legislations at the state and the central level that we are trying to unpack. Our politics is also our resistance, it's also about the protest that we organise, the kind of care networks that we build among ourselves within the community. Do you see our family and what our family looks like? You know, for the longest time, family has been perceived and even pictured in those chart papers that used to be printed when we were in school. Nuclear family has to look a certain way. A joint family has to look a certain way. But when you think about the queer idea of a family, it looks very different. Also, how we relate to our birth family is so fraught. It can also be very healing if our birth families accept us for who we are. We are also looking at do you see us thriving? There is so much queer joy, queer success, queer hope that we have experienced. Many people in the community continue to vicariously experience why we see our representation, our stories and our lives.
Boy in the Cupboard by Priya Dali
Since the reading down of Section 377, what all has changed? and what changes do you wish to see in the future?
Since the reading down of session 377, I think we have had a more diverse conversation about the different rights that are required by the community. Like I said, we are not a monolith community and we need different aspects of our life to be addressed. For instance, there is the Trans Act and the horizontal resolution that is being demanded by the Dalit community within the transgender community, especially in Tamil Nadu. Then, there are also definitions of chosen family that are being asked to be considered and several other things, like gender affirming health care is asked to be normalized. Mental health requires to be framed in a queer affirming manner beyond the conversion therapy approach that has largely been undertaken by psychiatrists in the country. We want gender and sexuality education it to be normalized. So there are different kinds of these conversations that have come to the forefront as a result of homosexuality being decriminalized. These are also the changes that we wish to see in the future. We want it to be widely discussed across the country and be contextualized in different languages.

What do you hope to achieve from this exhibit?
What we hope to achieve through this exhibit is to kind of introduce them to our world in a gentle manner, in an intimate manner. I think a lot of people continue to ask us like "oh, please tell us more about it, we want to learn." For us to do this in a public space — to do this as a free event — to do this in Khotachi Wadi, is to kind of normalize those conversations among different people and to invite them into this space and see through an art, visual-led medium, which also makes it more accessible and nuanced. And since this hasn't really happened much in the country, we're really excited about it.
Prem Mhanje Prem Mhanje Prem Asta by Priya Dali (left) | I Don't Go Around Shouting That I'm Straight!
Words Paridhi Badgotri
Date 05.09.2023