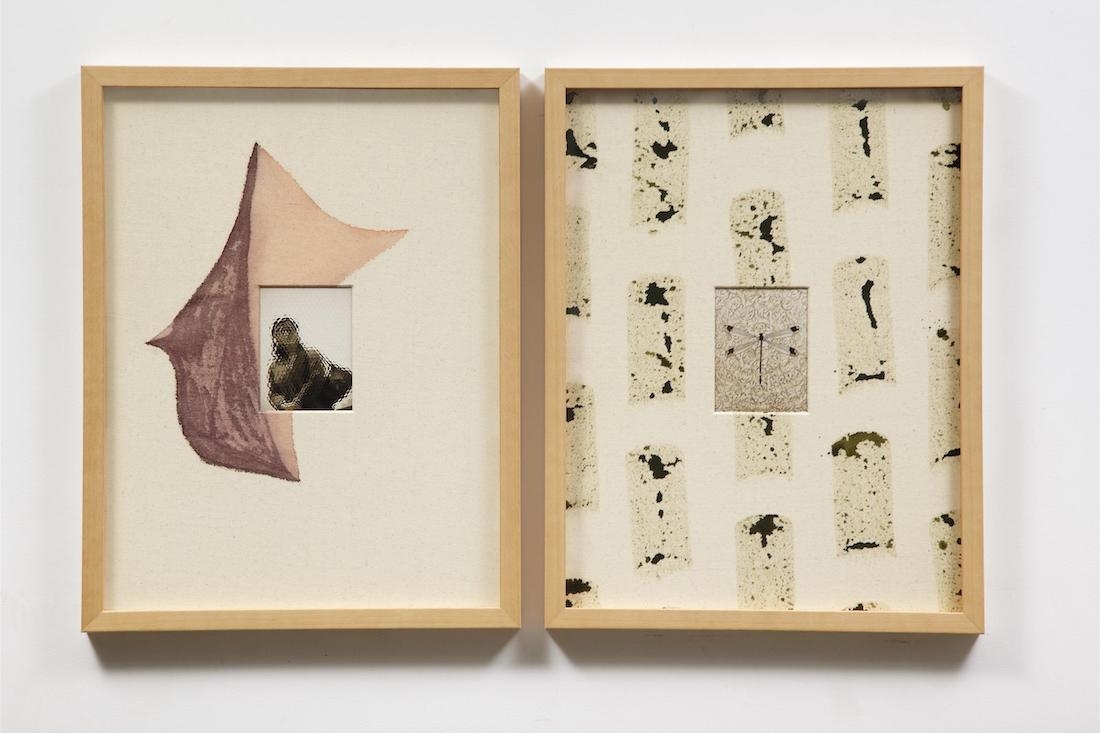 Artist Anju Dodiya Song of the Singular Beast – VII
Every Soiled Page is Ishara Art Foundation's fourth exhibition dedicated to exploring ways in which art expands our sensitivities to witnessing and forming collective memories. Taking a silverpoint etching of an olive tree by artist PraneetSoi as a point of departure, the exhibition attempts to expand the notion of bearing witness beyond the human to the planetary dimensions of remembering. We as society remember, but the earth too remembers. Its each fragment remembers, the trees and soil remember. If indeed history and time inscribe themselves onto the earth and encode themselves into all forms of life, where shall we begin reading? Colonialism and modernity believed in unearthing the past and gorging it out in
order to preserve it. What if there are other ways of bearing witness and reading what's inscribed on every soiled page?

The title of this exhibition draws inspiration from Faiz Ahmed Faiz's poem 'Memory' that was written in 1953 while he was imprisoned in the Montgomery Central Jail in Pakistan. Taking cue from the poem, the exhibition proposes art as a site for reverse archaeology, where materials, voices, inscriptions and testimonies produce a field of resonance for bearing witness and remembering as an act of resistance. Faiz's verses powerfully invoke that to remember we must apprehend every soiled page, listen to the reverberations collectively, even sing with them the songs that rise with each day. The exhibition is curated by Sabih Ahmed and features works from the Prabhakar Collection by artists Anju Dodiya, AsthaButail, Neha Choksi, PraneetSoi and Sunil Padwal, and a newly commissioned performance installation by Inder Salim that will expand the exhibition into a space of readings, recitals, inscriptions and annotations. A concurrent events programme will be launched online on the Ishara website from October 2019. Ishara Art Foundation is presented in partnership with Alserkal Avenue.
Inder Salim - Every Page Soiled 1 (Harsh Kumar) (Custom)
About the Artists
Praneet Soi(b. 1971, lives and works in Amsterdam, the Netherlands and Kolkata, India) Soi's practice ranges across painting, drawing, video and site-specific installations. He identifies over time patterns that emerge from an investigation of his extended social and economic landscape. Media reportage of unrest in the Middle-East, Pakistan and Afghanistan in the events following September 11th led him to a series of miniature paintings on terrorism and expanding from there, paintings of the human body. Interactive processes are important to Soi. Images, texts, sound and moving image are harvested and then linked together, outlining what Soi calls a 'Notational Methodology'; a process that begins intuitively, allowing a subject to materialize, and then, as it expands, allows for connected subjects and tangential trajectories to emerge. As part of this methodology, Soi stitches together personal imagery that he has been working with for years side by side with new material and existing representations to ignite a dialogue that privileges polyphony towards the creation of alternative narratives.

In 2011, Soi was one of four artists representing India at the Indian Pavilion in Venice. In 2014, he was artist-in-residence at Stiftung Laurenz Haus in Basel, the same year he was granted a research fellowship at the Smithsonian Institute in Washington DC for studying illuminated manuscripts at the Sackler and Freer Galleries. He participated in the Kochi–Muziris Biennale in 2016. In 2017, he unveiled "Notes on Labor", a solo exhibition at the BhauDaji Lad Museum in Mumbai and in 2018 a solo exhibition, "Third Factory: From Kashmir to Lisbon via Caldas" at the Gulbenkian Museum in Lisbon. In 2019 'Anamorphosis" opened at the Mosaic Rooms in London displaying work resulting from travelling across the Occupied Palestinian Territories earlier that year. In 2020 he will be participating in Positions 6 at the Van Abbe Museum in Eindhoven where a new publication with Book Works and Fraser Muggeridge studio will be released.
Artist website: http://www.praneetsoi.info/

Sunil Padwal (b. 1968, lives and works in Mumbai)
Sunil Padwal's art practice reflects on the unsettling nature of contemporary urban life through a series of complex drawings. The artist suggests that not only are we unable to escape from the grip of our everyday reality, we have also become passive observers, unable to question our experiences. The drawings layer abstract lines and forms with simplified architectural imagery. Placed in rescued frames, Padwal's drawings replace the original, photographic contented of the frames. This multiple layering recreates an environment under construction, partly built and partly destroyed where both the past and the future are equally struggling to emerge. Padwal's work of drawing, photography and the intervention of the purely visual into the tactile universe of objects is part of a long-standing exploration into his personal and emotional experience of the urban environments that frame his life journey.

His layering of different categories, textures, images, words, materials begins and continues the journey of creating a vocabulary and a language with which to format the visible and its resonances with our emotional lives. Padwal's recent exhibitions include his solo show at GALLERYSKE, Bangalore (2019); and participations in 'No Place like the Present' curated by Ranjit Hoskote, at Akara Art, Mumbai (2019), Kochi-Muziris Biennale 2016 curated by Sudarshan Shetty; 'Public Enemy Number' curated by ShaheenMerali in Exhibit 320, Delhi (2010).
Artist website: http://www.sunilpadwal.com/
Sunil Padwal, Imbricated Minutiae, 2017, collage in recycled frame 81 pieces, variable dimensions, overall installation 304 cm x 180 cm, Prabhakar Collection,Image Courtesy: Sunil Padwal
Astha Butail(b. 1977, lives and works in Gurgaon, India)
Conflating the roles of artist and researcher, Butail's art is born out of an intensive research process along with intuition which sets the pace of constructing rich circular narratives that explore the history of the archival oral form, the present elements in nature, the history of myth, and the fragments of lost knowledge and language. Butail's practice draws natural and cultural materials through the combination of sculptural ensembles, artist books, painting, installation, textile, drawing, video, and sound. Her projects are often interactive and involve the viewer to be part of the work.
Butail's debut solo exhibition was shown at GALLERYSKE, Bangalore. Recent exhibitions include 'Visions from India', The Columbia Museum of Art, Colombia (2020); Jerusalem Biennale for Contemporary Art, Jerusalem (2020); 'In the Absence of Writing', The Gujral Foundation, curated by Reha Sodhi, New Delhi (2019); 'Fracture, Indian Textiles, New Conversations', Devi Art Foundation, Gurgaon (2015); Sarai 09: The Exhibition, curated by Raqs Media Collective, Devi Art Foundation, Gurgaon (2012-13).
Artist website: http://astorywithinastory.com/
Neha Choksi
(b. 1973, lives and works in California, USA, and Mumbai, India)
Neha Choksi embraces a confluence of disciplines, including performance, video, installation, and sculpture. She disrupts logic by setting up poetic and absurd interventions in everyday life—from stone to plant, animal to self, friends to institutions. Her process often involves collaborative and lived performances that negotiate relationships in unconventional settings. The work allows in strands of her intellectual, cultural and social contexts to revisit the entanglements of time, consciousness, and socialization. Her most recent work-in-progress,
Elementary
, is a long-term, multi-format project that stems from a lived performance whereinshe attends for an entire academic year (2018-2019) a Los Angeles public elementary school as a kindergarten student.
Choksi's work has been exhibited or performed at
18th Street Arts Center,
Santa Monica (artist lab, 2018);
Hammer Museum,
Los Angeles (biennial, 2018);
Dhaka Art Summit
(group, 2020; solo, 2018; group 2016);
Manchester Art Gallery
(solo, 2017);
LAMOA at Occidental College
, Los Angeles (solo, 2017);
20th Biennale of Sydney
(2016);
Hayward Gallery Project Space
, London (solo, 2015);
Kochi-Muziris Biennale
(2014) among others. A solo exhibition will be presented offsite by the
Kleefeld Contemporary
(previously known as the
University Art Museum
),
California State University,
Long Beach in 2021. Recent honors include the 2019
California Community Foundation Fellowship for Visual Artists
, the designation of Cultural Trailblazer by the
City of Los Angeles Department of Cultural Affairs
for 2017-2018 and 2019-2020. She serves on the editorial board of the Los Angeles-based arts journal,
X-TRA
.
Artist website
:
https://www.nehachoksi.com/about
nder Salim - Every Page Soiled 4 (Harsh Kumar) (Custom)
Inder Salim (b. 1960, lives and works in Delhi)
Inder Salim is a conceptual performance artist and poet practicing for over 25 years. Within the landscape of contemporary art in India, Salim's ground-breaking, body-centric work has few parallels: a multidisciplinary artist using video and photography as well as the Internet interfaces to expand upon his bodily interventions, Inder Salim has foregrounded the role of art as activism. Reflecting upon the relationship between art and its relevance to the world, Inder Salim has performed at different venues in India and overseas. He was a Sarai Independent Fellow in 2006-07, he was one of the mentors of the City-as-Studio program at Sarai/CSDS and is organised Harkat@Sarai, a series of open-ended performance art events. He organized Art Karavan International in the year 2010, where 30 artists from India and overseas travelled for two and a half months through nine cities in Northern India, with the objective of experimenting with open-ended interactive processes of art.
Astha Butail, Turning Towards Pure White, 2016-2017, Handloom cotton muslin, acrylic on archival paper, MDF, Teak wood and book, variable dimensions, Prabhakar Collection,Image Courtesy: Astha Butail
L: 1. Artist Anju Dodiya Fountain
R: Artist Anju Dodiya Shadow Lines