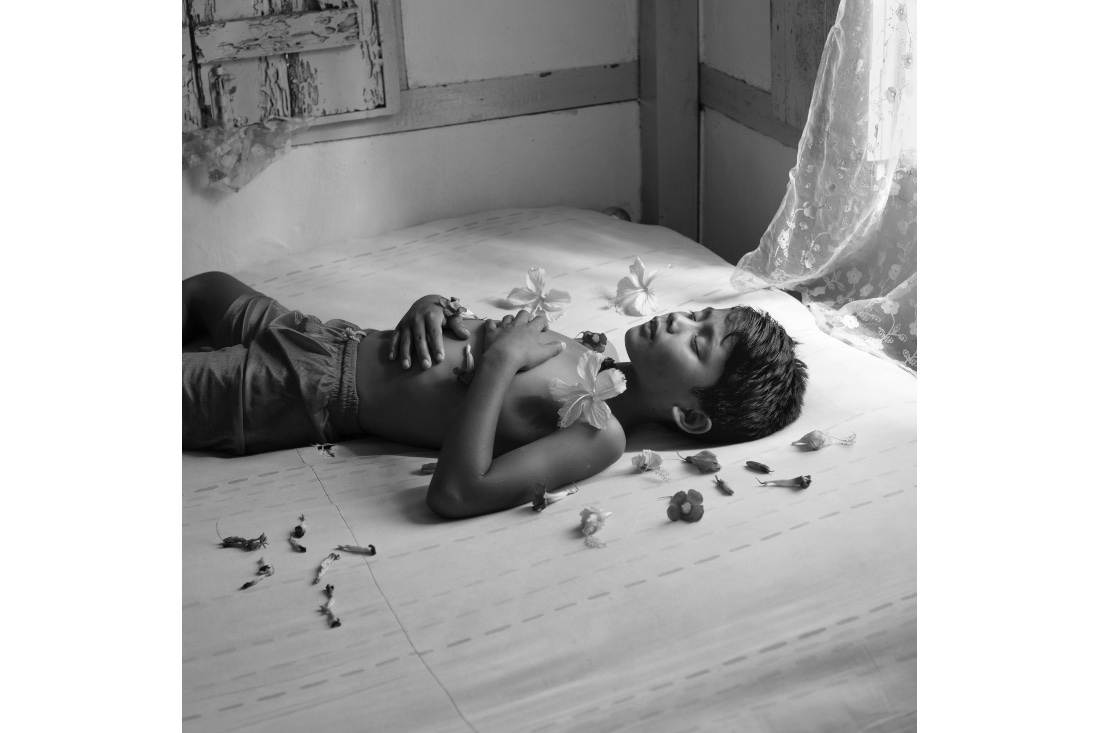 Growing Like A Tree, curated by Sohrab Hura, is an exhibition that looks at regional histories of image-making through a visual and sonic excavation of place, memory and culture. The exhibition represents many firsts for the Ishara Art Foundation. It is Sohrab Hura's inaugural curatorial project as a photographer and filmmaker, along with the presentation of several artists and collectives never before shown institutionally in a regional and international context.
Hura's individual and collective journeys through photography and moving image over the years, have presented both a form of rooting and uprooting of places as markers of identity. Through this exhibition, he maps a network of past and present collaborators with 14 artists and collectives from Bangladesh, Cambodia, Germany, India, Myanmar, Nepal, Pakistan and Singapore, seeking to expand the framework of boundaries set out by the geographical context of South Asia. Together they create a space where multiple voices and experiences are brought into dialogue with one another, capturing dualities in which organic growth is matched with resource extraction, the archival is juxtaposed with the contemporary, and the magic of the mundane is seen through children's eyes.
We spoke with Sohrab about the exhibit and beyond.
How has this curatorial experience been?
This experience has been an extension of thoughts that have been developing and conversations that I've already been having with the artists over the last many years. So that's helped in pulling the show together. Because of current travel restrictions due to Covid19, I was dependent on Laura Metzler and Sabih Ahmed from Ishara Art Foundation. Laura helped design the exhibition in a space that I never got to see in person. Sabih helped me flesh out my thoughts. It was also not possible to bring the artists to Dubai because of the travel restrictions but they were extremely kind to have trusted me with their works. This was my first curatorial experience and that too in not so normal circumstances, so it's a bit difficult to imagine what the experience might have been otherwise. I've never thought of myself as a curator and at times, being in an institutional space felt a little intimidating, but what helped me was that I build books. I took to curation as a way to build an exhibition and an experience, just like I would have built a book in terms of flows and pauses.
When we had initially conceptualised the exhibition, I had imagined the movement and distribution within the space to be in a similar vein as echolocating. The exhibition was not meant to be a repository of works. It was important that there was an unfolding around each of the works, with the different registers of notations and citations that I had tried to bring in. I wanted the audience to get to know a little more about the artists and their intent, and also parts of the work that weren't so visible. The space was imagined as an extraction of a larger dynamic nervous system. In the beginning I had assumed that the main works that were part of the exhibition would constitute the nodes within that extraction of a nervous system. But as the exhibition was installed, the nodes became more visible at the various intersections between the different works. This entanglement of works is where the exhibition opens up for me. This entanglement is part of my own work-making process. It is part of how I live and I assume, it is also part of how the reader of these words lives.
From Bangladesh, Cambodia, Germany, India, Myanmar, to Nepal, Pakistan, and Singapore, how did you zero in on the artists? And what was your criteria?
I didn't want the show to be boxed by geographical boundaries. I wanted the edges of the show to be porous and not completely defined. The artists in the show are people who I have known for many years, along with their works and processes. Instead of finding a starting thought or concept and then looking for artists to fit into that, this show was stitched together more organically. As more of those artists came into the conversation, the idea behind the show also adapted itself. If the show was somewhere else and not in Dubai, perhaps it might have been a different permutation and combination of artists. This show is a passing through at this given point of time in Dubai. The 14 people and collectives, whose works are being shown as part of this exhibition, are a small extraction of a much larger network of artists and collectives whom the exhibition touches upon. There is also a citation of Dayanita Singh who had supported me when I was a young photographer and who continues to support many other young photographers, some of whom are also part of this exhibition.
One artist among those selected that you think one should definitely look out for and why?
To isolate one artist would be to fail the exhibition, especially when the exhibition is about interconnectedness and context around the work. You should definitely look at some of the younger artists and collectives whose works are part of the show like Bunu Dhungana, Jaisingh Nageswaran, Farah Mulla, Aishwarya Arumbakkam, Sathish Kumar, Yu Yu Myint Than, Nida Mehboob, and initiatives like Anjali House and Nepal Picture Library. You can also see that many younger artists and collectives who are part of my Incomplete Map of Interconnectedness, such as Her Pixel Story, 13Jara, Kaali Collective, Thuma Collective, PEP collective, The Confluence Collective, Debmalya Ray Choudhuri, Shaima Al Tamimi and many more.
Let's talk about your collaboration with Ishara Art Foundation.
I realized the significance of having the exhibition in Dubai only when I was there to install the works. Dubai is sort of a cauldron, that is open for a whole range of people to pass through it. There seems to be a temporariness to the state of existence that I imagine someone living here might experience. In many ways, this exhibition is also a 'passing through' of sorts, not trying to fix itself into a representation of a geographical region such as India or South Asia, but instead, I hope that it helps to make those usually definitive borders more porous.
Ishara Art Foundation
normally takes on the role to promote Art from South Asia and was very conducive to the spill overs that this exhibition brought with it. The foundation understood that the unpacking of a perspective, even if it was meant to be regional, need not be located within that region itself. It helped to chart out a more complex articulation of what a sense of belonging could possibly be, especially at a time when many of us in different parts of the world are forced to operate within imposed parameters of identity. Maybe because
Ishara Art Foundation
is not a museum but a foundation, there was more room for experimentation with the exhibition.
We are living in challenging times. As an artist/photographer, how do you approach your work while documenting violence?
I'm not really interested in photographing violence. There is already too much of it out there. I'm interested in the larger systems of power at work, with violence being just one of several manifestations of this system. I, the image maker and image distributor and also the image consumer, am equally part of this system. In many of my recent works I've been going back to the time of my growing up in the 90's and locating both events as well as television and pop culture that have shaped the foundations upon which my entire generation makes sense of things today.
Looking at my consumption of visual culture as a kid makes it easier for me to recognize how visual culture that preceded, accompanied and followed events of violence helped give shape to the larger narratives around those events, whether it was the Babri Masjid demolition or stories around Kashmir since the late 80's, including elections and political events. These associations continue even today, but they have been amplified beyond our ability to pinpoint the specifics. So tracing these patterns from the 90s, when it was all much slower, helps to understand what is happening today in a more complex way. In the end, this system of power is about a system of engineering narratives and stories, and those who are in positions of telling stories are those who have real power.
How has the pandemic changed the way you look at the world around you?
No the pandemic hasn't changed the way I look at the world around me. What I have been experiencing in the last one year is something familiar from a time many years ago when because of my mother's illness I had spent most of my time within the walls of my house.
Text Hansika Lohani Mehtani
Date 12-02-2021