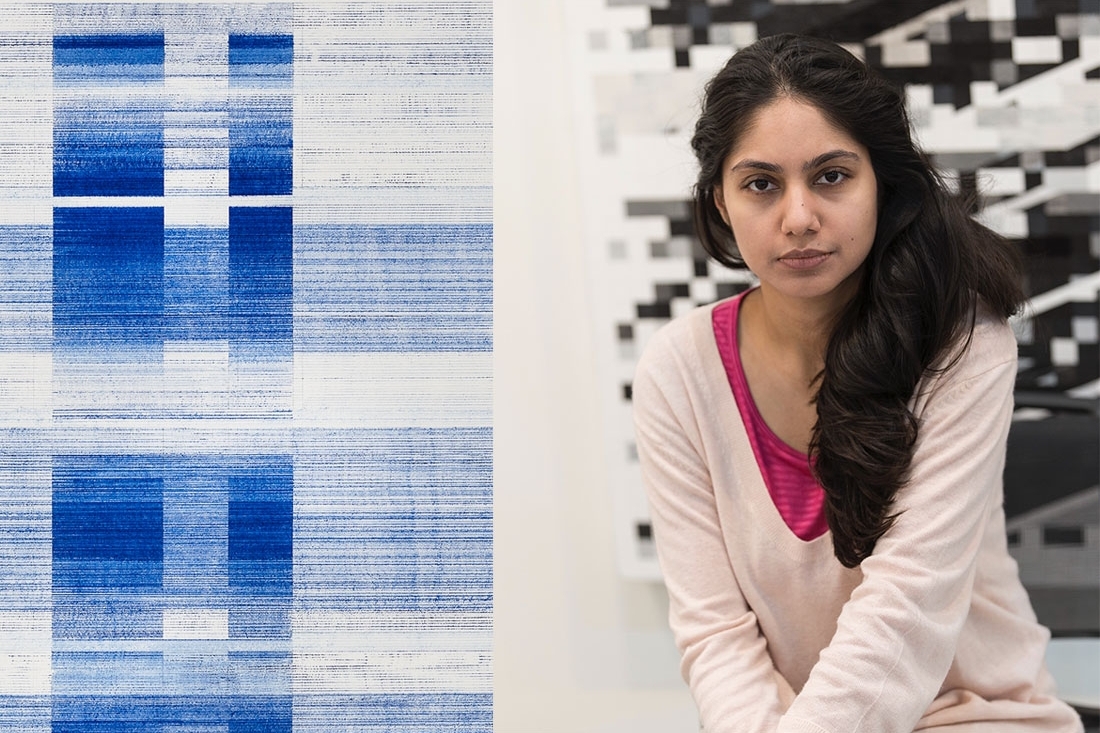 Delhi based artist, Tanya Goel investigates surfaces through the language of abstraction. Her study into material and material into colour, took form when she started looking at things closely. Goel's practice is invested in exploring zoomed versions of surfaces and explorations of exact mathematics behind her art. Her perception of colour as fiction, and not fact, translates into moments of precision and its loss with each thread in her most recent work, named Index. She tells us where the minimalist grid comes from and where she wants to take it next.

When did your interest, curiosity and romance with art begin?
The earliest memory of encountering art is blurred because it is hard to discern when I started to identify and categories the world around. Having said that, my first engagement with making art was probably in "art class", where art was an activity that involved making boxes from slabs of clay.

What informs your art?
Everything that came before has in some way informed my practice. To name a few filmmakers, musicians, artists, Andrei Tarkovsky, Kurosawa, Phillip Glass, John Cage, Nasreen Mohamedi, Nam June Paik, Joseph Albers, Maholy Nagy, Fra Anelico, Sol Lewitt.

How has your upbringing and surroundings shaped you as an artist?
I was born in Delhi where I finished high school, I went on to I study at the M.S.U, faculty of fine arts, Vadodara, then moved to Chicago to study at the Art institute. I got my masters from the Yale school of art and lived and worked in Brooklyn, NY, before I moved back to Delhi. My family plays a large role in influencing my decision to do what I am doing.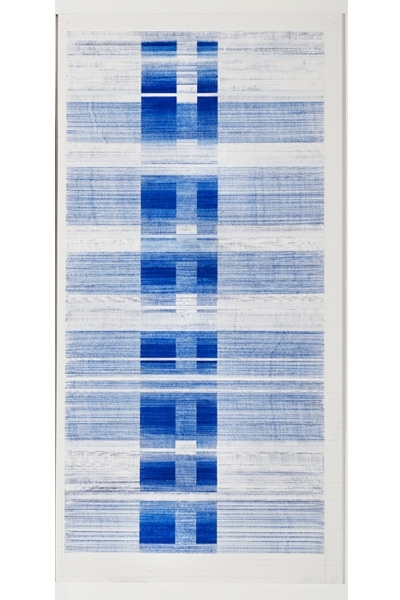 Tanya Goel's INDEX (2018) was created for India Art Fair
Can you tell us a little about what you will be creating at IAF and what inspired the thought behind the work?
Movement, notation, and line are central to the ways in which I navigate systems of calculated convergence and repeated permutation. For India Art Fair, I have created a site-specific work called 'INDEX', which located by the VIP lounge. The neel pigment wall drawing is a site-specific construction set against a finely drawn grid. The work is made by dipping a series of threads into coloured chalk, a process often associated with architects who use these temporary lines to site future constructions.

Is creating live art exciting or daunting – what has your process been?
To create the lines in INDEX, two individuals must suspend the coloured threads along the marked grid. Vulnerable to fading chalk and the wiggling arms of human error, these lines bleed in and out of the grid below. As the ephemeral and precarious nature of the wall drawing suggests, I employ formal and physical gesture to play with notions of the modernist and minimalist grid.

Lastly what are your artistic concerns?
Existence is transient, and cities are a continuous accretions and erasure of intentional/unintentional grids. I am interested in recording how we navigate/walk these grids, physically or visually, in straight lines, diagonally or in circles. The overlay of our time and existence, onto the time of the city, causes friction. This friction dulls and erodes away the rigidity and monotony of imposing structures and given sense of order, making the layers of the city porous and breathable.