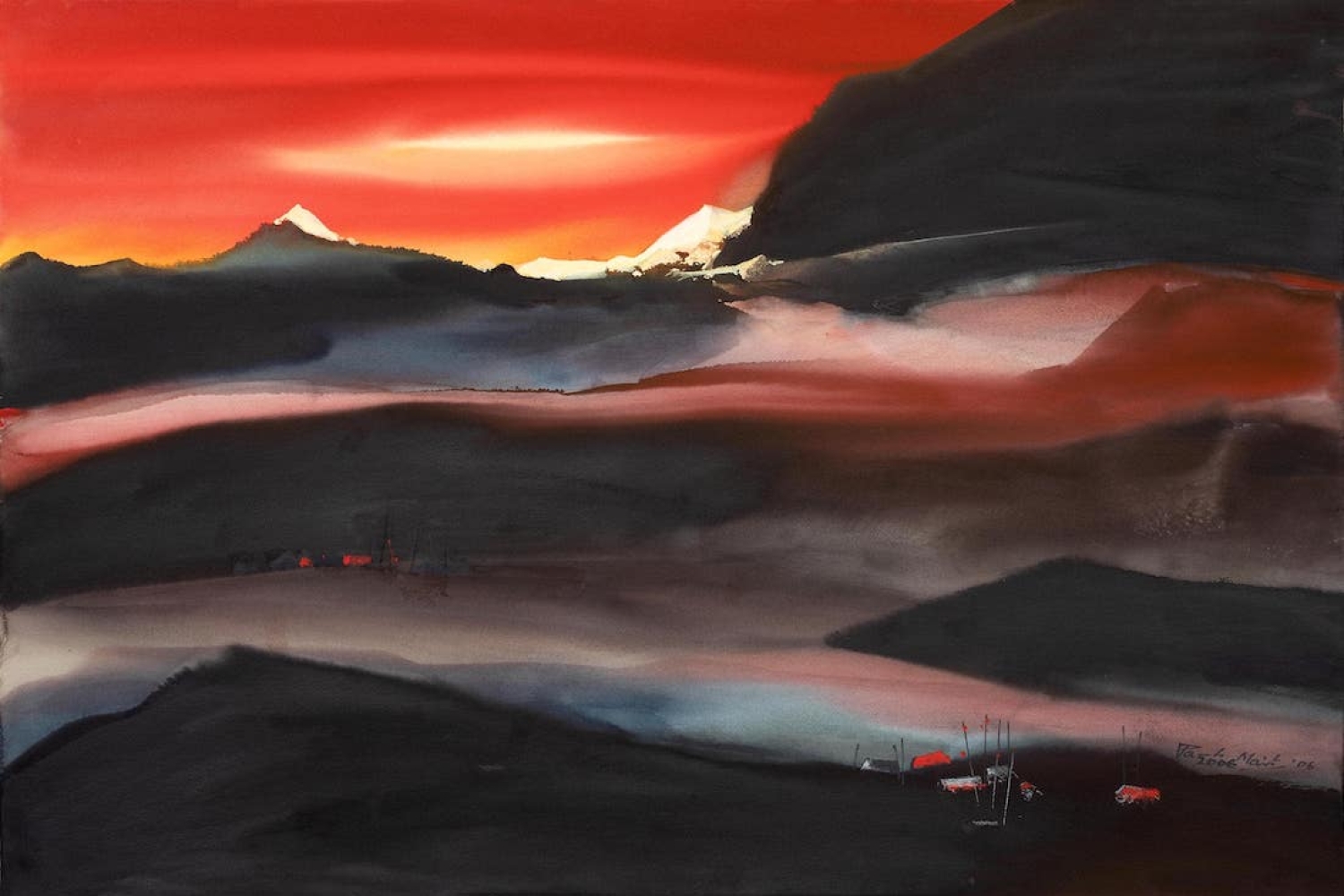 Art Musings, The Peak, Watercolour on Paper, 40 x 60 inches, 2006.jpg,Paresh Maity
Infinite Light, a major and multi-genre exhibition of the work of the renowned artist Paresh Maity, is a show of the kind that, neither in scale nor grandeur, has India witnessed before. Following the show's opening in the country's capital on the 5th of November, 2022 at Bikaner House, sculptures and Installation from this body of work will also be showcased at the India Habitat Center from the 11th of November onwards. Brought together by four galleries representing the artist, the exhibition is spread over a period of five months, across the four metro cities of Delhi, Mumbai, Kolkata and Bangalore, and brings together the various art forms that Paresh has explored during his artistic journey. The vast repertoire of artworks on display span a time frame from the 1990s to his most recent creations, each one bearing his signature strength and mastery over medium and colour, combining elements of paintings, large scale installations, sculpture, theatre and soundscape.
Spanning nearly four decades of his artistic oeuvre, he has created and explored various mediums in art including watercolour, oil and acrylic paintings, mixed media, sculptures and photography. The elaborate visual language of Paresh Maity traverses through the various emotions and experiences the artist has garnered over the years, right from the spiritual Ghats of Benaras to the tranquil lagoons of Venice, the colours of the Indian landscape to the grandeur and celebration of Indian festivals, Maity has explored it all through his vivid artworks spread across various mediums:
DRAWINGS: Paresh Maity has mapped geographies across the globe capturing it on his canvas, from cities to hamlets, countries to continents and records his impressions in what has become a visual diary of his painterly life.
PAINTINGS: Paresh Maity's artwork always mesmerises viewers through their vibrant colours and rich textural quality.
CERAMICS: Expanding the versatile nature of his art, the artist brings to you unique ceramics, rendered in his signature style carrying motifs throughout.
Art Alive, Alpen Glow, Oil & Acrylic On Canvas, 84 x180 inches , 2022
SCULPTURES: His sculptures are characterised by rich colours and textures, and are characterised by a dynamic quality; the sculptures take shape as they bring to life bold characters represented metaphorically through visual symbols.
WATERCOLOURS: Paresh Maity started doing watercolours at the age of ten and has been doing it over forty years. Mastering the art of handling watercolour, his passion for the medium and experiment with the same has led him to winning many recognitions for his watercolours nationally and internationally.
INSTALLATION: Paresh Maity's artworks and installations always mesmerises viewers through their vibrancy and rich conceptual depth.
FILM: The show will feature 4 films conceptualised and directed by Paresh Maity:
In Search of Tranquility, based on the distinct beauty of Varanasi, Enduring Forms, where the artist molds images from his vibrant visual language into forms, A Search Within, where he explores his creations on textile and Glazed Lines, a film on Paresh Maity's exploration with Ceramics.
Art Alive Gallery, Delhi:
Bikaner House - Center for Contemporary Art & Living Traditions Center, 5th - 18th November, 2022
India Habitat Center - Visual Arts Gallery & IHC Atrium, 12th- 25th November, 2022
Art Alive Gallery - 1st December - 10th January, 2023
Art Musings, Mumbai:
Snow Ball Studio - 3rd December 2022 - 10th January 2023
Jehangir Art Gallery- 8th - 13th December, 2022
Art Musings - 14th - 31st December, 2022
CIMA, Kolkata
Centre of International Modern Art – 12th December, 2022
Gallery Sumukha, Bengaluru
Gallery Sumukha - 4th Feb, 2023
CIMA, Glory of Paradise, Oil & Acrylic on Canvas, 78 x 114 inches, 2018, Paresh Maity
Artist Picture PARESH MAITY