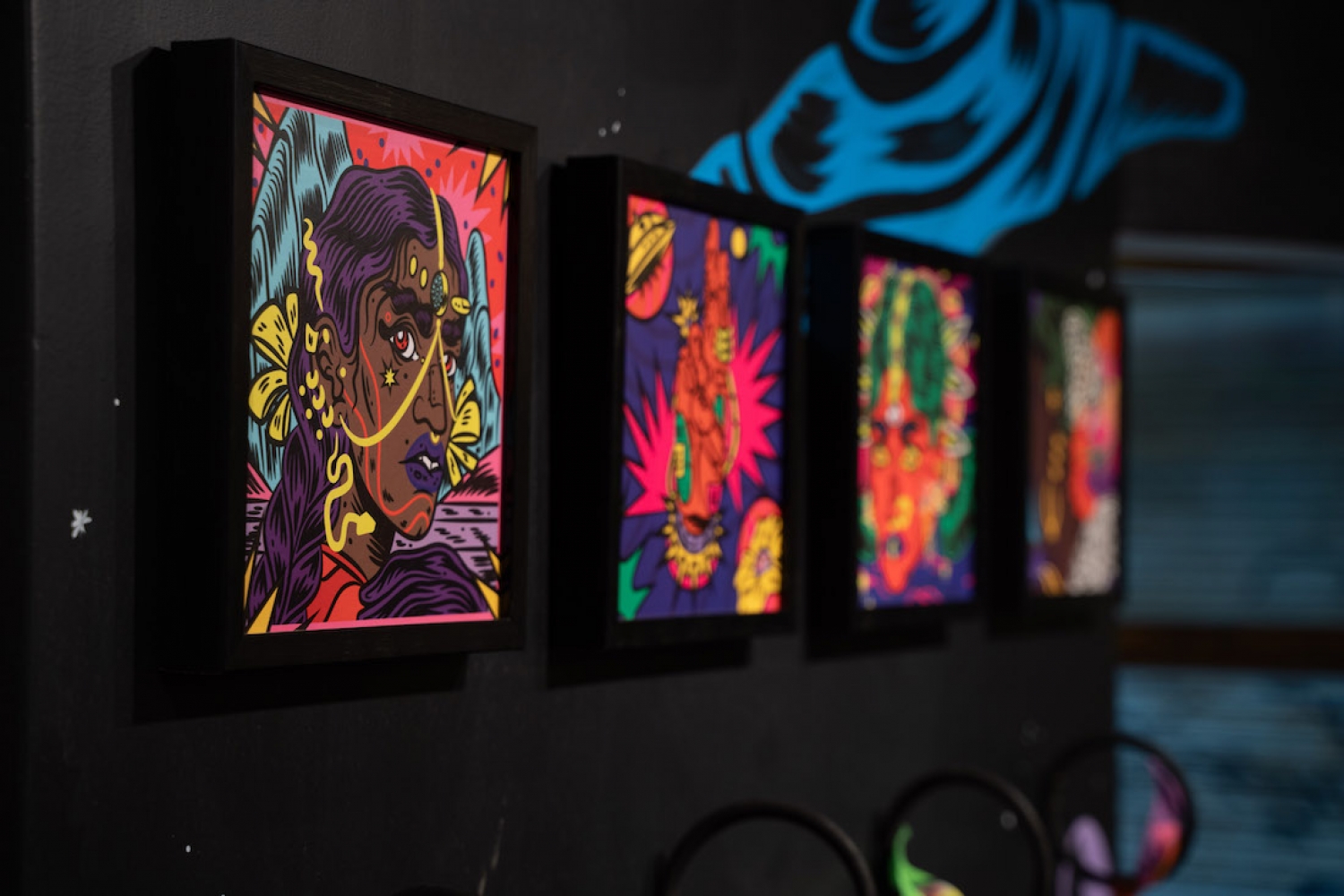 The Artist
Osheen Siva is an illustrator and artist from Tamil Nadu, based in Goa. Her works revolve around themes of femininity, sexuality and gender and its intersection with technology and society. Through the lens of surrealism, speculative fiction, and science fiction and rooted in mythologies and her Dalit and Tamilian heritage, Siva imagines new worlds of decolonized dreamscapes, a futuristic oasis with mutants and monsters, and narratives of feminine power generally lacking in popular art and culture.
The Art Show
Inspired by her Tamil and Dalit heritage, and fuelled by speculative fiction, Osheen Siva weaves a future universe of amalgamation and imaginations. In this world, aberrations and exceptions thrive — as her mutated beings bask in their unique feminine energy, heal, and reclaim their power. Weaving the fabrics of past and present, heritage and futurity, Siva imagines a future of solidarity and sisterhood, of resilience, and of manifestation of her ancestral dreams. Her art is inspired by mythological reinterpretation, histories of women warriors, Afro-futurism, science fiction and subconscious worlds.
Inflorescence is the process of flowering in which a group or cluster of flowers stem from one stem. Imagined by Siva as a metaphor for how we all (humans and aliens alike) come from the same root but support and flourish together.
The Art Space
'The Revolution introduced me to art, and in turn, art introduced me to the Revolution!' –Albert Einstein
It's unclear as to whether Einstein was talking about a political or scientific revolution, but it is evident that art and breaking away are intermingled at the core. Method is an introspective and 'extrospective' approach to art and the world in which it currently exists. By acknowledging that limitlessness is an inherent characteristic of creativity, we fall beyond the domain of predetermined outcomes not only as artists but as a community. In doing so, we transpose and expand with the movement of art. This cultivates collaboration and experimentation for the purpose of expression as well as discovery. At present, Method has two physical spaces in Mumbai. Method Kala Ghoda primarily showcases fine art and installations. Method Bandra focuses on new media, photography, and human connectivity.
Date
05-09-2021