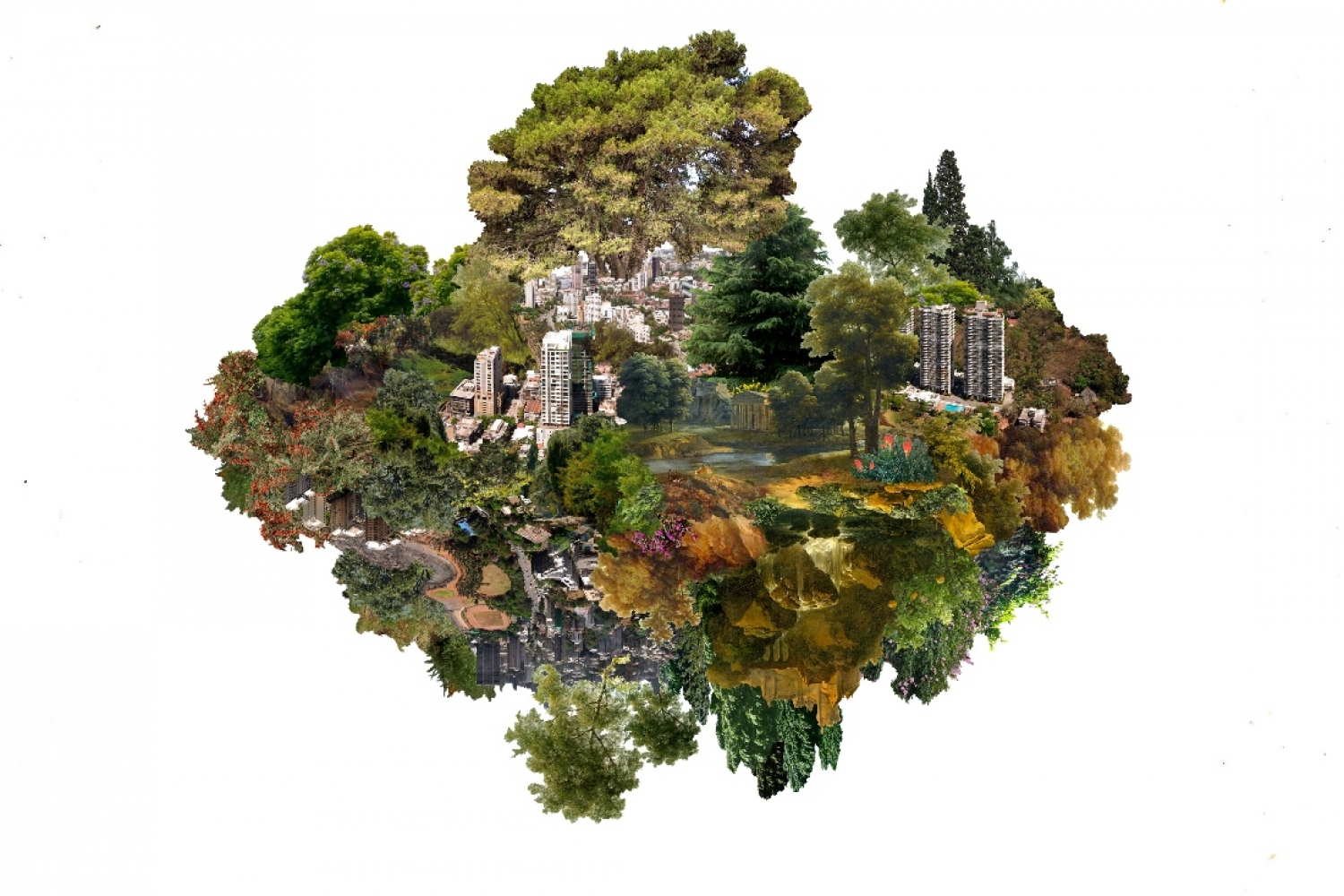 Cultural Landscape- India I, 2021
A Professor and Licentiate in Plastic Arts from the Cordoba National University, Argentina, artist Julia Romano is interested in contemporary theories that approach landscape as an object of representation in the history of art and thinks about the possibility of creating one's own landscape through personal stories. Her work is part of important public and private collections from Argentina and abroad, and is sponsored by the Basu Foundation for the arts, in India. Now, her art is being exhibited, alongside artist Meghna Patpatia's, at Tao Art Gallery's ongoing exhibition, Dreamscapes, curated by Sanjana Shah.
Below, the artist gives us insight into her artistry and the exhibition:
The Artist
I believe it started at the place where I grew up, a small city called Villa Maria, in the Córdoba province, Argentina. It was there where I sealed an eternal bond with nature; the river was my favorite place along with my three sisters — for playing, exploring, and falling in love. I was always the creative of the family, modeling orange peels at the family table, making the most colorful cards for birthdays, drawing with chalks the blackboards from the classroom at primary school. In second grade I won a Second Price of drawing at plein air, I am sure now that it was a premonitory event where the seed of my vocation was sown. After finishing school, I moved to Córdoba to study art at the national university. Art for me is a way of living, joins me at every step.
The Inspiration and Influences
As my object of study is landscape, everything related with territory attracts my attention. The way I get related with my own garden, my neighborhood, my country, and even other Latin American countries (Brasil, Uruguay, Peru, Mexico). During my trips, I return home with lots of photographs that later stem into my artistic production, although they were taken on a vacation plan. That is wonderful. As for me, places have their importance, according to my experience with them. I like to think that you don't need to travel long distances to find that one special spot where you can feel comfortable. On the contrary, I believe that we have the power to build our own special place within the things that surround us — relationships, imagination, dreams, desires, et cetera.
I have a big admiration for the masters of landscape painting such as Gainsborough, Constable, Lorrain, Friedrich and many others! Also, I love to know, see and search for contemporary artists that work with nature and landscape in all the ways possible. Like Turrel, Eliasson, Margolles, Knetch, Makoto, Scherer, Arsham, just to name a few.
Changes of State (Landscape 64), 2021
The Digital Collages
Around 2007, I began to materialize my early love for the 'humid pampa' (the geographic region where I grew up; sown fields till the horizon). My research focused on questioning and wondering about the way each one has of recognizing and experiencing the surrounding territory. Since then, I have been interested in the study of landscape and its representation throughout the history of art, and think about the possibility of creating one's own landscape through personal stories. In my works, this genre is transformed into digital collages made with photographic images taken by me of places in Argentina and other Latin American countries, and landscape paintings by classical European artists. I combine this material with drawings and book scans, and make compositions that result in 'invented' multi-layered landscapes that float on the white paper like personalized islands or oasis. They are at the end, the conjunction of different times, places and cultures.
Dreamscapes at Tao Art Gallery
Since I started working with the Basu Foundation, everything has been really challenging. Meeting Sanjana and the Tao team was amazing. Working with people so far away from home, with totally different time zones, culture and proceedings, is quite an experience — I find all this so exciting and it has made my artistic career go beyond what I had imagined. I want this instance to become an important and meaningful bond for my work and life in a broader sense.
For this show I have made one work specially inspired by the city of Mumbai, combining images taken from my surroundings here in Córdoba (the mountains, trees and plants from my neighborhood and my garden) with a panoramic view of Mumbai taken through drone photography. Such a union is both challenging and beautiful: only art can be this magical! I strongly believe that by creating this synergy in collage I am also creating a bond with my audiences in real life.
The Future
The work with Abhishek Basu (Basu Foundation) and of course, Sanjana, has just started! I hope many more joined adventures come along. I will let time and good relationships surprise me.

Date 29-10-2021