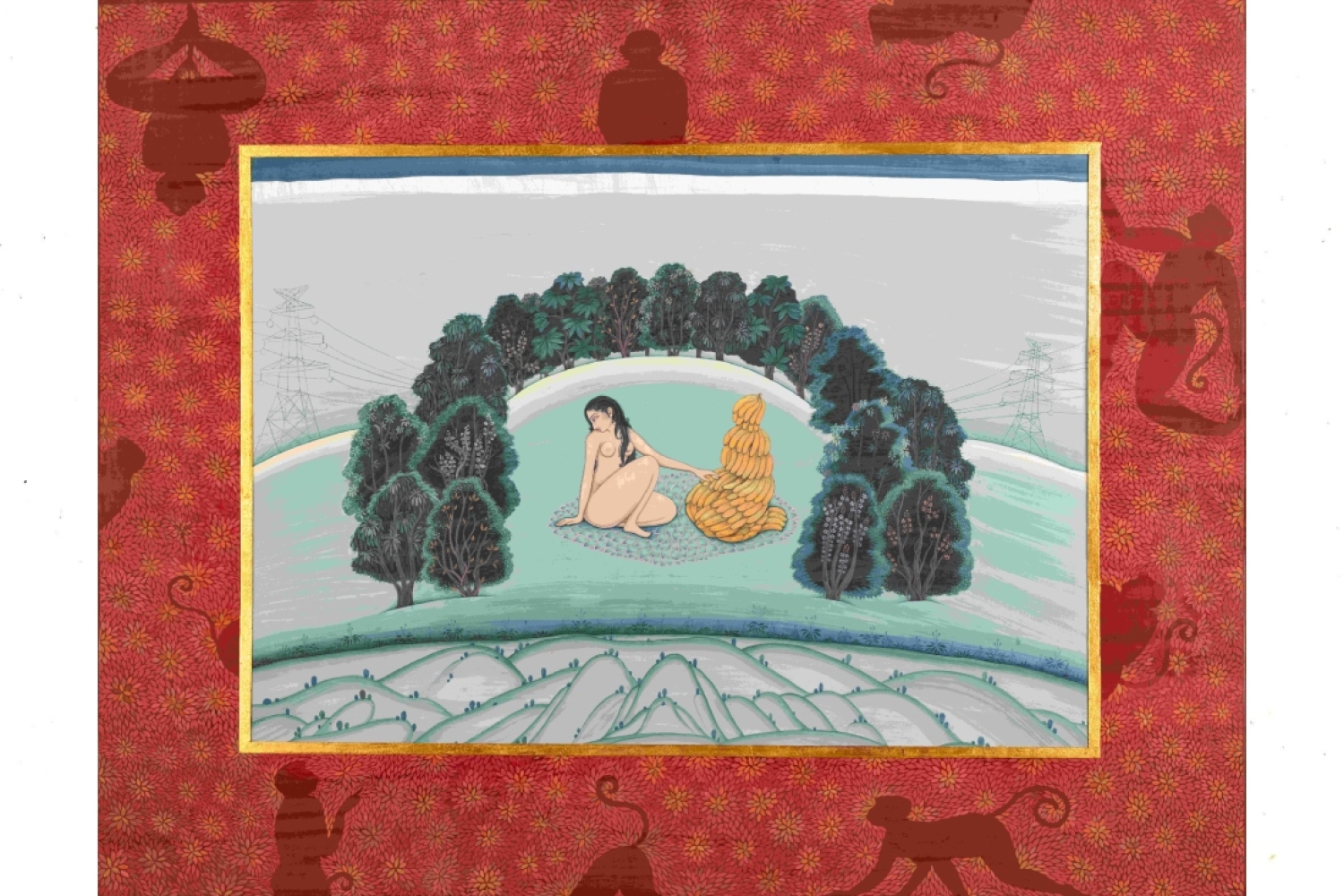 "My earliest memories from childhood are of me creating art. As a three-year-old, I would take charcoal from the fireplace/angeethi and draw all over the pristine yellow walls of our family home. My grandmother recognised, very early on, the constant need in me to create. She taught me the Pahadi floor art called 'Alpana' and every year on Diwali I would assist her in decorating the house with it," tells us Gargi Chandola of the inception of her journey with miniature art. In 2016, she was part of an art residency in Himachal where she collaborated with miniature artists from the region to paint murals in the village square. "I fell in love with the artform then. Over the following years I repeatedly collaborated with one of the master miniature artists, Deepak Bhandari. He became my Guru and friend who taught me the art of Pahadi miniature," she further informs.
Currently on view at Method Kalaghoda, her solo show Macaqophony showcases the intricate, traditional Indian miniature art form to explore dominance in society. Gargi's works in the exhibition are an important and provocative commentary on individual and collective behaviour – and their outcomes. Each of the sixteen artworks features an anonymous, unclothed woman as the central character. She collects, vies for, eats, or protects her most precious resource: the banana. Her storyline intertwines with that of a monkey who seems to have similar goals. The interactions between the two stirs an oddly familiar emotion — a jarring relatability.
Below, the artist further unpacks the show for us.
As an artist, are there any particular themes that you gravitate towards exploring?
My work focuses, in no particular order, on observations of the self, the everyday, and my imaginings. Within these observations, I gravitate towards themes of feminism, personal history, violence, socio-political hierarchy, and often try to articulate these with a touch of humour.
Could you give us some insight into the making of your exhibition Macaqophony?
Macaqophony is set up in the backdrop of my home and surrounding area which is overrun by monkeys. In this series I delve into the human interpretations of territory, power and the isolation of mind. The monkeys ostensibly mimic human behaviour — or is it the other way around? In the paintings, they are a reflection of self, engaging in petty and perverse mind games, violence and trickery to get to the bananas. Bananas, and their obvious phallic shape, become a recurring tool to establish dominance.
The monkeys are the masculine and the woman represents the feminine. Their dynamic is frightening and titillating, with each trying to establish that it indeed is the `alpha'. The teasing play and trickery is strangely intimate, this wrestling over what is precious, and blurs the line between evolutionary hierarchies.
Could you take any one of the pieces that is a part of this exhibition and break it down for us?
Bite me
13.3 x 21.2 in
Opaque Watercolour on Wasli
This is one the first works that I conceived for the series. The monkeys have been crammed together in the border while the woman sits comfortably within the frame. She is staring at the monkeys while sucking on the banana, teasing, provoking, seducing and challenging them. The monkeys represent the male gaze. Each one of them has a unique reaction to her. Some of them are drooling looking at her, some are entranced by her, some display revolt and disapproval, some pure hatred and many are getting off on her. The inspiration for this painting in retrospect is a scenario where a woman holds the power in an overwhelmingly masculine space and enjoys it.
Could you acquaint us to any influences, artistic or otherwise, that guided your creation of this exhibition's works?
I live in a secluded heavily forested area (within Delhi) surrounded by more animals than humans. Amongst these the Rhesus Macaques have been our constant companions outnumbering us (at times) ten to one. We are at a constant struggle with them over territory and resources. I have been documenting their wanton destruction around the house, running away with clothes put out to dry, pulling plants out of pots, plucking the flowers and crushing them. Chasing them away took up most of my day and this distraction became my fixation.
Taking this forward I started working on a few paintings, when Method got in touch with me. They saw the series in its infancy and invited me to a solo show. And one year later we present to you Macaqophony.
What do you hope the viewers take away from this exhibition?
I would love for the audience to find the little details, either hiding in plain sight or masquerading as elements of distraction.

The show is ongoing until 12th March at Method Kalaghoda.

Words Nidhi Verma
Date 23-02-2023