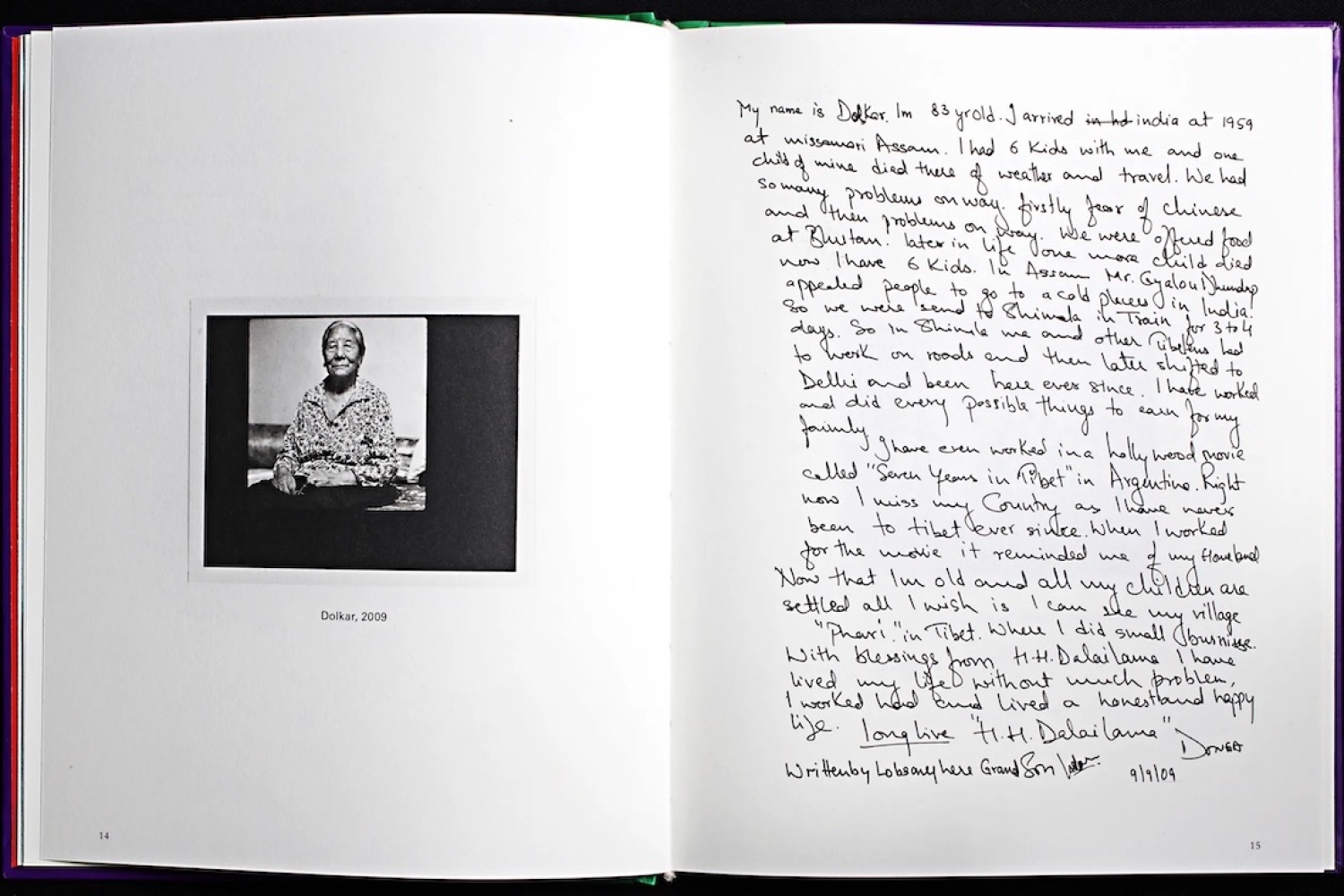 Dolkar, 2009. Excerpt from Majnu Ka Tilla Diaries by Serena Chopra
Majnu Ka Tilla Diaries: Serena Chopra
The importance of identity and the longing for belong- ing resonate in many of Serena Chopra's images. "I had always been a nomad as I grew up, because my father was an Air Force officer, and my mother's family had to flee their home in Pakistan during the partition of India — there was no place that I could ever call home. I think this sensitises me even today to the importance of identity and belonging, and informs my work as an artist." Her most recent book, Majnu Ka Tilla Diaries, explores the lives of residents of the refugee colony of Tibetans in New Delhi where thousands of exiles have lived for nearly forty years. The book not only captures images of the community, it gives the viewer an insight into the lives, thoughts and hopes of these residents through personal interviews and diary entries. We're in conversation with the photographer about the book and its making below:
When did your relationship with the camera begin?
My earliest memory is that even at the age of four, I loved flipping through and reorganising our family photo albums. My dad's camera was an enigma to me. However, it was during my course in Journalism at the Indian Institute of Mass Communication that I held my first film camera. A twin lens reflex. My thesis at the institute was on photojournalism and that's where I really got hooked.
Majnu Ka Tilla has been a part of your life, consciously and/or unconsciously, since your college days. What was it about the place that drew you back forty years later?
My initial work with the Tibetan community in Himachal Pradesh did not express my feelings about the subject of displacement. I felt stymied and dropped the project for a brief period. It's as if I needed to let it breathe, to find my feelings on the subject. Then one day I felt inspired to visit Majnu Ka Tilla in Delhi, an old refugee colony that had been haunting me from my days as a student at Delhi University. The shacks and broken lives of yesteryears had left a mark on my memory. As had the smiling faces of the stalwart community that served us cheap Chang and momos. When I revisited Majnu Ka Tilla in 2007, I just knew that I had found the space to express myself. It was an intuitive sense of resonating with my environment. This had to happen for my ideas to flow and express themselves creatively.
The images you have made and the stories that each person has shared are honest and so true to their being. Considering it was a complex project, how easy or difficult was it for you to gain their trust?
I always visited Majnu Ka Tilla with my young Tibetan friend Norsang. He slowly introduced me to the community and sensitised me to understand their lives and longings. They welcomed me into their midst. Whilst they wrote their stories and dreams for the future in my diaries, I began to feel that they understood their story was bigger than theirs and also belonged to a global dilemma. The collaboration became real. It was based on mutual understanding, respect and trust.
You booked yourself a hotel room in Majnu Ka Tilla to feel the real essence of the locality, community and its people – can you share some interesting anecdotes from that time?
Majnu Ka Tilla, in those early years, was a difficult place to spend a day. There were no clean washrooms and I needed a place to keep my camera paraphernalia. However, I also booked the hotel room because I wanted to blend into the community and experience their lives. The Tibetan food, negotiating narrow alleyways, evenings spent at the temple square amidst the hubbub of a community taking a break at the end of a hard working day, sharing jokes and watching the children play — all made me feel at home. I recognised passers-by and would get an occasional smile and a wave from them, that was the true interaction. Learning a few naughty words in Tibetan also broke the ice. The younger lot loved looking through the viewfinder of my Hasselblad camera.
On one of these late evenings, I witnessed the most beau- tiful candlelit protest march. The whole community marched peacefully in silence. They finally stopped at the temple in the middle of the colony to offer their lit candles. It was their way of expressing their respect for their own lives and future generations of Tibetans.
How did you come to collaborate with Arun Kapoor?
Arun Kapur is an old friend and someone I respect as an inspired educator and a true humanist. I was honoured when he chose to support my self-published book, Majnu Ka Tilla Diaries.
Lastly, any life lessons you would like to pass on to young photographers?
Don't be afraid to be you.

This article is an all exclusive from our August EZ. To read more such articles, follow the link here.

Text Shruti Kapur Malhotra
Date 22-08-2022