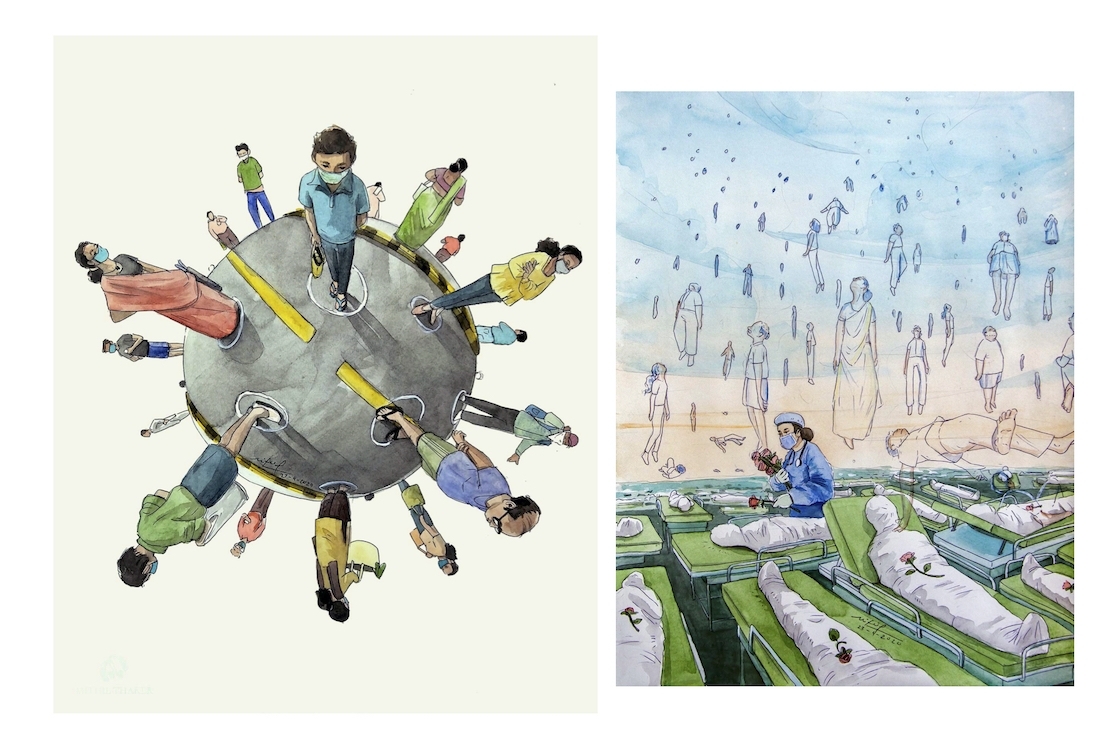 L: Social distancing ; R: The unexpected exile of souls. Watercolor and pen on paper, 16
The Artist
My hearing inability made my primary years quite tough, since normal speech couldn't be developed. I had no concept of language in place. On a daily basis, I would use merely four to five words to communicate with my friends. In school, theory was an absolute headache. Only my mother could understand me well and the hardships I faced. She advised me to not worry about theory, rather focus on my artistic abilities, and helped me hone them further. My drawing instructor was able to gauge my instinct for art rather well. I pursued art all throughout school, which made admission at a Fine Arts college relatively easier. In college, I was able to gather theoretical knowledge about the concepts I was practicing in daily life.
I think my eye when it comes to photography is very sharp, which has helped me develop the habit of exploring mundane scenarios through varied perspectives. I absorb the surroundings with a fairly distinctive outlook, which I'm then able to translate in my work. It's usually only after 11 at night that an idea strikes my mind. I tend to begin with rough pencil sketches in my notebook. Before starting on a larger canvas, I prefer to manifest the idea on a smaller scale.
L: It's time to eat with a samosa ; R: The true corona protector! Watercolor and pen on paper, 16"x11"inch.
The Art
Painting for me is a medium to put myself out there. It's a vehicle, free of any prejudice. No borders, no religion, no state, no caste can halt the intention and meaning behind my art. Art has the power to affect sensibilities. The artist has a unique ability to help develop an aesthetic within the minds of individuals. I hope the sensitivity I wish to portray comes across through my work.
I have personally never viewed my hearing aid as an obstacle. I think it has rather made my visual ability stronger, which has helped me develop an aesthetic that isn't mainstream. The 'inability' is rather a strength that has helped me develop finer skills and made my repertoire of work more impressive.
All this while during the lockdown, I worked from home, but the narrative around us was filled with grim images of devastation and death. I couldn't get the images out of my mind. This inspired the Corona artwork that I created, all the souls taking their final journey to heaven, one after the other. While things around have dampened my mood, it hasn't hampered my creative abilities. I have been working on my art and graphics, and will continue to do so.

To find out more about the artist: https://www.mithilthakerart.com
The auto broke down. No problem?, Watercolor and pen on paper 16"x11"inch. 2019
L: Dhal Ni Pole ; R: Ahmedabad heritage-I. Watercolor on paper, 11"x15"inch.