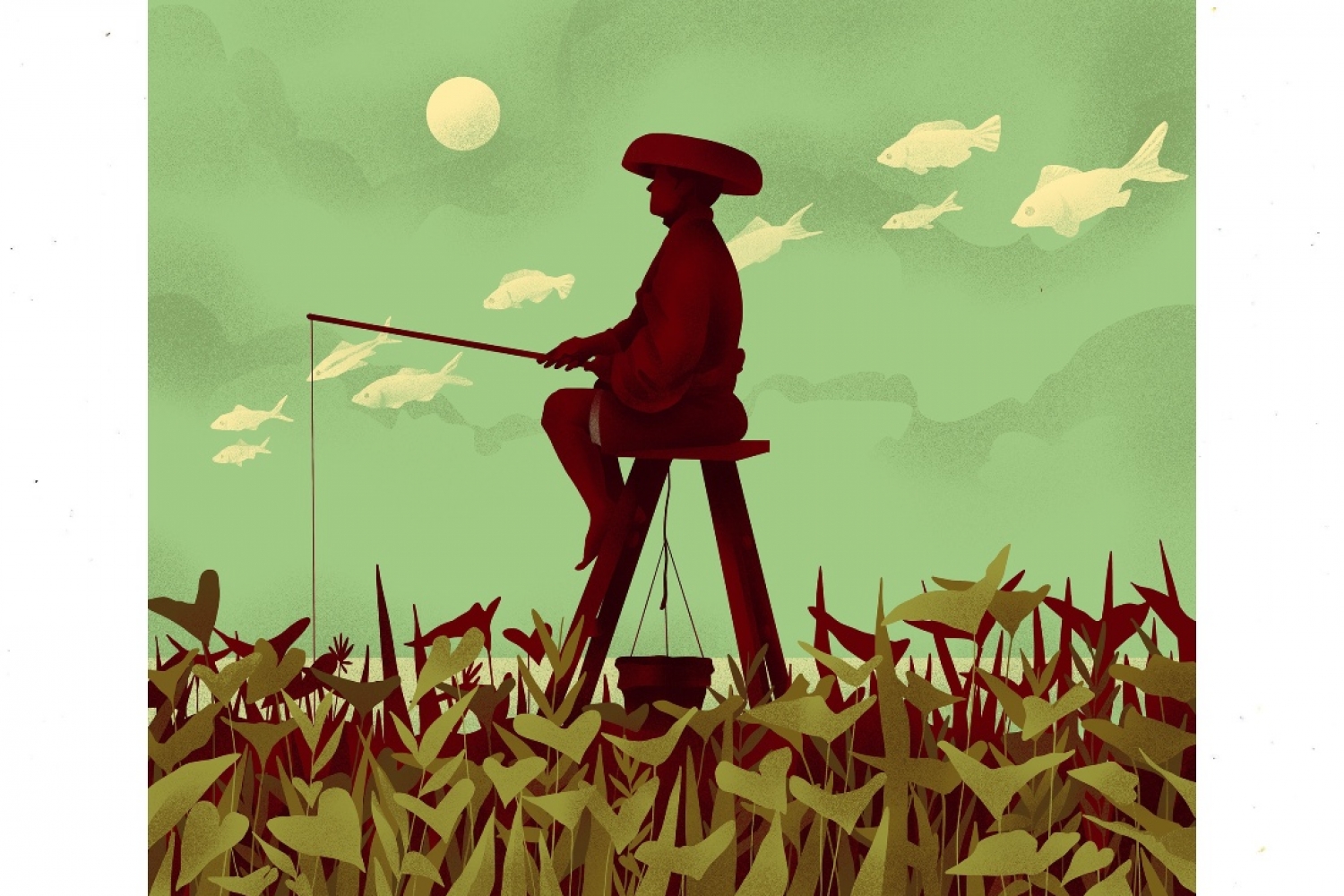 A raw and vibrant energy courses through the works of artist and illustrator Muhammed Sajid. The smashing blend of colours adds to the surreal tinge, elevating his designs. He grew up in a beautiful village in Calicut, Kerala and then moved to Bangalore where he currently works as a creative designer. As a kid, he would observe his mom indulging in art and design enthusiastically, go to art classes on the weekend, participate in school competitions, yet he never considered pursuing arts professionally. Only after the realisation hit that math and science weren't for him, he knew what his calling was and decided to study fine arts.
Growing up in a verdant village, Sajid never really had to go out of his way for inspiration, it was always around him. He loves observing his surroundings and finds beauty in the most mundane things and unlikely places. 'I can't really say where the inspiration comes from, I see a spider web on the wall and the form of a woman lying down in a meadow takes shape in front of my eyes.' Art also helps him speak to the world. He believes it's a good medium to talk about things which otherwise would be difficult to put into words.
Talking about his creative process, he says that he begins with scribbles of whatever rough idea he has in mind, then sketches it to flesh out the minute details, after which, he moves to rough colours. At last, when the whole idea has materialised clearly, he does the final colouring. 'I love playing around with colours. India is full of festive spirit and colour is found everywhere. When you step out at night, the streets are illuminated with dazzling lights and the street shops are crowded with colourful objects. Generally, I would try all types of colours from the earlier stage of the creative process, but at some point, eventually, I'd fall for the vibrant palette,' he adds.
'My work has some natural elements, cultural inspiration, an architectural feel and a surreal approach," he explains further about his sensibility. However, like every artist, he believes his practice has evolved over time — it was challenging at first to find his unique voice. 'When I started working as an artist, I had no idea what to do and where to start; everyone around me was trying to form an identity. However, I came to realise that creating an identity was not for me. My culture already encapsulates my identity, I didn't have to create it,' he reveals. He likes to explore different styles and doesn't want to burden himself with the idea of creating and owning a specific style. He wants to keep experimenting, 'Art does not have to be made to be pleasing to the eyes of the viewer, its value and beauty lies in the intended purpose and that does not have to be diluted to be made likeable.'
L; Mental Health
R: Moosa
His favourite medium to work with is poster colours on paper. 'I also love watercolours, pastels and pencil. But I find myself mostly working with the digital medium since most projects these days require it. Deciding the medium mainly depends on the brief,' he explains. Although he likes working on both commissioned and self-initiated projects, while freelancing one has to work in accordance with the feedback and approval of the client, 'To balance the two, I would say, setting a timeline is the best, otherwise I might find myself leaning more towards the personal project.'
The pandemic creeped into our lives unannounced and upended the lives of many, but Sajid says it didn't really affect his art practice much. 'Working from home was initially challenging, but after some time I found it adding to my productivity. It made it easier to balance office work, personal projects and freelancing.' Pandemic is not the only change we have witnessed, NFTs have recently been making ripples in the art space and Sajid has also recently forayed into the NFT market. 'As someone who does not follow the mainstream, I waited for some time, but now that I'm there, I find it to be a great platform. I'm surrounded by a bunch of good people and we are all inspiring each other,' he shares.

Text Saumya Singh
Date 03-05-2022