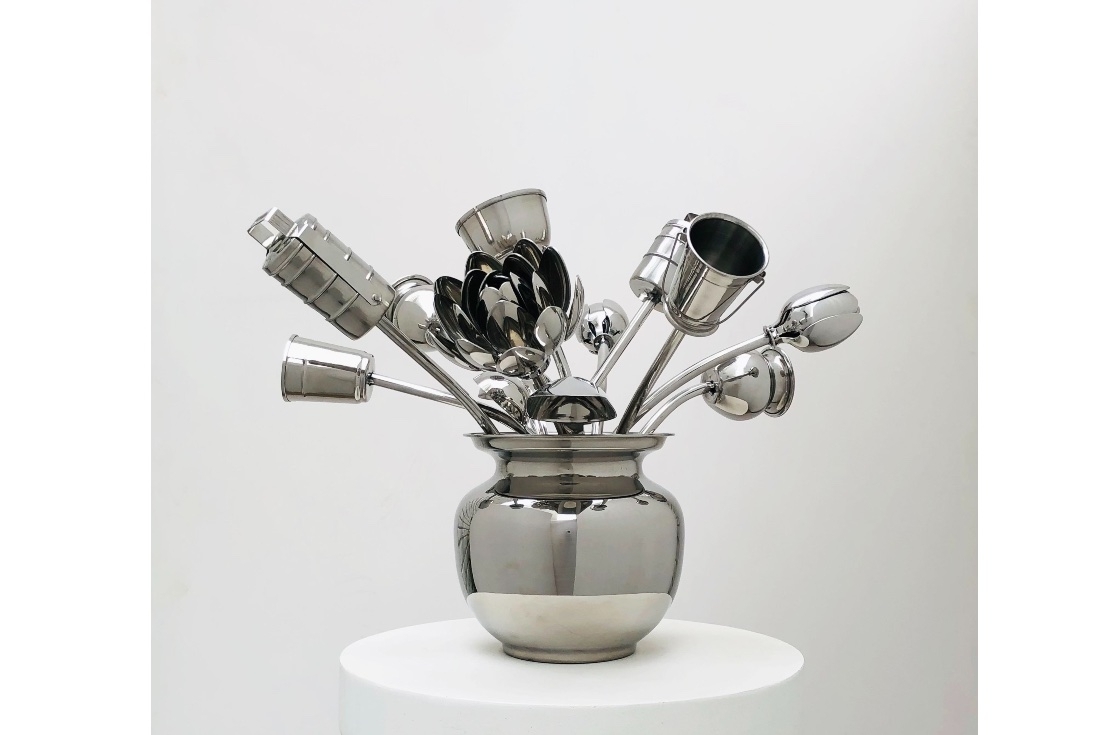 Subodh Gupta: A bouquet of flowers, 2021, stainless steel, 39cm x 50cm x 50cm
Amidst the ongoing crisis across India, artists Bharti Kher and Subodh Gupta turn to their studios and dedicate their practice to Covid relief operations across India creating nine signature works that extend their long standing artistic explorations of found objects and ritual within the everyday, whilst also speaking to the world of the moment. On sale beginning 1 June 2021 on www.pledgebybhartiandsubodh.com, the artists hope to raise INR 1 crore towards sustainable long term aid and will donate 100% sale proceeds to Hemkunt Foundation and Goonj in support of their relief efforts.
Kher's A Small World Together series collages bindis of different colors, shapes, and sizes onto existing world maps. With these detailed and storied maps as a ground and the bindis suggesting certain patterns of movement, the works speak to the intrinsic global connectivity of the ongoing crisis and of broader humanity. They also allude to and knowingly distort and transform certain aesthetics of the crisis, wherein metrics are presented through graphic dots, lines, and color coding of places. Gupta's works use and present everyday kitchen utensils, creating a dialogue between the functional and humble elements in our domestic lives, which have taken on even greater importance through lockdowns and the centralization of home. A Bouquet of Flowers reinterprets the ordinarily short lifespan of flowers in stainless steel, while the paintings My Village I and II engage in the genre of rural still life.
"Watching the past few weeks unfold in India has been traumatic for every family. Almost all of us have been touched in one way or another by the unprecedented scale of the second Covid wave in India. So, we decided to help in the way that we could as artists. To make work whilst in lockdown and sell with 100% proceeds going directly to both NGO's. We hope that we can raise INR 1 crore towards sustainable long term aid", noted the distinguished Bharti Kher.
"Art can't change the world on its own but it can make it a kinder and more human place to live in. Our works are both witness to and a celebration of the value of the ordinary and everyday markers of human habit and daily ritual. In our small way we just wanted to help in this huge humanitarian effort that brings us all closer together in the spirit of sharing", said the eminent Subodh Gupta. On the partnership, Anshu Gupta, Founder of Goonj commented,"Certainly happy that Bharti and Subodh have taken up this initiative for Goonj's campaign Rahat Covid. I remember how they got together back in 2008 in Bihar floods and sent a significant contribution."
"The art community has strongly risen in support of the relief initiatives and we appreciate the dedicated efforts of Bharti and Subodh to help the cause", stated Irinder Singh of Hemkunt Foundation.


www.pledgebybhartiandsubodh.com
1st -3rd June



Date 31-05-2021