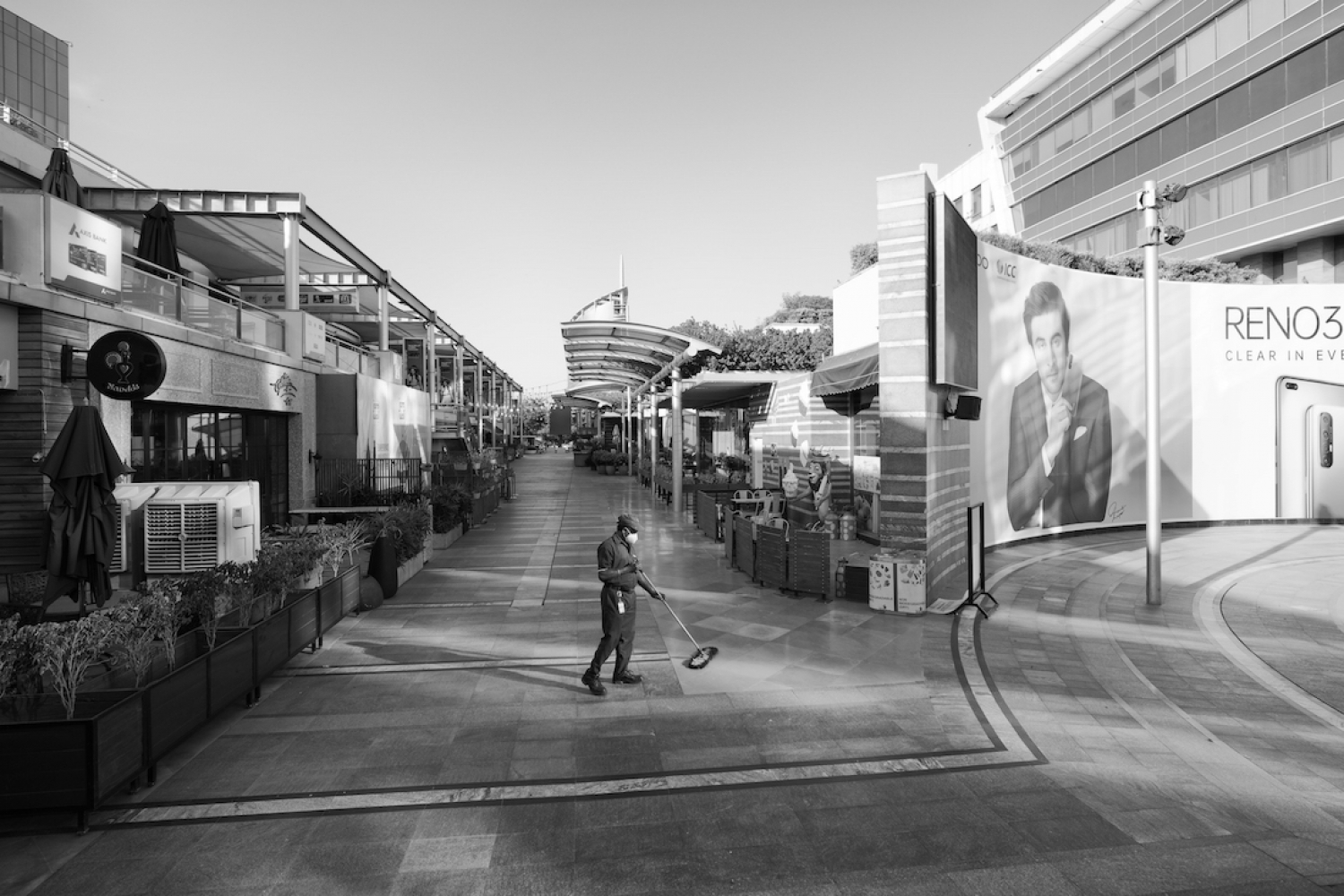 Aditya Arya, Gurgaon, 2021
Poetry of Lived Spaces:A Brush with the Lens
Poetry of Lived Spaces,A brush with the Lens looks at how societies across the globe have dealt with the global pandemic and explores our changing lived realities through the edifice as a metaphor. The images in the exhibition recall situations reminiscent of the lonely and deserted spaces one was witness to during the lockdown. Participating artists include Aditya Arya, Gigi Scaria, Parul Sharma, Ravi Agarwal, Sandeep Biswas, Sarah Kaushik, Sarah Singh, Shalini Passi, Shivani Aggarwal, Shruti Gupta Chandra and Vikram Singh.
Director of Artspeaks India, Ashwini Pai Bahadur, says that while acquiring photographs she always contemplates that the "one quality it must have is to reflect the humanity of the moment." Curator, Georgina Maddox goes on to ascertain that "with advancements in technology photographers can manipulate their images to fit their artistic expression." She feels that "collecting photography is not different from collecting any other art form."
Curatorial Note
If these walls could talk, they would tell us about the history of their past...
If the ceilings looking down upon the people within the structures,
could tell us about the lives played-out beneath their protective arches...
If the staircase that leads mysteriously to somewhere could guide us...
up or down to their final destination...
Then we could discover stories that perhaps have never been written down.
These open-ended narratives, these hidden secrets that lie buried within the edifice, the empty room with its hidden sense of abandoned glory and its past. This is what one hopes to tease out from within the corners of a room and bring them to the center of these constructed imagery, by artists who have witnessed and borne the COVID 19 pandemic and withstood the lockdown, with their cameras and sketchbooks being on ready to record and document the spectral almost eerie scenes unfolding with a sense of heightened empathy and a sense of stark poetry. One may witness a fascination with staircases and empty rooms within these works that are mainly photographic works but also digitally manipulated, photomontage and even drawings and paintings that take this narrative to a new hyper-realistic rendition. The absence of the human figure renders the metropolitan city of Delhi and its surrounding areas with a sense of irony. The city is cloaked in its vast history, with its past that is Mughal, Colonial and Modern is an important marker in urban history.
While the lockdown of the first wave had a gentle poetry to it, the deserted roads and shuttered shops now stand quietly as witnesses to the horror of the devastating second wave. The Pandemic has left the world ravaged, but one may also touch upon personal narrative and memory during these difficult times.
– Georgina Maddox


Date 29-11-2021