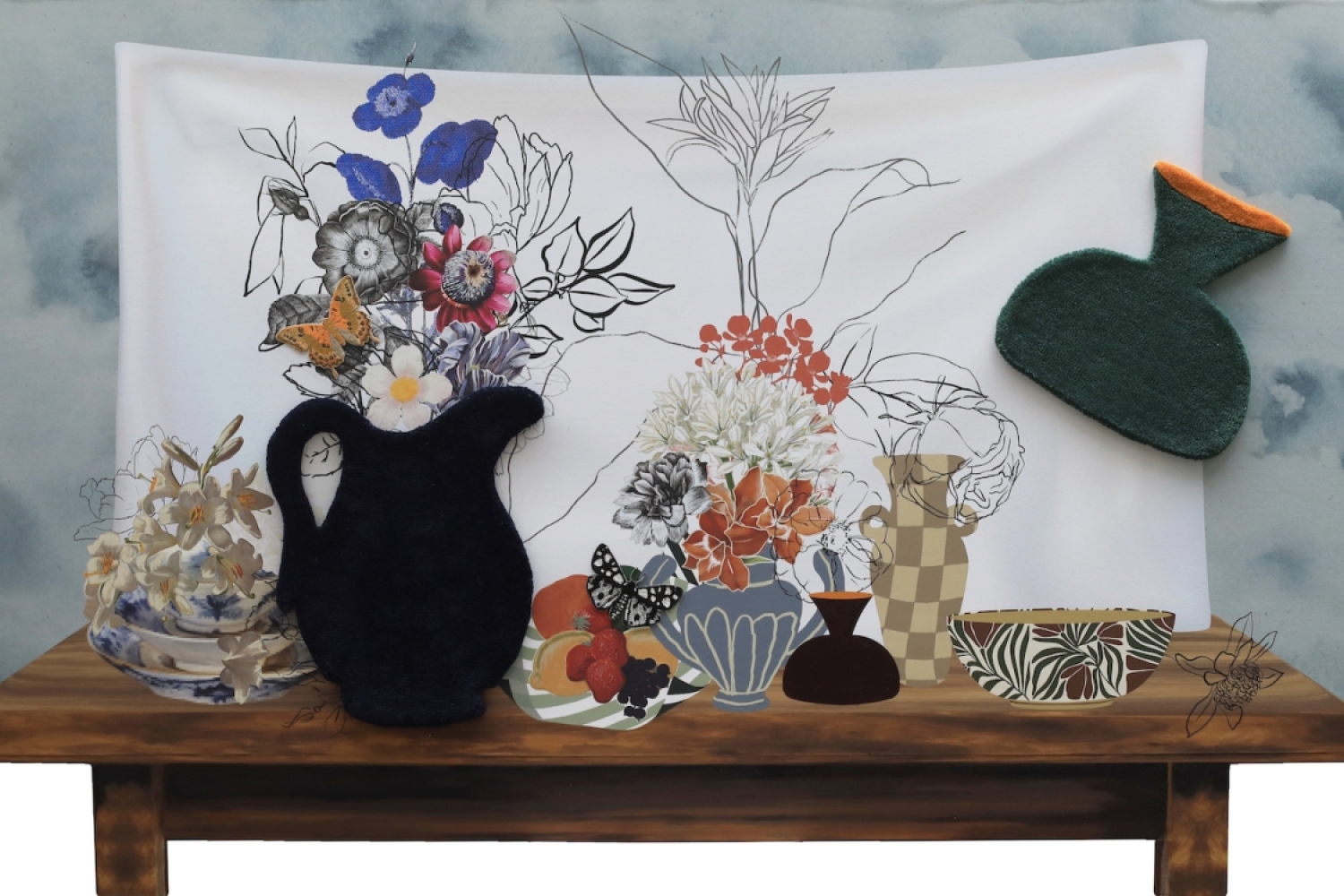 Rakhee Shenoy
Presence of Absence
We explore the artistry, creativity, and dreamscape of Rakhee Shenoy, a textile artist who invites us to embrace comfort, wonder, and the boundless possibilities of the imagination. For her solo exhibition presented by Artisera, Rakhee showcased twenty nine new works that explored the "dreamlike comfort of imaginary elsewheres". After having its opening weekend at the Bangalore International Centre, the exhibition has moved to the gallery's online space.

Can you tell us a little about your growing up years?
Growing up, being a third generation creative in our family, I was always surrounded by art. Holidays were curated around the best museums in the world, and conversations at home were always around interpretation of art. In a way, this was my informal art education. As a child, I would often sketch cherished memories of the day on the whiteboard in my room. For my undergraduate degree, I studied textile design at Srishti MAHE, Bangalore and then completed my MFA at the Royal College of Art, London.

Can you tell us more about your journey from textile design at Srishti topursuing an MFA at the Royal College of Art in London? How did this transition shape your artistic practice?
My journey from studying textile design to embracing textile art has been a transformative and enriching experience, profoundly shaping my artistic practice. As a textile artist, I found the freedom to experiment with textures, materials, and techniques in unconventional ways. I began incorporating elements of storytelling, emotion, and symbolism into my work. This shift allowed me to create pieces that provoke thought, evoke emotions, and engage viewers on a deeper level. I started using textiles to convey narratives and personal experiences. The art and design courses at the Royal College of Art were closely related, and this amalgamation has been an integral part of my practice and reflects deeply in my work.

Your artwork combines various mediums like drawing, painting, digitalart, and embroidery. Can you share the creative process behind blending these diverse techniques into cohesive mixed media pieces?
As a textile designer, the process of making fabrics is diverse, using a combination of various techniques. I treat my canvases like fabric. My process starts by making an array of different elements that could be hand drawn, hand painted or digitally drawn. The elements are scanned and digitally collaged to create the artwork, which is then printed on archival canvas. The canvas is then hand embroidered and over painted. In a way, this elaborate process allows me to create my own visual language.
Your solo exhibition focuses on the concept of "the dreamlike comfort of imaginary elsewheres, Could you elaborate on the inspiration behind this theme and how it has influenced your recent works?
My artworks question the perception of reality. In my dreamscape, my mind roams unburdened by socio-political pressures. Here, I find comfort in my thoughts; I am truly free, and my mind enters a realm of comfort. The works in this series take viewers into my dreamscape, which they are free to explore in their own way.

The idea of reimagining spaces as an escape from reality seems central to your art. Could you discuss how you go about transforming everyday objects and settings into fantastical and comforting landscapes within your artwork?
Objects and spaces become a vessel of escape, a doorway to the memories I hold dear. I relate objects to memories of personal significance. My visual imagery draws inspiration from my everyday life. These observations serve as the foundation for my creative process. In essence, my art seeks to transport viewers to a realm of comfort and wonder. Through careful manipulation of elements and a deep exploration of symbolism, I aim to create a sense of wonder and solace in my audience, inviting them to momentarily escape from reality into a more fantastical and comforting world.

In your exhibition "Presence of Absence", you'll be showcasing twenty-nine new works. Could you give us a glimpse into the diversity and narratives behind some of these pieces? Do any of them hold a particularly special meaning to you?
My artworks are an amalgamation of my travels, memories, dreams, and aspirations. I explore the symbolic and narrative potential of the chosen object or setting. I consider the emotions and stories it evokes in me, and how I can amplify or alter those emotions through my artwork. For example, the butterflies in my artworks symbolize the childlike emotion of chasing butterflies — a simple notion of freedom. "Comfort Zone" is a series of 3 artworks that I particularly cherish because it represents a variety of things that I find fascinating. Like the silk moth, butterfly, and fish, which have beautiful textures when viewed under a magnifying glass. I find beauty in small things. The three artworks depict three times of the day — morning, evening, and night, and how I spend these times in the comfort of my solitude. Another artwork close to my heart is "Still Waters of Serenity", which dips into the concept of surrealism and elaborates on the theme that in my dreamscape, anything is possible.

Your art invites viewers to immerse themselves in a state of comfort and wonder. How do you hope your audience will engage with and interpret your artworks, and what emotions or experiences do you aim to evoke through your creations?
As an artist, I want the viewers to interpret the artwork in their own way, finding personal connections. My aim was to create a space where viewers can find connections to their own inner world, an escape from reality and into a realm of comfort and imagination. The emotions and experiences evoked by my creations may vary from person to person, but I hope my art leaves a lasting and positive impression on the viewer.

The exhibition continues online on www.artisera.com till 24th September.

Words Hansika Lohani
Date 04.09.2023