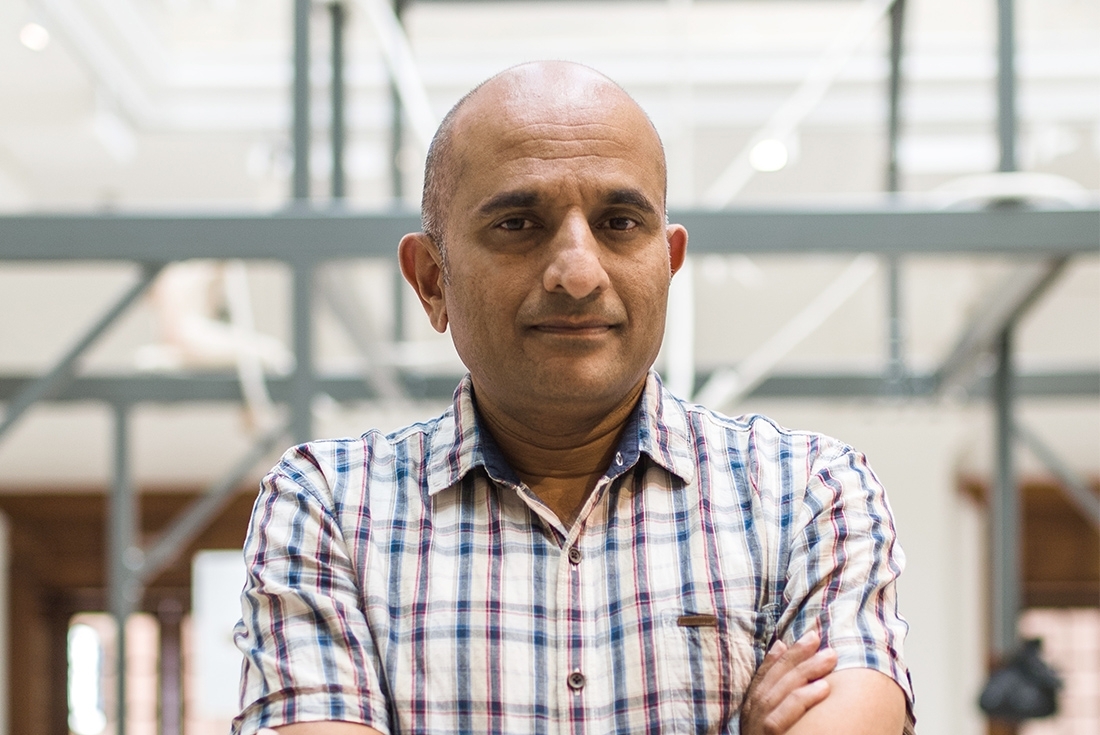 13 years after Charming Nation, one of the last exhibitions to be held in the old space of Chemould at Jehangir in 2006, Mumbai is finally set to gets its 'Harsha creative fix' this month. recent life is NS Harsha's solo show after 13 years after many years of collaborative international shows at galleries and museums in Hong Kong, China and Japan. In conversation with the art veteran about his big comeback and more.

A quick insight into what we could expect from your comeback exhibit, recent life?
This show has works from last two years. There is no central subject or issue which this show addresses in particular. It reflects many moments of recent life around, human events and larger existential quires and its relation with the idea of 'time'. Recently I displayed all the works together after a year just to see, I found color and painterly attitudes lead the show.

Lead us through the process of your work.
Sometime in early 90s I left single images and went into Multitudes. Now after spending decades with this thought, I want to experience 'multitudes of/ in single'. Why? Honestly I don't know.
Donkeys giving birth here and there
Your 'hibernation' stories in your home are well told in the art world, and you share a symbiotic relationship with your surroundings in Mysore. So what perspective of your city do we see this time in the recent life?
I may live here in Mysore, but I wonder what does not live in 'me'? to start with 'cosmos' lives in me and every place I have travelled on this planet has left a residue in my thoughts. So it is not a straight forward relationship I have with Mysore. It is certainly a great place to just 'be'. There are certain images which come up in my paintings which are from 'here' in Mysore but they amplify a voice which is of humanity not of some specific place and time.

What is it about Mysore that fascinates you still so much?
My mind and body feels good here and has a better living moments. So I am lazy to go elsewhere. Each one of us has such places isn't it? Or for some being in no one place is the best way to be…again multitudes of world! This city has traveled its 'time' I am in it, but I also observe it from outside without 'time'.

What does a typical NS Harsha day at the studio in Mysore seem like?
Hello to dogs at entrance then to my cat inside…a gaze at trees and plants. Straight into my chair and watch a bit of yesterday's journey in studio…peep into phone for emails and messages…then mute it.then get on with disconnection with everything possible and connect with whatever I am engaged in at that moment…in parallel…coffee, afternoon nap.reading a bit...then at some point forcing myself to go look at some admin works in office…above all lots of passionate living moments!
Your fans see your tableaux to have more than one face. They may appear surreal. To some they are very connected with the realities of contemporary life and at other times they assume the avatar of being a part of social commentary. How do you see your work from the eyes of artist NS Harsha?
In studio I make sure that I don't work for NS Harsha! It is a strict rule I put on myself. What that name associates in general public life have got very little to do in my creative living moments. So each work from my past is as alive as new works for me…given a chance I want to keep working on them when they are hung on museum or gallery walls...it is a buddy relationship between artwork and its artist!

Self trained artist in the school of life versus those who have had formal training in a coveted art school, like yourself - You reckon one has the edge over the other?
History has enough examples to prove and disprove this simultaneously. If ambition has any role to play in one's artistic journey words like 'edge over other' has a play minus ambition art 'Is'!

When- Begins 9th January, 2020
Where- Chemould Prescott Road, Mumbai

Text Hansika Lohani Mehtani