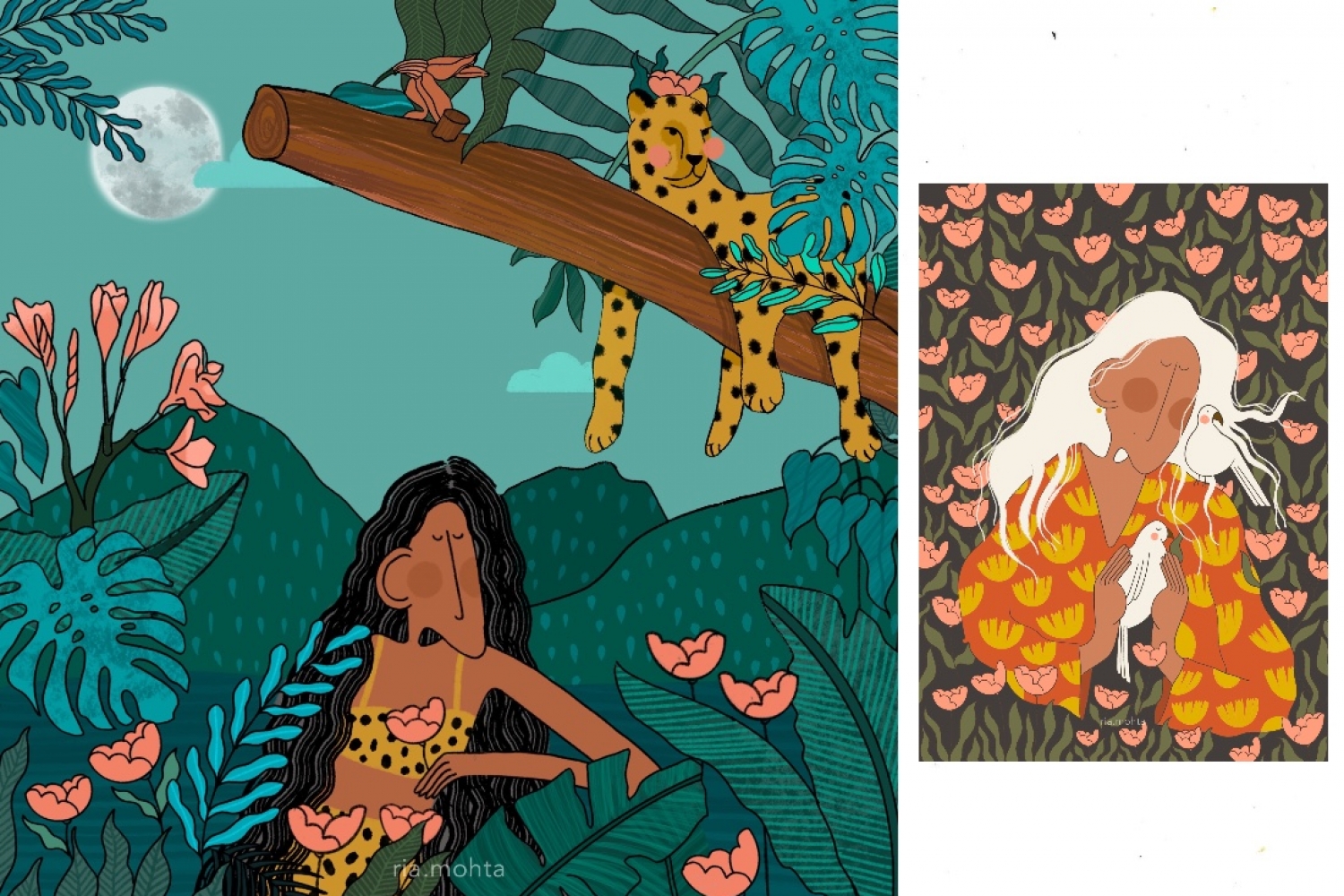 Armed with her degree in architecture, having had her farewell dinner with friends, Ria Mohta had already packed her bags to move to Mumbai — to work as a production designer for the movies — when the pandemic hit. She didn't unpack her bags for a month in the hopes of going, meanwhile doing her illustrations and design work but not taking it very seriously since she knew she would eventually land a job as an assistant production designer. But it didn't take too long for the realisation to set in that the entire film industry had gone to pieces, that the movie she was supposed to work for was not happening anymore. That's when she started taking illustration seriously as an independent designer. But her journey as an illustrator and brand designer had already begun in the second year of her undergrad. "You know how particular architects are about stationery. I wanted to get a really cool sketch pad but I couldn't find the kind of stuff I wanted in the market. So I decided to make one for myself", she explains. Her friends started placing orders for the sketch pads and gradually, seniors, juniors, everyone wanted to have those sketch pads. Beginning with hand painted illustrations and pop ups at NGOs, she taught herself digital illustration and all the other requisite skills. And, now along with being an architect and brand designer, she works as an illustrator and has her own merchandise store. Her oeuvre boasts of picture books, sketchbooks, stamps, calendars and, of course, her gorgeous prints.
Below, she gives us more insight into her design practice.
Inspiration
I take a lot of inspiration from my surroundings. Initially, I used to just draw what I would see in and around me, the happy little things in my life. Back then I wasn't doing one piece illustration, it was more of a comical or a narrative style illustration which would generally depict things happening in my life or silly stupid stories my friends would encounter. I also take a lot of inspiration from nature, currently, I am living in Goa and that has added a lot to my understanding of nature and how I end up incorporating it in my work.
Creative process
When working for a commissioned project, I'm generally given a brief by the client and I usually ask for five to six keywords, so that I know what I'm doing. When it comes to designing, the more information you gather from the client, the more confusing it gets when you try to reciprocate it. So, I tend to keep things very straight to the cut. The first step is designing the concept draft based on the brief I have received. Along with that, I also share a moodboard which makes it easier for the client to imagine what the end result might look like. And, depending on which concept they like, I add more detail and put in colours to it.
When it comes to personal work, it's 100% me. Whenever I feel there's a good moment which could be captured or whatever strikes my imagination, I do that. For example, I did this one illustration, which was inspired by my grandma. It depicted her doing crochet sitting on her dining table, and it had a lot of everyday elements — the cookie jar turned into the stitching kit, the pickle containers, used alcohol bottles with plants — because those were the things that were very personal to me and my grandma.
Colour palette
My colour scheme also draws from my undergrad in architecture where I learned a lot about building styles and materials. I was drawn a lot to greys, browns, creams, the earthy muted tones, and I've recently started to realise that my colour scheme has actually come from that path.
Design sensibility
When you're practising visual arts or anything related to design and art, you basically don't only see through your eyes, but also read through your eyes and hear through your eyes. You always have to be like a sponge, absorbing whatever comes in front of you and navigating it through your unique style. So, when I started doing what I do, my character style was very comical because it was just my personal story, limited to my small world. My character style was basically me in a comical way, stitched from parts and pieces of what I would see other people doing. And, that's when my character style took shape, it evolved gradually as I grew up as a person. Therefore, I slightly navigated from the comical style to a little more polished style. And presently, I feel that it's more in a living space, basically, you can take my art, frame it, and hang it on a wall. This is not what I used to do previously. It's a fusion of arts and architecture.
Future
Presently, it's a small studio managed by me and an extremely small team that helps me with managing my e-commerce. But now, I'm planning to grow as a studio, I'm renting a space. We're also working on products that are more fabric centric, entering into the living category. So, I'm finally circling back to my training as an architect.

Text Saumya Singh
Date 13-05-2022