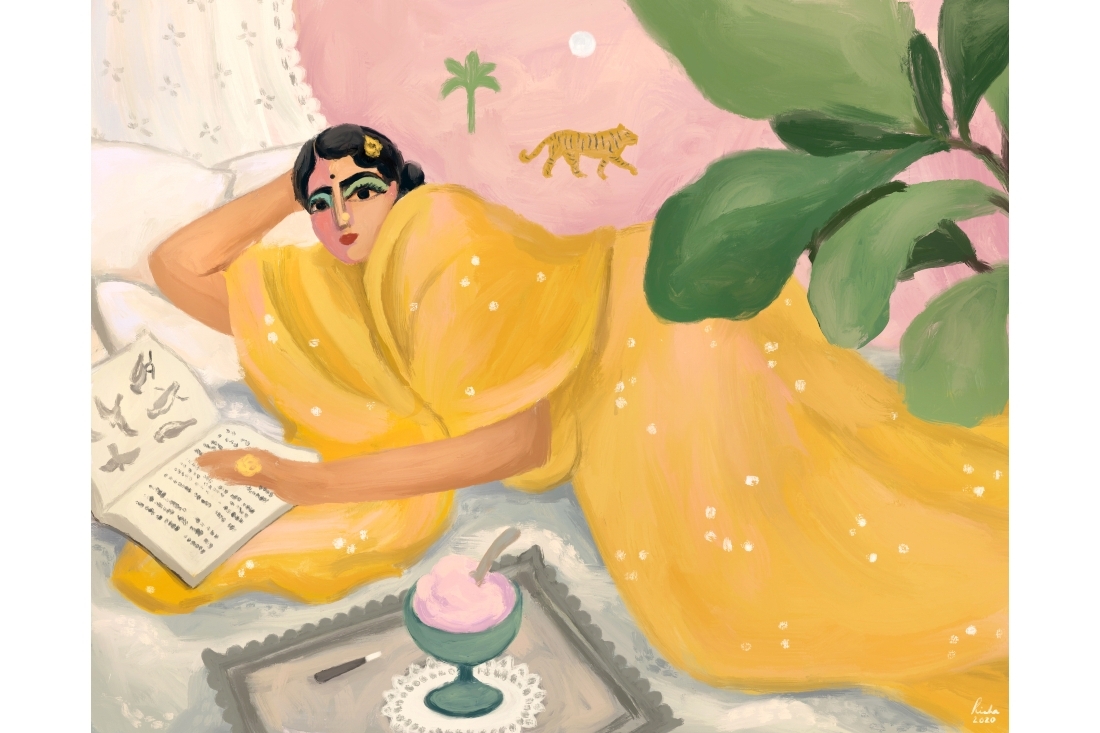 Abundance of nature, some elements from your backyard and laid back living-gouache artist Richa Kashelkar's work is reflective of her own lifestyle. A blend between vintage aesthetic and the modern woman, her paintings are emotive and instantly pleasing to the eye. She explores the slower pace of life through photographic frames and a distinct colour palette, consisting of pastel and tropical hues. Moved by 'the beauty of this world, and the mysteries of life,' her work traverses local landscapes, friendship, slow afternoons, and self-reflection.

Below, the artist delves into her creative process, journey, and artistry.
The Artist
I have a formal education in architecture, and have been practicing photography for a decade now. Both are very close to my heart, and now, so is painting. Apart from this, I love to get immersed in a book! With regards to my art, I have been enamoured with painting since childhood but never followed it up professionally, because back in the day when we chose careers, they were picked based on their viability to sustain you financially. Times have changed and now one can simply choose to be an artist on a whim, how fantastic!
L: Confidantes ; R: Jantar Mantar
The Medium
I paint on the iPad, and in the beginning I tried out a lot of different styles — watercolours, gouache, pencil colours, oils, black and white inking. But it so happened that time and again I found myself pulled to the gouache/oil aesthetic. I love how opaque and bold the colours are that get applied in it. I also love the not-so-finished look that the strokes have, which inking, for example, doesn't.
Creative Process
Some paintings appear in front of my eyes, almost fully formed, right down to the colours. I do not know where they come from! And those are the easiest to paint. Some start out as a fragment of a thought. And if the thought is enticing enough, I follow it, and keep adding and changing things as the painting progresses. Sometimes it works, and sometimes it results in abandoned artworks. But everything starts with me closing my eyes and imagining what I'd like to paint next -- what colours, what mood, what idea?
L: Kitchen Table ; R: Summer on the Western Coast
Colour Palette
The colour palette is just a matter of choosing what I like and discarding what I don't. So it isn't a pre-decided colour scheme as such, but a 'giving in' to what appears pleasing to me in the moment. I suppose it helps that I have very polarising opinions on colours. Saturated greens for example, I simply cannot stand to look at. But saturated yellows look pretty. I love using colours a lot, they are perfect for conveying moods. But at the same time, there is nothing which is as visually off-putting as badly used colours! So the colour palette that has now emerged is just this instinctive pull towards and push away from certain colours.
Inspiration
I am inspired by the beauty of this world, and the mysteries of life. Nature helps in the former, and solitude and peace helps in the latter. I moved to Goa long before I started painting, and it was because I enjoy a slower pace of life. I also seriously lack any ambition regarding 'making it big' in the city, and living amidst nature was my primary desire for the longest time. It definitely helps and supports this journey. However Goa is getting more and more urban as we speak, so it's not Goa in particular that is crucial, but any place with an abundance of natural beauty, and a lot of peace and quiet.
L: Vital Investigation ; R: Richa Kashelkar
The Pandemic and Beyond
I am an introvert who loves sitting at home, so the lockdown hasn't adversely affected me. I do feel guilty saying this, because I realise the advantage my natural disposition has given me in these times. I think extended periods of leisure time is one of the most essential factors for creativity to thrive. So in that regard, this situation has been helpful, despite it being unsettling for the other aspects of life.
Text
Janani Venkateswaran