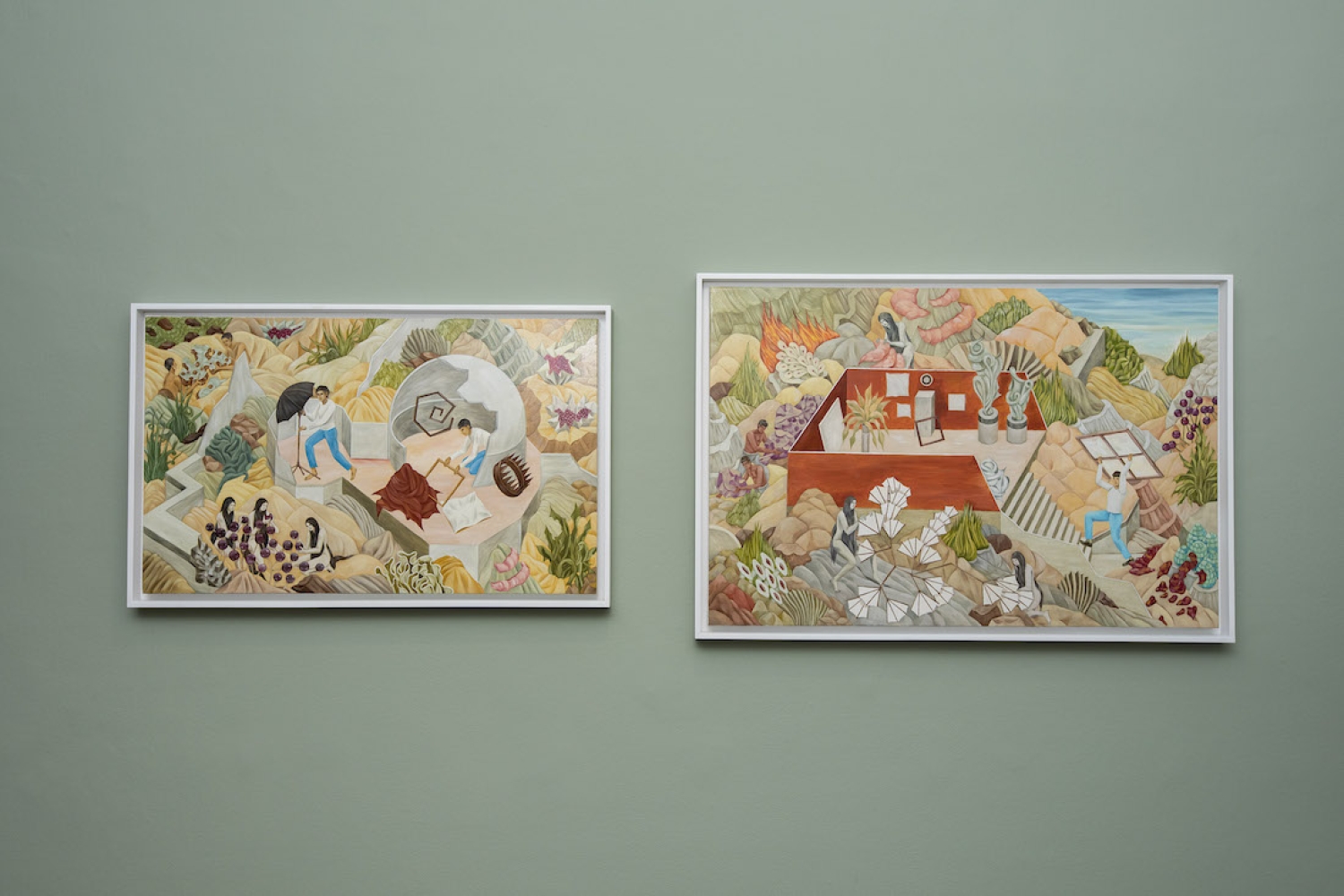 Reveries in the Atelier by Shrimanti Saha, currently on view at Vadehra Art Gallery, is a much-awaited solo exhibition by Baroda-based emerging artist. Featuring a body of works on canvas and paper as well as video animations, Reveries in the Atelier endears the studio as a space for performance rooted in both creativity and chaos. As we're invited to read her works as one might a novel or poem, the act of viewing becomes subsumed in camouflage as much as reveal, leaving us with open-ended interpretations that intimate a secret beginning in the artist's subjectivity.
"There is a lot of layered imagery in my works which are often referenced from different sources like history, literature, news reports, science fiction, mythology, comic books, architecture, movies, art history, et cetera. Even conversation and personal experiences. In spite of the fact that I draw from a vast range of sources, my interest always gravitates towards themes of identity, ecology, gender, exploitation and control. I usually absorb a lot of information in the form of images and text before making a body of work; then a massive session of editing happens and usually, consciously or unconsciously, my interests always affiliate to the above themes," acquaints Shrimanti Saha with her artistic sensibility.
Read more from our conversation with her below:
How were you led towards visual art?
I always had an inclination towards drawing and observing my surroundings. Growing up in a suburb of Kolkata in the 90s, I didn't always have the right kind of exposure to what contemporary art practice could be; but I did manage to devour whatever art related material I could find in the media. Since high school I made up my mind to go to art school. Thankfully my parents supported my decision and subsequently this opened up a whole new world for me. It challenged a lot of my preconceptions and through further experiences in and out of art school, I managed to develop my practice.
Could you give us some insight into the making of your exhibition Reveries in the Atelier?
The show comprises of works on paper, oil paintings and animation films made during the last two years. As the title suggests, the exhibition focuses on the idea of the artist's studio as a space for creation, brainstorming and even turmoil. There is a series of small-scale oil paintings in the exhibition; which are autobiographical and depicts an amalgamating interior and exterior with the artist studio becoming almost like a stage with characters performing in and around it. I started working on this series during Covid; when the feeling of being confined to an internal space was lurking all around. So, in this series the attempt was to turn my world inside out and vice versa.
The larger works on paper, which constitutes a major part of the exhibition are more like the aftermaths of what has happened in the artist's studio. Even in these denser and more elaborate narratives, almost each work has a small niche like space with the artist figure engaged in some activity; while everything else manifests around it.
These works are like dreamscapes or mind mappings of the maker. They are dystopian landscapes which have a similar visual appearance if seen from a distance but they are different from each other in their details; when observed closely. These works with layered imagery from a myriad source of references can be viewed as an alternative history, personal mythology or as a compilation of untold stories.
Other than the above set of works there are three short animation films which are part of the show. These are analogue handmade stop motion animations with narratives commenting on different issues. These were made during intervals from my mainstream painting practice and even while working with the moving image, I usually approach it with the temperament of a painter.
Could you acquaint us to any influences, artistic or otherwise, that guided your creation of this exhibition's works?
There are influences from a range of sources which have impacted this body of work. Firstly, the visual language of the large scale works on paper was inspired by the natural history illustration books which I collect. The colour palette also takes inspiration from the genre of Company school paintings. I wanted to adapt to a way of painting that is objective and almost documentative in nature. The content of my works is usually very surreal and irrational. The intention was to use a very objective encyclopaedic visual language along with a surreal content in order to create a contradiction in the way of seeing. Besides this most of the large works also have small portions in them which are inspired by literary sources like Orwell, Kafka, Ursula Le Guin some iconic feminist texts, colonial history, and others. The compositions of these works have a lot of influences from Indian miniature paintings and this is very evident in them.
The series of small-scale oil paintings are more autobiographical in nature. I was looking at a lot of European fresco paintings from the Middle Ages and have always been influenced by their very direct narrative and theatrical nature. The characters are almost like actors performing on a stage; depicting mostly the biblical scenes. While working in the medium of oil; I was also conscious of what oil would mean as 'material' in contemporary art practice; given the fact that it holds a very strong place in the context of art history.
What do you hope the viewers take away from this exhibition?
I think, seeing the exhibition in person will make a lot difference than seeing the works online. The large scale works on paper are very detailed and looking at them closely in person will bring out the surprising aspects of it; not only in terms of the narrative but also in the layer, color and texture. It is very important to understand how a work is made and see it in actual scale in order to have a wholesome experience. There is also a series of stop motion animation films which provides the experience of sound and movement; and a series of small-scale oil paintings.
I believe seeing the body of work together in one space will make one realize how a dialogue is created between the multiple mediums. The overall body of work also invites the viewers to have their own interpretation of the imagery; even though there are specific inspirations and references which has shaped up the works. I hope the viewers are able spend some time with the works in person and have an experience which lingers for a while.
Lastly, what's next?
Animation film is a medium that I have started working with somewhat recently and I am experimenting with ways in which I can develop this further. I am also thinking about the sound aspect of it and ways to play with the relationship between sound and image. I am also doing some research for a series of large-scale oil paintings. After this exhibition I also hope to expand my studio, so that I am able to have enough space to simultaneously work on multiple projects.

Words Nidhi Verma
Date 27-03-2023