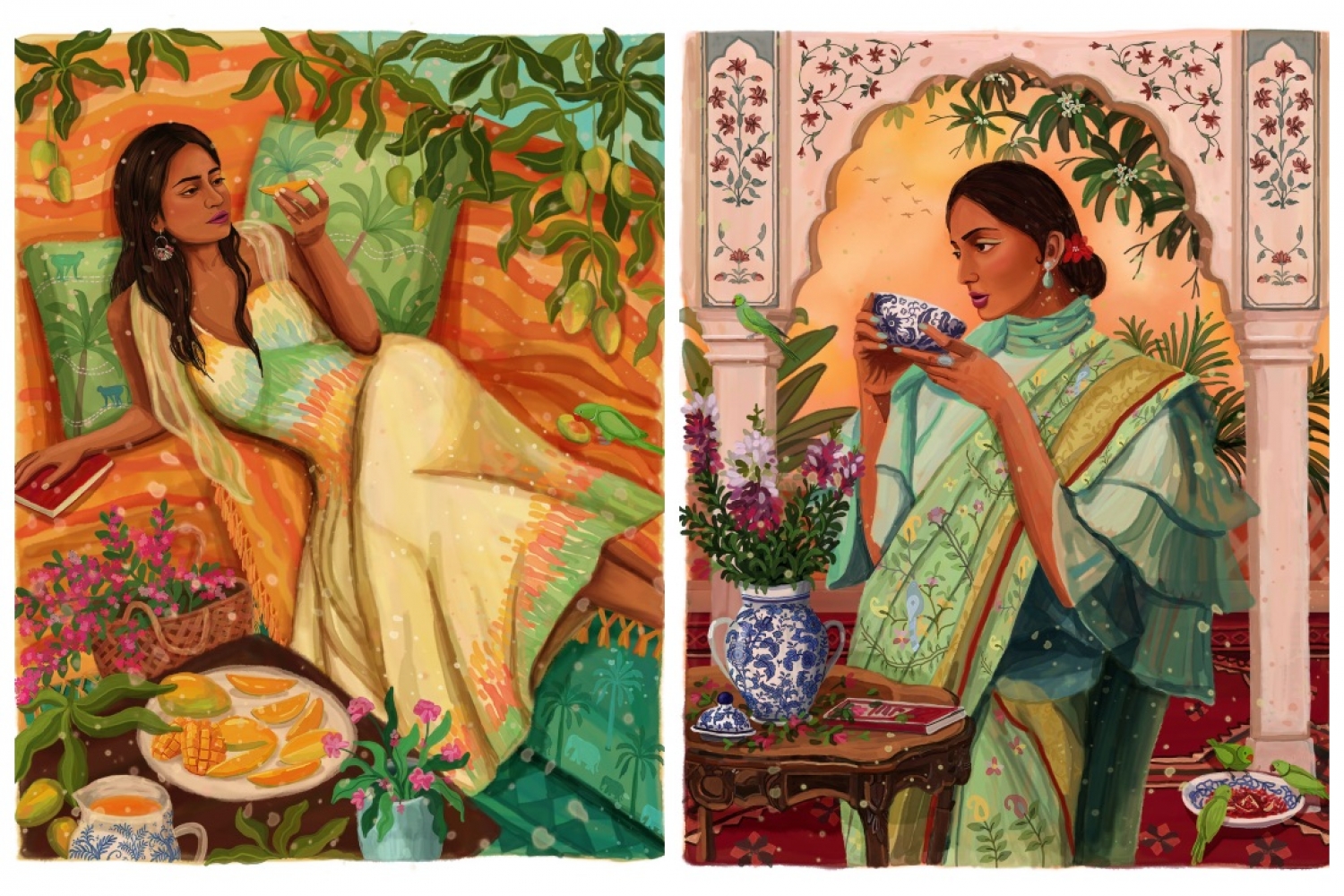 Emotive, dreamy and intricate, Soumyaraj Vishwakarma's artworks and illustrations consist of vivid landscapes, bright flora and beautifully-crafted fauna. Ever since her mother bought her her first watercolour kit in the second grade, Soumya's identity has been her art. Her experimentations led her to complete her graduation in Visual arts from Faculty of Fine Art, MSU Baroda.
'My rendering style is semi-realistic. I try to keep my brush strokes natural to get a raw feeling,' says Soumya, and this raw yet refined artistry is starkly visible in her works. With shades of green, tropical hues and muted tones dominating her style, her love for nature, wildlife and travel seeps through in her creative vision. 'Painting greens brings me calm and freshness. I love creating a gentle and peaceful atmosphere. I grew up in a very green town, surrounded by fields, trees and beaches, so I love the calm feeling that nature instills. It all reflects across my work. I am consistent about up-skilling myself and evolving my style. I wish to spark hope and cheer with a sense of calmness through my vivid artworks,' she shares delightfully.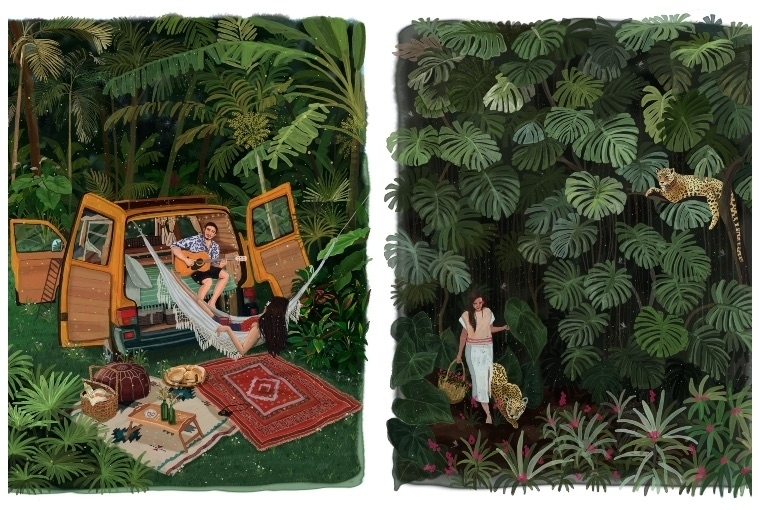 L: Memory Capsule
R: On the days I want to disappear
She recently lent her artistic skills to The Plated Project, which is an initiative to end hunger through art. Soumya adds excitedly, 'The Plated Project has become one of my favourite art pages. They handpick talented artists to create one-of-a-kind plates, printed with unique, beautiful art. They not only feed the hungry but also promote emerging artists like me. It's a win-win for all. I truly believe in their motto "Art Against Hunger" and am happy to support this cause through my art.' To see her decor plates adorn homes and hotels is supremely gratifying for her.
Speaking of her featured pieces, Memory Capsule, He Carries Life On Wheels, Royalty, On The Days I Want To Disappear, One Day, Recipe and more, she elaborates, 'my obsession with greens and nature is what made me choose this colour palette. I was missing the fresh burst of creativity that travelling brings. Sitting at home during this lockdown made me realise how much I missed going out. I love spending time in nature, going on treks and living a slow-paced life. Through these artworks, I wanted to capture the feeling of freedom, freshness and desire. For me, working on these artworks was a way to escape reality and enter a magical and adventurous world of my own.'
Although she has worked with mediums like watercolours, oil pastels, inks, fineliners and more, the transparency and flow of the watercolour style affords her a sense of freedom and she tries to achieve the same in her digital illustrations. Working digitally, according to her, is more forgiving and it is a lot easier to play around with colours and composition. Her detailed and vibrant work brings her illustrations to life and it is her hope to hold the attention of the viewer long enough to try and find those hidden facets tucked away in her paintings.
L: One Day
R: One Second Away
She outlines Laivi Poder, Jane Newland, Richa Kashelkar and Svabhu Kohli as her inspirations, but while deconstructing her creative process, Soumya hints that her illustrations are all very intuitive.'Whenever an idea comes to my mind, I start sketching thumbnails and composing my scene, and then filter them down to the best one. Some paintings start from fragments of thoughts, while some from the images I have clicked. I keep adding and tweaking things as the painting progresses, till it feels right.' Always on the lookout for new ideas, she keeps her sketchbook handy while outside. 'This helps me record references for poses. Sometimes the pose comes first and the environment later and vice-versa.' Seeing the final work come to life, bit by bit, is what she lives for.
'The best projects are where I get to use my creative freedom,' she asserts. Putting her all in her works, Soumya doesn't differentiate between personal and commercial projects. She recently got the chance to illustrate the book cover for Sudhir Sitapati's farewell memento, who is the former Executive Director and Vice President of Unilever. 'The composition is set into HUL's iconic building and reveals cues reminiscent of iconic Unilever ad films that aired on TV over the last few years,' she explains. Capturing the essence of relationships and situations in her drawings is what Soumya finds both challenging and exciting. To work for clients who truly believe in her process, on projects she is passionate about, while bringing her magic to her illustrations, is her hope and aim as she trudges on in the fascinating world of art.


Text Devyani Verma
Date 03-08-2021