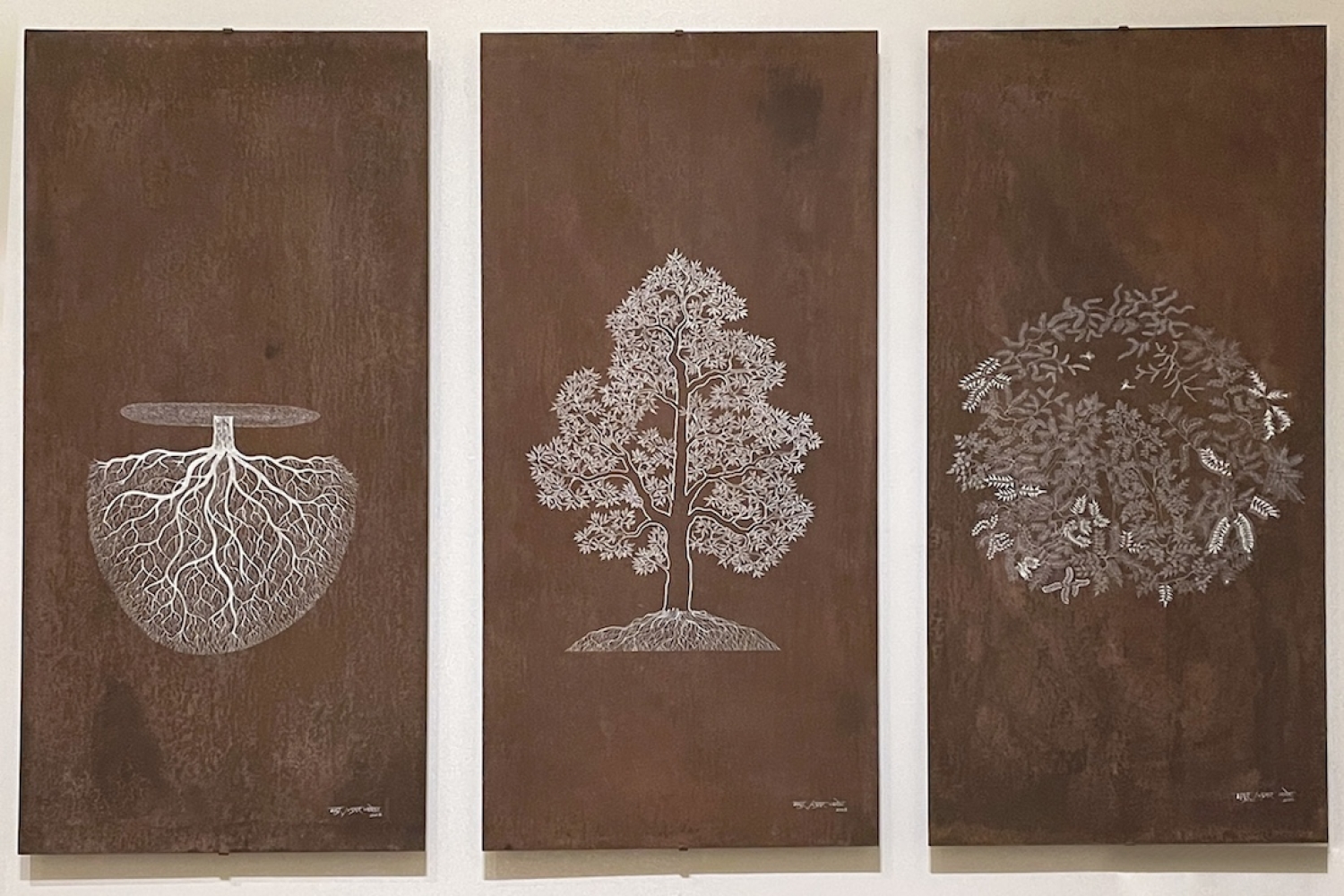 "While I was traveling and working with artisans from all over India, I wanted to build a more meaningful long term and collaborative relationship with them. True collaboration is a meeting of ideas, work and finally output. For this to happen, I didn't want to treat the craft forms merely as a commercial resource, but something with a lot of potential to grow, evolve and develop. Hence the name KAASH, which is Urdu for potential," tells us Sridhar Poddar of the origin story of KAASH, an exhibition-education space in Bangalore that was set up two years ago by him. The organisation is leading some special interventions in Indian craft forms, a perfect example of which is their current exhibition, called Thinking Hands.
We're in conversation with him below about design, KAASH, the current show, and more.
Could you tell us a little bit about yourself and how you were led towards the world of design?
It happened very organically. In my childhood, I was always inclined to visual creativity and the arts. When I went to university, my creativity became latent as I pursued a career in data analytics. And then I joined my family business. The flexibility of working in a family concern presented the right opportunity six years ago — while I was traveling to South Africa for work, I met with an art collector who had a collection of exquisite Nigerian beaded chairs. What started as wanting to acquire a pair for my home in India, evolved into starting an enterprise, Evoke London, which brings together craft from Africa and India in the heart of London. I've been so caught up in my creative ventures that I didn't end up acquiring the beaded chairs for my home.
How would you personally define good design?
Unexpectedly simple, thoughtful, with a touch of handmade. Good design should pique the curiosity of the viewer. For instance, it should make people wonder about how the object came about, almost like magic.
What is the origin story of KAASH?
KAASH originated from Evoke London. I wanted more space to display my experiments with artisans and create immersive experiences for the works in Bangalore. People wanted to acquire the works which were on display, and I didn't want to restrict myself to a London market. This led me to retail craft collectibles for an Indian audience which is more accustomed to seeing crafts in tourist stores and bazaars, not so much in galleries and international standard displays.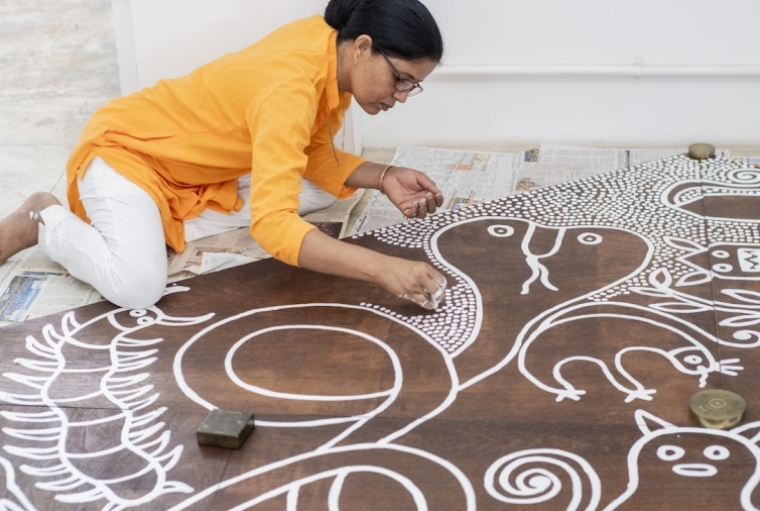 Creating a wonderland - Sunita, Meena Art
How was Thinking Hands conceptualised?
We were working on programming for this calendar year at KAASH, where we were talking about creating workshops around publishing. I stumbled upon Tara Books as a focused publisher working with brilliant indigenous artists from India and making the art forms accessible to a wider audience. We then tapped into their rich resource of artisans and created a show delving into three craft forms, Warli, Gond, and Meena, and getting four artists, the Vayeda Brothers, Ram Singh Urveti, Gareeba Singh, and Sunita, to KAASH for a month-long residency with material experimentation and explorations.
Could you break down for us your curatorial intent and sensibility behind the exhibition?
My co-curator, Harsh Bhavsar, visited Tara Books and selected artists for the show from their repertoire. We explored the essence of each craft form in terms of surface material and style, and experimented on how we can make works relevant to a current audience. For instance, in lieu of mud flooring, we created brown hand-tufted carpets. Mud walls, which form the backdrop of Meena and Warli art, were swapped with corten steel and wood, both materials still from the earth and echoing textures of the walls. But, unlike mud walls, they are slices that can be portable and collectable.
Taking a page from Tara Books' approach, we worked with the artists on narrative forms of 'emergence', the natural world growing underwater to life above ground; the theme of duality with day and night and the sun and moon composed within a forest scape; and a dream-like world of animal and plant life, with layered, interpretive narratives.
What do you intend the viewers to take away from the exhibition?
The KAASH effect. We're a young organisation, only two years old. But one of my collaborators told me that there's a KAASH effect with each of the six shows so far. The effect is two-fold — giving viewers a taste of what's possible with craft and the handmade in India, but also showing viewers that so much more is possible, leaving them with a sense of wonder.
Lastly, what are you working on next?
We have some very exciting things in the pipeline, one of which is working with Andrea Anastassio and traditional leather puppetry craft from South India. This collaboration will mark the launch of a new platform called GUNA from KAASH, which looks at the essence of Indian craft and showcases contemporary craft collectibles.
Words Nidhi Verma
Date 19-05-2023
n the making - Climber by Tushar Vayeda, Warli Art