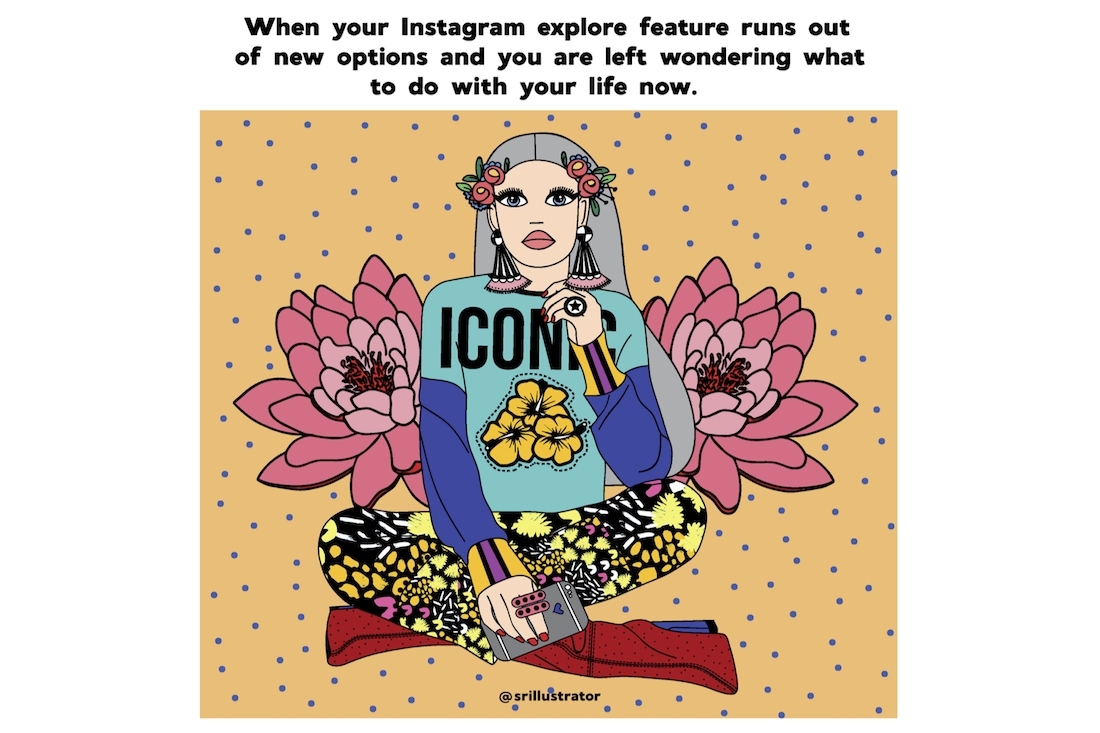 Srishti Guptaroy is an illustrator and a fashion designer based out of Bangalore. She currently works at Ajio, an ecommerce venture by Reliance. Alongside her day job, she likes to create quirky art.
Her study at NIFT led her to develop a style of fashion illustration unique to her and an everlasting love for fashion itself. The work that we are talking about here are her offbeat, quirky Illustrations under the banner of 'High Fashion Memes' that her Instagram handle is flooded with. These are one of a kind memes which combine art and fashion in their wittiest attire. (For the layman, memes are graphics which are intended to be funny and relatable often targeting familiar topics or things we experience on a day to day basis). The content of her memes usually encompasses the day to day struggles of a 20 something individual coupled with an infusion of humour, in an attempt to lessen the seeming arduousness of those very struggles she talks about!
I speak to Srishti as she takes me through her journey of creating 'High Fashion Memes'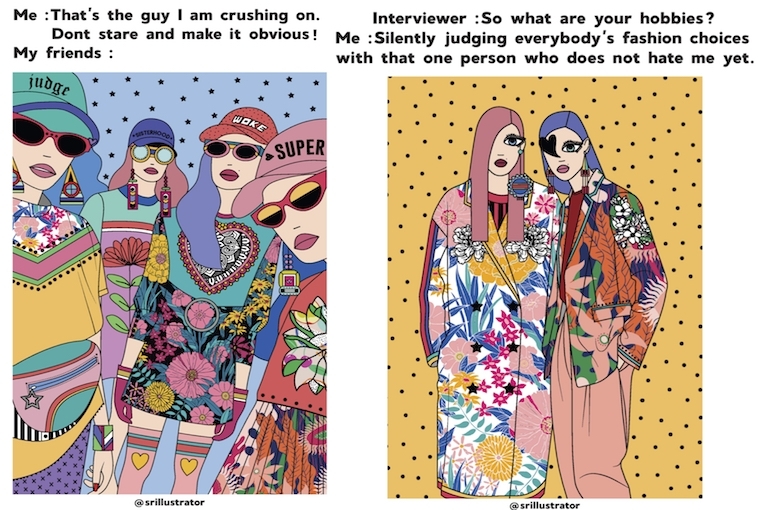 What led to the idea behind 'high fashion memes'?
One day I was scrolling through the god forsaken screenshot album on my phone and realised that it had only runway/fashion images for inspiration and memes. I thought that it would be pretty cool to combine the two as I had not seen anything like it on the internet before. Memes are generally associated with lowbrow imagery and fashion is never intended to be funny. I wanted to juxtapose the two and hopefully create a new genre.I think I am getting too ahead of myself!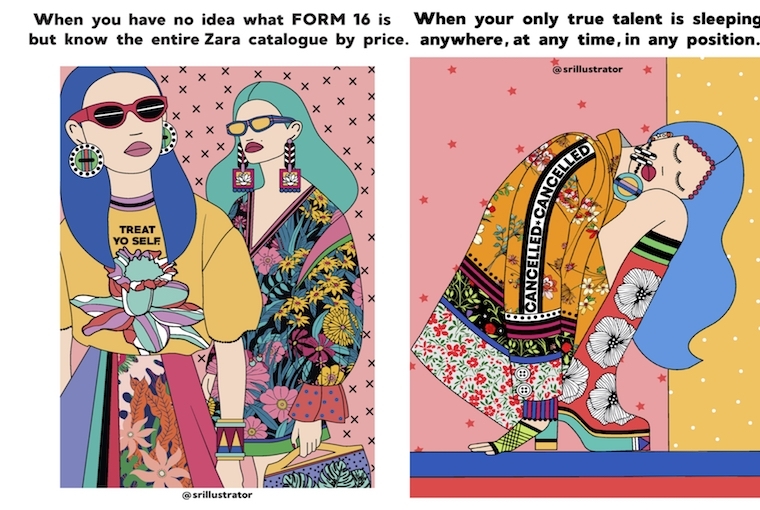 'High Fashion Memes' combine an emphasis on outfit details alongside a lighthearted commentary on the things that today's generation experiences. What led to the mingling of the above two in the series?
I have been trained in fashion illustration.We had a pretty serious module in college to understand how fashion illustration is different from just drawing stylish girls and there was always an emphasis on developing your unique style. Luckily,I figured out my style fairly early and hopefully I keep learning and improving everyday. Naturally, when I wanted to start my own art page after some persuasion by my friends,I knew that I would make a fashion illustration page and my girls would always be stylish and in supremely cool outfits,jewellery and shoes. But fashion is intimidating and after I had this meme idea I thought that by adding the element of a relatable humour,it would appeal to a bigger audience. Honestly,the idea is the result of a screenshot album analysis on my phone.
Where do you generally draw inspiration for your works?
I generally love browsing through editorial shoots and getting confused looking at some pretty ridiculous poses. Then I wonder to myself what the model was thinking or what would a non-fashion person look at this and think. Then I illustrate a version of that pose and always make sure that the clothes and the jewellery are on point. Then I brainstorm a little about the general vibe of the image and try to connect it to super easy and relatable topic that I would usually discuss with my friends and colleagues to find the best fit for it. It also helps that I am painfully witty. #humility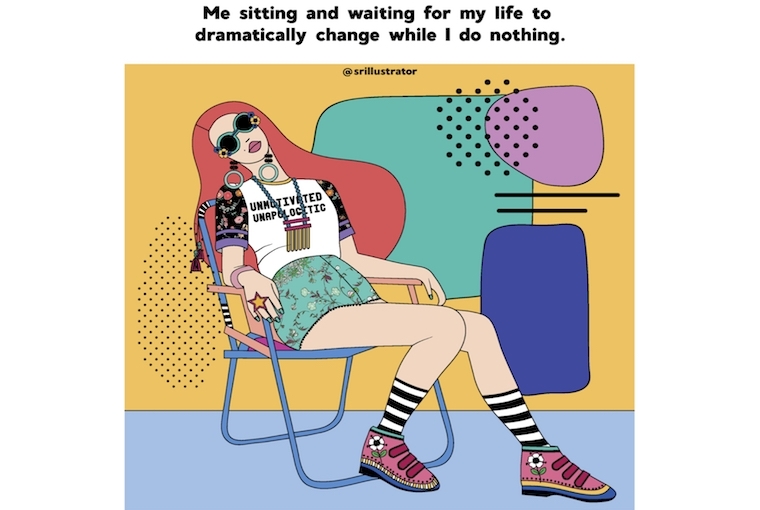 How would you describe your visual language?
My visual language is super maximal with a side dish of maximal. I love prints,colours and textures. I try combining everything in my aggressively loud artworks. While,there are a lot of individual elements, I know how to make it look coherent and balanced without shocking the eye too much.
You did your undergraduation in Fashion Design. What led to your interest in illustration?
I had wonderful illustration teachers in college who took my notebook back page doodle skills and made it into a legitimate skill that I am proud of. From drawing strange girls in tacky beaded gowns(they were always in gowns for some reason!) to having a profile in Platform, it has a lot to do with my professors who stressed heavily on developing an unique style and running with it.
Are art and Fashion completely different or is there a common ground somewhere? Thoughts?
Art and fashion are as related as they can get. Great art and artists have always inspired fashion designers to create beautiful clothes. Sometimes,clothes are so beautiful and unique that they become beyond just apparel, they become pieces of art. The relationship between art and fashion is and always will be very symbiotic.
Any future projects?
I think I will do a few more of the memes because I do have a lot of fun ideas. I have some good traction right now. I want to start a new project in a month or two which will have the essence of high fashion memes but be very different. I also have a really nice collection coming out in Ajio in a month with a few of my hand drawn fashion illustrations which I am excited about.

TEXT SUPRIYA JAIN