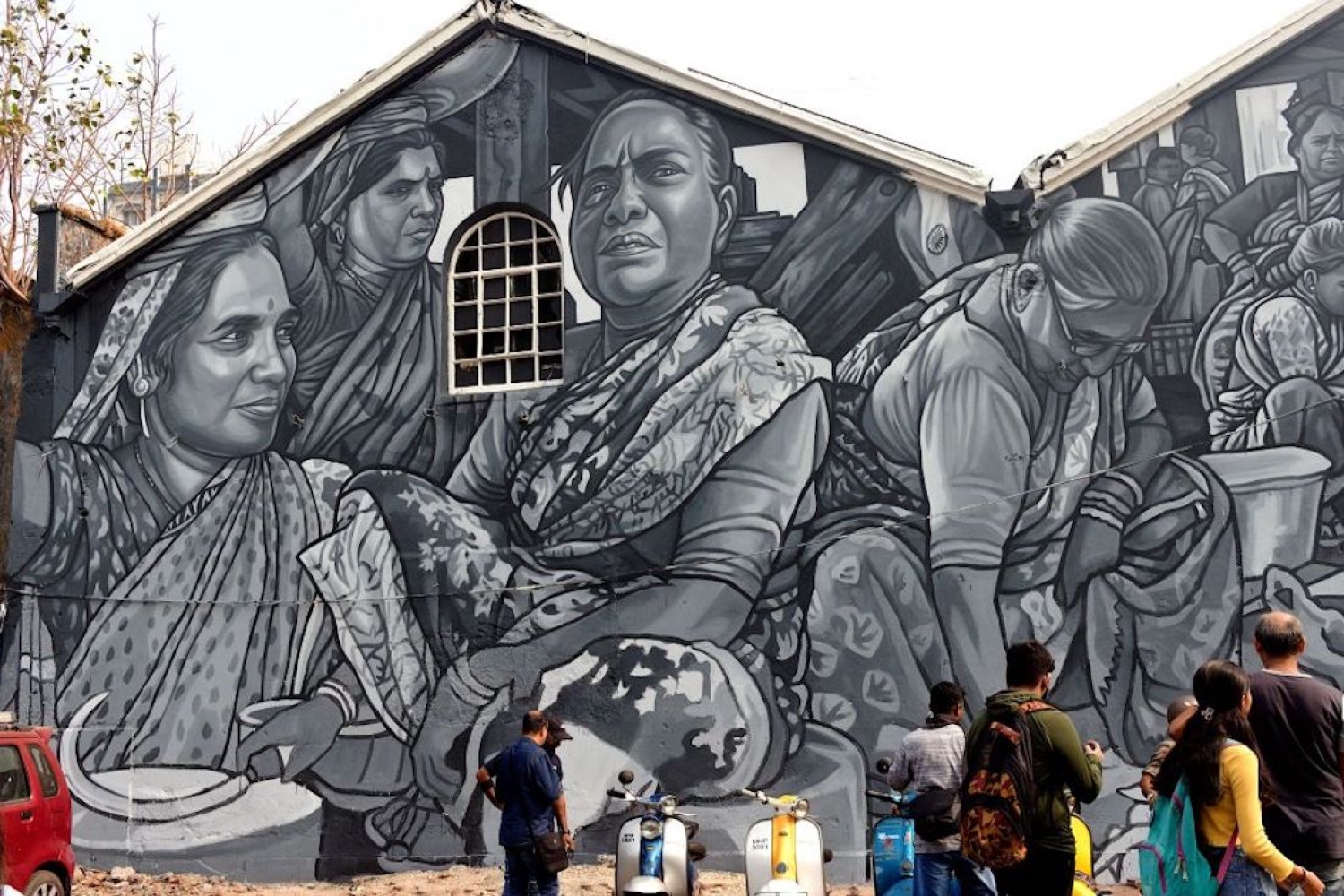 Street art was seen as a rebellious tag, often made by an artist or group of artists who wanted to be seen and heard, whose voices may be oppressed, either by society or institutions. It's shared with a sense of flair and exquisite use of space, used as a tool of communication, adornment and community inclusion. Banksy is the first name who comes to mind internationally. The Indian counterpart, Guesswho's art is also a satire on pop culture.
Bringing urban street art practice to our communities, colonies, our doorstep, or rather, our screens, St+art India has enhanced and provided a new experience to our urban landscape. Arjun Bahl, the co-founder of St+art says, "Today, we find people consuming and really interested in art." The humble co-founder talks about how in the early days, influencers took pictures with the St+art murals in Lodhi Colony, now the Lodhi Art District, because of the picturesque quality and vibrancy the art provided, but now, he finds that people are more interested in engaging with the works, attending workshops, reading captions, and even when they share images and reels, they caption the artist/artwork/festival.
The shift, the curiosity, the willingness to experience art has evolved in recent years, as he found at the Mumbai Urban Art Festival where spectators lined up for upto two hours outside the venue.
ST+ART
Since the conception of St+art in 2014, India has seen a tremendous growth in urban contemporary art and its acceptance. The vibrant, expressive and socially conscious works of artists from India and overseas now adorn the streets, colonies, slums, buses, and metro stations across the country. What started with a festival at an inland container depot in Delhi, has now evolved into a bi-yearly festival in Mumbai, showcasing art, installations, interactive workshops, talks and more, all in the public interest and free for all. St+art has made 'street art' more accessible, inclusive and communicative. St+art excels in transporting the public to a different world. A world where art speaks of a truth, a reality that exists in society, and they hope, starts a dialogue.
They have worked with acclaimed artists like Sameer Kulavoor, Hanif Qureshi, who is also a co-founder, Andha Ras, Rrithika Pandey, Shivo Suleman, Khyati Trehan, Trespassers, Aasthi Miller, to name a few.
Andha Ras_Reveals_MUAF_St+Art Mumbai 2022 Pranav & Sohil
COMMUNITY DRIVEN
From the art district conceptualised and beautifully executed in residential areas, to the Mumbai Urban Art Festival, which was at the Sassoon Docks this 2022-2023 edition, they have focused on and striven to bring the community together. Arjun explains, "I think it was a mix of both because consciously, we work in public spaces, we work with communities. So the community buying in to our projects is very important. We go to people's homes and do projects. So, essentially, there's a captive audience which is living over there which is very diverse and really has never interacted much with art if they have not been shown it. In a sense, our work is about talking about and working with communities. It is also about pairing the artists with the communities and seeing beyond art. How can there be a greater dialogue between them and the development which is happening around them." India is seeing a massive growth in many facets — economic and infrastructural — and Arjun believes that it is the responsibility of organisations like St+Art to "create more spaces that are softer, a little bit more inviting, and community led."
INCLUSIVITY
Free for all and inclusivity is central to St+Art's identity. They built ramps at Sasson Dock, organised sign language walkthroughs to aid differently-abled individuals, worked with multiple LGBTQ+ communities, then Aravani Art Project, for instance, conducted workshops for children/all age groups. One initiative that struck a chord with Arjun, was at the recent art festival with Good Fellows, an organisation that connects the youth with elderly who live alone. Good Fellows arranged a walkthrough for its fellows, grands, as they are lovingly called. Their tagline reads, 'We are The Goodfellows — spirited, empathetic and youth companions for the elderly. We would do everything that your Grandkid would do for you.' Arjun remembers watching the video of the 'grands' experiencing the festival, "It makes me very emotional every time I see it now. Wow. This is something I finally am like, okay, we've done something great."
MUMBAI URBAN ART FESTIVAL NOT BIENNALE
The team is a passionate one, with everyone coming together with the shared goal of creating an authentic, organic and sustainable art festival. The curatorial team headed by Gulia Rhea, work on the festival with an attempt to bring together as many mediums of art as possible, along with different kinds of people, communities and cultures. There were two themes of the Mumbai Urban Art Festival this year — intuitions and illusions, with Mumbai being at the centre of both. The team was conscious of the spectator's experience, of the festival not feeling like an event, or a ticketed, commercial entity looking to make money. Everything, from the organisation to security staff, had a person-friendly approach to facilitate an easy and beneficial experience for all attendees, since the venue, like their first festival at the inland container depot, was one which most locals of the city had never seen.
Daku_Reveals_St+Art Goa 2018_Daku
XXL
St+Art is a not-for-profit organisation, which means that they cannot engage in commercial projects or work with big brands. XXL, hence, executes commissioned projects, bridging the gap between public-facing and privately commissioned art. After five years of running XXL, XXL Gallery was launched to provide a new space for artists to bring their urban street art practice to people's homes, and in turn, to create a new income stream for the artists. Joe Cyril was brought on board to head XXL Gallery ."We put a challenge to him saying that this is what we want to do, and we feel this can be a part of the larger art market and, in fact, change the art market a little bit more by showing different kinds of works which are urban and contemporary. So urban contemporary is where we are gonna be fitting XXL in."
ST+ART CARE
In collaboration with Asian Paints, St+Art runs a program called Start Care, wherein they go to hospitals, paediatric wards, old-aged homes which are publicly owned or NGOs, and put the St+Art spin on them. The aim being to bring some comfort and softness to the often dry, uninspiring and cold spaces. Their last project was The Post Graduate Institute of Child Health in Noida, which received great applause.
WHAT'S NEXT
"The Lodhi Festival in collaboration with KNMA at the Lodhi Art District on the 18th and 19th of March, 2023, where we'll see workshops, we'll have talks on the street. We'll have performances of various kinds, including some Indian classical performances," and not to mention, curated tours of the district.

This article is an all exclusive from our March EZ. To read more such articles, follow the link here.

Words Samiksha Sharma
Date 25-03-2023