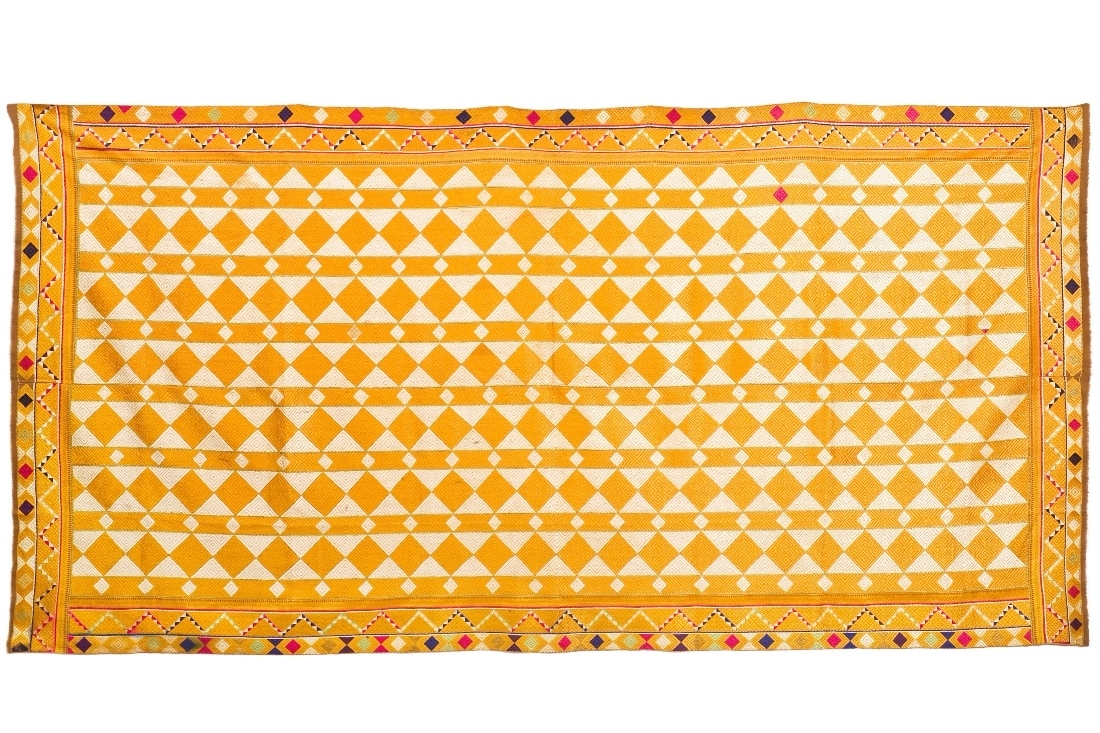 The Art of Phulkari : Embroidery of Punjab
INDIA. The country, the idea, the enigma. It's history, geography, beauty and ethos – in image, and philosophies. Tap has brought together a series of exhibitions put together by the galleries of TAP INDIA for the beginning of the New Year. 2021 is the new beginning, a year of hope, construction and forthcoming joy and with that Tap presents TAP 4x: INDIA. The artworks created on each gallery's page open up different ideas to explore, enjoy and engage with. Beginning January 2021, TAP brings you curated exhibitions and selected works under a new section on the website called TAP Showcase featuring two showcases for this month - Thinking around Corners - an exhibition of square format artworks by selected artists of partner galleries, curated by Bhavna Kakar and Renu Modi, and Bharat presented by guest gallerist Manan Relia.
NEW SHOWS AT TAP 4X: INDIA
AKAR PRAKAR: Whirl of Time
Artist: Marzia Farhana
ANANT ART: No Pain, No Gain: Celebrating India
Artist: Riddhi Vasoya, Pratul Dash, Muktinath Mondal
ANUPA MEHTA ARTS: Engaging with Gandhi
Artist: Ravikumar Kashi
APPARAO GALLERIES: Triumph of Labour
Artist: Srinivas Reddy
ART HERITAGE: Testimony of Tolerance
Artists: Rajesh Deb
ART AT THRESHOLD: Mirror of the Self
Artist: Nicola Strippoli Tarshito
ART.MOTIF: The Art of Phulkari : Embroidery of Punjab
Artists: Old, community textiles
EMAMI ART: Banaras: A Painters' Pilgrimage
Artists: Manu Parekh & Paresh Maity
EXHIBIT 320: The Lay of the Land
Artists: Arpita Akhanda, Birendar Kumar Yadav, Kaushik Saha, Rashesh Chauhan, Sayantan Samanta
GALLERY ESPACE: Cabinet of Curiosities
Artist: Anuj Ambalal
GALLERY WHITE: Mera Bhesh Mahan
Artist: Ajay Lakhera
LATITUDE 28: If a tree falls (Somewhere in North-East India)
Artist: Chandan Bez Baruah
M&MwtAG: Decorative India
Artist: A collection of folk and tribal art
TRIBAL ART FORMS: Gonds Own Daughter
Artist: Japani Shyam
WONDERWALL: India as a Focus
Artists: Bijoy Chowdhury, Hemant Chaturvedi, Mala Mukerjee, Prarthana Modi
TAP SHOWCASE for Jan 2021
Thinking around Corners - curated by Bhavna Kakar and Renu Modi. The works in 'Thinking around Corners' share the geometric form of the square, offering a vantage point beyond the visual tropes of portrait or landscape. But art is not as imitative and duplicative as it appears to be, under the light of the geometric outer form. Here, although the only constant is the square, the subjective viewer experience constantly shifts from work to work, just as our conception of reality is changeable, and dependent on the interplay of its visual constituents. The rigidity of the square is in dichotomy with the changing manifestations of the perceptible, and how these changes stem from formal illusionistic points that one experiences – the images expand beyond the equal sides and corners of their quadrilateral frames.
Bharat - presented by guest gallerist Manan Relia A selection of vintage serigraphs by renowned Indian artists presented by Ahmedabad based gallery ARCHER.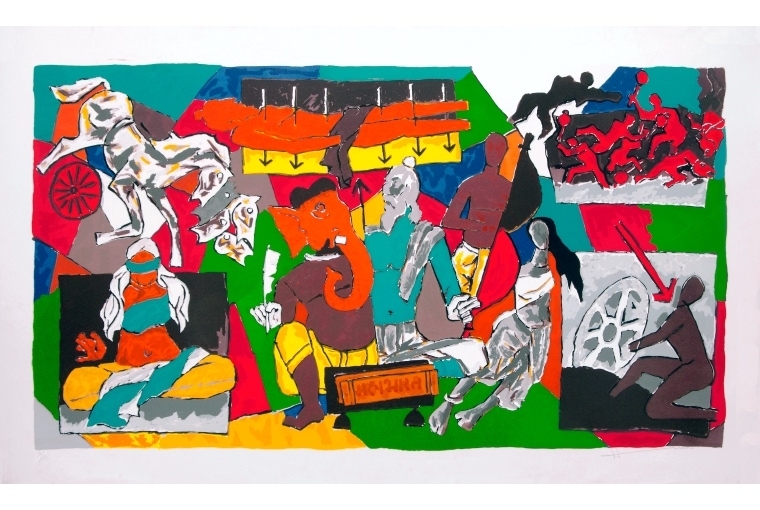 Mahabharat* M. F. Husain Serigraph in 28 colours on paper 40 x 66 33 x 59.75
TAP EVENTS for Jan 2021
Since its inception Tap India has introduced curated talks and campaigns, establishing itself as a platform for sharing education and information, made available freely via various digital mediums. Its interactive properties such as Thursday's with #TAPTALKS and #TAPLIVE on Friday, features a stellar line-up of renowned Indian and International personalities from the Art World who will come together to share new ideas, trends, tips, unravel interesting concepts and engage in conversation on Art for existing buyers as well as budding art collectors. With a stellar lineup of shows and curated events in the pipeline, Tap India is all set to showcase the energy of the Artworld of India by capturing the changing thoughts and trends and highlighting high quality artworks.
January 2021 events at TAP:
#TAPLIVE on Friday - "The Artist as Collector" - Artist, lifestyle entrepreneur and art collector, Vir Kotak in conversation with editor, Art India magazine, Abhay Sardesai discuss the experience and intricacies of an artist engaging with the space of a collector - 15th January 2021
Thursdays with #TAPTALK - "Rajshree Pathy: A Life in Art in Design" - founder of India Design Forum, Rajshree Pathy and director of Jhaveri Contemporary, Amrita Jhaveri, talk about life in the world of art and design - 28th January 2021.
ABOUT TAP
The Art Platform India (TAP) is an online one stop platform created specially to allow collectors and others a chance to view select art works, curated by a collective of pan Indian art galleries and curators. It offers a great opportunity to buy quality art at exceptional prices. Now you can acquire art of excellent calibre from the luxury of your home.
A union of Art Galleries from all over the country have contributed, collaborated and constituted a vital aspect of this initiative. TAP India, furthermore, hopes to tackle challenges as a result of the current pandemic with galleries pooling in their collective energies, one step at a time and continue to stand as a strong voice for making Indian art accessible during the pandemic.
Blurring the lines between artists, galleries and collectors, TAP India provides an unmatched window into the best of art. Whether you're an avid art collector, someone who is thinking of investing in their first piece or simply a connoisseur of art; TAP India gives you a chance to walk through what the best galleries in the country have to offer, and engage with legends in the field of art.
Visit www.theartplatformndia.com to connect, collect and engage in specially programmed talks, conversations and educational events.
Date 21-01-2021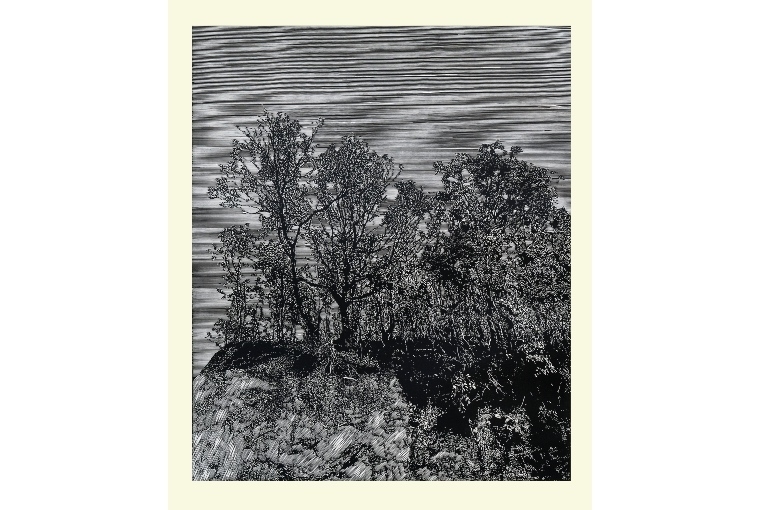 Image courtesy: Latitude 28
Somewhere in Northeast India, P-II Woodcut 2020 20 x 24 inches