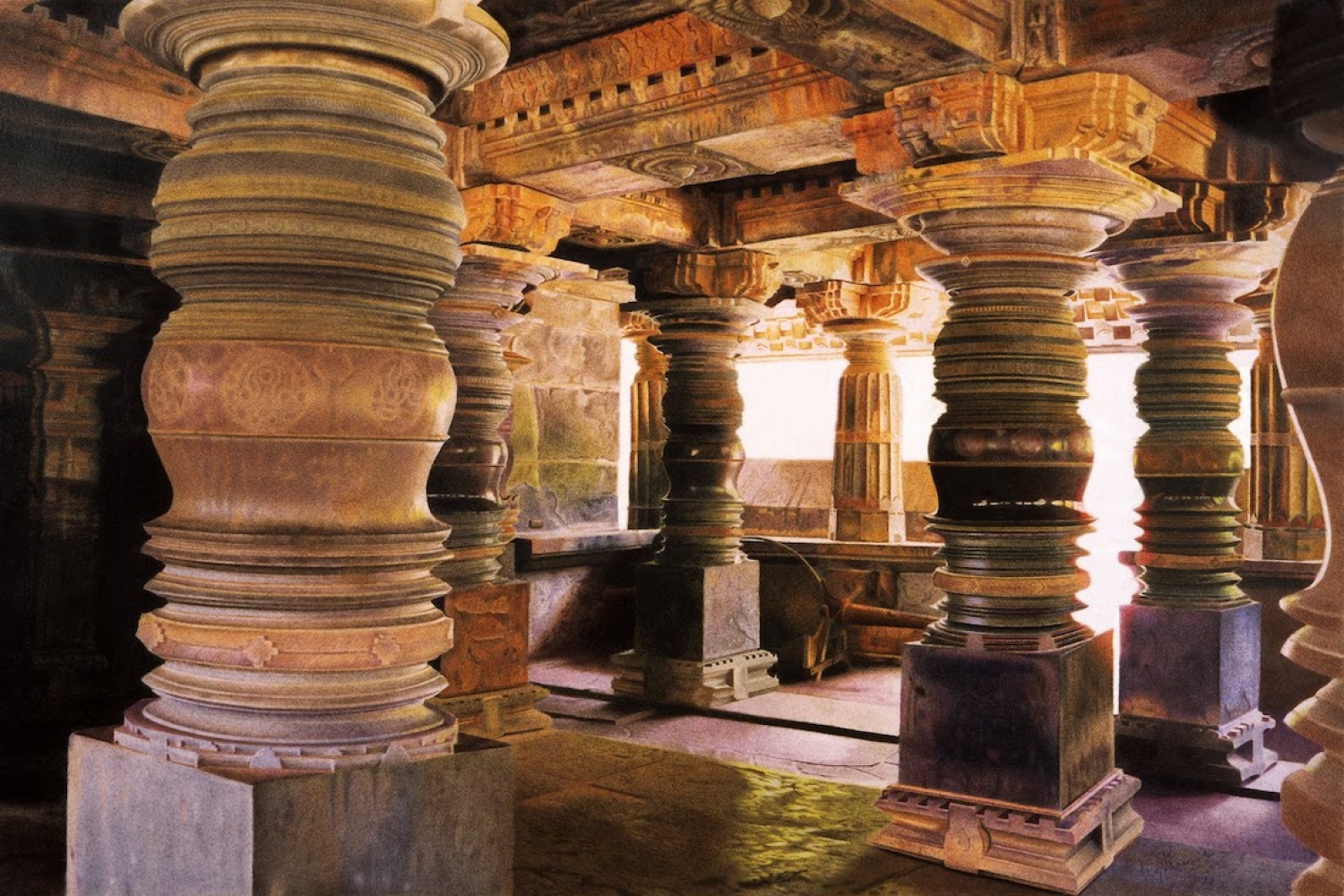 Sandeep & Gitanjali Maini Foundation is delighted to invite you to 'The Primacy of 5' the first ever solo show of Bengaluru-based artist Jay Varma, a fifth generation descendent of Raja Ravi Varma. The recipient of the largest grant given out by Sandeep & Gitanjali Maini Foundation to further his artistic education, Jay Varma's show will open at gallery g in Bengaluru on 17th April. Comprising some of Jay's earliest works, the show will feature 13 paintings done in a variety of mediums, ranging from color pencil work to graphite (how the artist started his career) and ending with oil paintings. The exhibition will remain on display till 30th April 2022 - all the works were commissioned for private collectors around the globe and are for display only.
In this series, Jay Varma brings to the fore five women from the Ramayana and Mahabharata. Popular belief has it that to recite the names of the five virgins—panchakanyas—would destroy the worst of human sins. But matters of faith aside, who the kanyas are is in itself a fascinating question, and their personal tales even more remarkable. It is acknowledged that the kanyas include Ahalya, Draupadi, Tara, and Mandodari. But the fifth name varies. Some state that it is Tara, wife of Brishaspati (in addition to the other Tara, consort of Vali); others hold it to be Kunti, mother of the Pandavas; and yet others venerate Sita as the fifth kanya. Jay's depiction of these women goes with the third grouping; the kanyas of our artist are Ahalya, Draupadi, Sita, Tara, and Mandodari.
"Just as poets and storytellers over so many centuries have interpreted these heroines in unique ways, Jay also brings to them a fresh vision. It is traditional in drawing nourishment from age-old understandings of these figures, but also modern in how even the contemporary woman will be able to recognise herself in his paintings. The kanyas, in other words, are not just faraway characters, from ancient verses; they resonate to this day, because their stories are timeless," explains Gitanjali Maini, Founder Trustee of Sandeep & Gitanjali Maini Foundation and gallery g.
His ancestor Raja Ravi Varma (1848-1906), in the nineteenth century broke new ground in his depictions of epic characters. Raised in the Victorian age, the kanyas he painted—though not as a single series—are draped in modern saris, wearing high necked blouses. So too Ravi Varma's kanyas often appear as damsels in distress: his many Draupadi paintings show her rejecting Keechaka's unsolicited advances, being publicly humiliated by the Kauravas, weeping as she serves as a maid, and so on.
Jay's decision to depict his Draupadi as a radiant, joyful young woman, her eyes sparkling with curiosity and desire, not only breaks from familiar ideas about her, but also from Ravi Varma's vision. Similarly, where his ancestor showed Sita in Ravana's Asoka grove, tormented by demonesses, Jay's Sita sits by herself, contemplating life and its twists—she is just as tormented, but the focus is on her inner world, not external turmoil, which is relegated to the background.
Jay's paintings also do not use other figures to simplify the scene for the viewer—the viewer must study the canvas for clues, and absorb the meanings the artist conveys in each frame, focussed solely on the kanyas. And yet legacy does impact these paintings in more than one way. The size of the work is important. At 24 inches X 30 Inches Jay Varma follows the exemplar sizing of Ravi Varma, where the sizing of the canvas challenges the artist to give more details within the given size.
"As a boy, I grew up surrounded by Ravi Varma's paintings, and watching my mother, Rukmini Varma, create mythological canvases. I would sit by my great-grandmother, the last maharani of Travancore, as she told me tales from the epics, featuring warrior kings, noble rulers, forest dwellers, demon lords, and also—of course—the panchakanyas. But why this series celebrates five women and not male heroes has a link to one more personal nugget - the Travancore royals were matrilineal, and their history is peppered with the achievements of great women. The female experience of the world has been central to my understanding of the world, given that my own ancestresses were rulers, warriors, political strategists, and women of rich wisdom," explains artist Jay Varma.
In that sense, the panchakanyas closely resemble the women Jay grew up watching and hearing about. And as he attempts to tell us through this art, these women perhaps exist all around us, in every home and circumstance, if only we learn to look at them with a new gaze. His kanyas are both mythological but also real: in every woman, there are shades of these five formidable virgins, and the story of each is also the story of every woman. That, ultimately, is the message these works seek to transmit: a celebration not just of our cultural heritage and shared love for the great, but of womanhood itself as represented through five heroines. The names Ahalya, Draupadi, Sita, Tara, and Mandodari might indeed dispel sin, as many believe; but they can also edify, educate, and transform our minds. And what better means to understand and know them—to evolve our own minds in the process—than through striking, beautiful paintings!

Date 14-04-2022